Back to selection
Scalene — A Hammer to Nail Review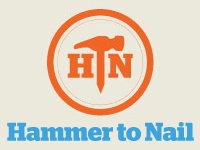 (Scalene opens in New York City at the reRun Gastropub for a one-week run beginning Friday, January 20, 2012. Visit the official website of Along the Tracks Productions for more information about the film.)
If you've seen Zack Parker's Scalene, then you might understand why I feel weird describing the experience of watching it as "a pleasant surprise." But it's true. Even though this film is comprised of scenes and plot twists that are as disturbing as any that are likely to appear on screen this year, what struck me most loudly was the realization that I was in the hands of a director who was working with limited production means yet that didn't matter. Parker's command over the elements at his disposal enabled him to produce something truly indelible.
Considering my current general state of exhaustion when it comes to filmmaking that has "proudly edgy" tattooed on its forehead, the quick pitch of Scalene was not promising: a "dark" independent comedy/drama involving a "homely" mother, her "disabled" son, and the "cute" college student who answers an ad to "care for" him. Cue "VIOLENCE." Making matters worse—I should say potentially worse, in this case—is that Parker and co-screenwriter Brandon Owens chose to employ two self-conscious storytelling styles: out-of-sequence and multiple-perspective. When you combine that with the subject matter itself, Scalene sounded like an all-around bad idea waiting to be watched. But then I watched it, and to my pleasant surprise, those worries went all the way away. Parker had somehow knocked this thing out of the park.
The story is sensationalistic enough that it must have been drawn from the pages of an actual small-town newspaper somewhere. Parker opens Scalene with a bang, as Janice (Margo Martindale) arrives at the well-manicured family home of Paige (Hanna Hall) and proceeds to unleash a can of whoop-ass that comically clashes with her suburban everywoman appearance. Once that initial shocker of a showdown appears to have run its course, we venture into the past and, from different vantage points, get to know how things got to this call-the-cops-crazy place.
There are Janice and Paige, and then there is Jakob (Adam Scarimbolo), who turns out to be the cause of all this trouble, even though his condition prevents him from doing much of anything at all. Jakob is Janice's mentally disabled, mute son, and when she begins dating a new man, Paige is hired to watch over him. Though Jakob isn't able to express himself in any way, Paige nonetheless finds herself forming an emotional attachment to him. This is when the trouble begins. Without giving anything away—there are several doozies on this twisted journey—things end up where they began, before they get even more bonkers than that.
I realize that it's early in 2012 and I understand that Scalene is a small, challenging movie that likely won't be seen by many people, but I would still like to add Margo Martindale's name to next year's awards discussion list. She has earned it with this expert performance, which starts out hilarious, becomes terrifying, and winds up heartbreaking. A seemingly impossible trajectory, but she does more than just "pull it off." She lives it. I'd go so far as to put her up there with Chris Penn in The Funeral and Mo'Nique in Precious.
To establish an air of palpably tense dread, Parker mixes carefully framed slow-zoom cinematography with a soundtrack that reminds us trouble is on the horizon (granted, we've already seen that troubled horizon but the sound design assures us that we haven't seen the last of it yet). And as new developments continue to shock and surprise us, Parker doesn't lose control of the situation. Somehow, he maintains this assured hand throughout. Scalene is a marvelous display of directorial chops. It's a thoughtful provocation and one of the year's early treats.
Filmmaker has partnered with our friends at Hammer to Nail for a weekly "Pick of the Week" post that will be exclusive to our newsletter and blog for a long weekend, at which point it will go live over at Hammer to Nail as well. In the meantime, be sure to visit www.hammertonail.com for more reviews and lots of other great editorial.