Back to selection
BILL LANDIS, R.I.P.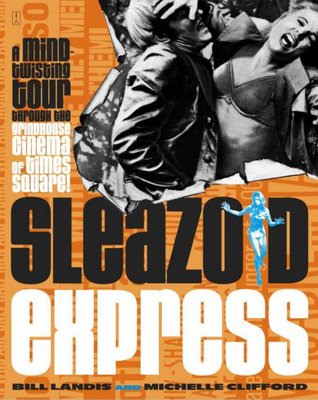 Bill Landis, a man who championed the world of underground exploitation moviemaking and exhibition, died this week of a heart attack at 49.
With his wife Michelle Clifford he was the editor of Sleazoid Express, a zine that chronicled the films of the 42nd Street grindhouse scene, which he described in an interview at Nerve.com:
Grind houses were opulent, old-style movie palaces with chandeliers, opera seats and huge screens. They seated several hundred people and played all kinds of films, across genres. A shoebox theater catered to the adult audience, seated eighty to 200, usually on one floor, and was shaped like a rectangular shoebox….

It was a very egalitarian form of entertainment that attracted all sorts — kids cutting school, people on dates, inner-city people escaping the cold or heat. The biggest hits cost five dollars. Certain theaters, like The Ankle, which was across from Port Authority, catered to a more criminal element….

People wanted to get the most bang for their buck. If the movie disappointed them, they'd throw things at the screen…. They became unsafe because of the crack epidemic. Crackheads were insane in their criminality, while the junkies would just pass out.
Simon and Schuster published a Sleazoid Express book. Here is an excerpt from "Chapter 13: Lost in the Roxy":
Located on the south side of the street next to the Cine Twins, it was originally one of the Deuce's grungiest, most pungent smelling, and most dangerous adult houses. Sharing management with the landmark scumatorium Show World, the Roxy spent the 1970s through the mid-1980s showing third-run hardcore porn, hosting a live sex show, and serving as an open stomping ground for quickie prostitution. It attracted the worst, most desperate people on the Deuce. You didn't even stand near the theater unless you wanted a drug addict streetwalker propositioning you as her pimp/live-show partner hung over your shoulder.

In the early to mid-1980s, rare Deuce favorites that had been gone for years were suddenly accessible again because of video, and distributors who hadn't shown some movies in years suddenly saw dollar signs. In 1985, the Roxy was renovated and converted into a multileveled fourplex that showed exploitation double bills on video, becoming a sort of living Sleazoid museum. You could catch every sort of film from every year, including many rough-girl gems from the 1970s, like Fugitive Girls and the Arthur Marks classics Roommates and Centerfold Girls. There were bookings so dissimilar only the Deuce could conceive them, like Superman (1978) and Superfly (1972). Unfortunately, despite the renovation, the Roxy remained devoid of fresh air and retained both its BO aroma and its super-sleazy vibe. Sometimes you'd see the Roxy cashiers — former live-show workers with names llike Duran — run into a broom closet with a crack pipe during their breaks.
Remembers Lars Nilsen on his blog:
While the rest of us pick up the latest Blue Underground and Code Red DVD releases and watch this sleaze in the comfort of our homes, Bill and his early collaborator Jimmy McDonough (whom he later had a huge falling-out with, unfortunately) sought these films out on 42nd St. in the last decaying pits of perversion where they unspooled for armed and hostile raincoaters and popeyes. In the pre-video era that was the only way to see them and Sleazoid Express was the Variety of 42nd St. You can feel the thrill of discovery on every page. Landis would review the film AND the experience, so if a glue-sniffing masturbator fell out of the balcony it was recorded for posterity.
Tim Mayer also has posted a remembrance.
In the Nerve interview, Landis lists his top five sleazy movies of all time:
1. The Olga movies (1966-67): Olga's House of Shame; White Slaves of Chinatown; Olga's Girls.
2. The Flesh movies (1967-68): Curse of Her Flesh; Kiss of Her Flesh; Touch of Her Flesh
3. Pets (1974): "A good California girl movie."
4. The Perverse Countess (1973)
5. Ilsa: She Wolf of the S.S. (1975): "For shock value."