Back to selection
Five Questions with The Comedy Director Rick Alverson
Director Rick Alverson is nothing if not prolific. After putting out six albums over eight years with his band Spokane, Alverson turned his attention to film, directing The Builder in 2010 and New Jerusalem last year. Continuing this productive streak is The Comedy, a dark exploration into the insular, self-destructive lifestyle of the affluent white male. Set against the backdrop of Brooklyn's ultra-hip Williamsburg, The Comedy stands in contrast to Alverson's previous two films, films that focused mainly on the stories of working class immigrants. Starring comedian Tim Heidecker (in his first dramatic role) and a supporting cast that includes Heidecker's frequent collaborator Eric Wareheim, as well as musicians James Murphy and Will Sheff, The Comedy is a bold new work from an artist who has already built up quite an impressive portfolio.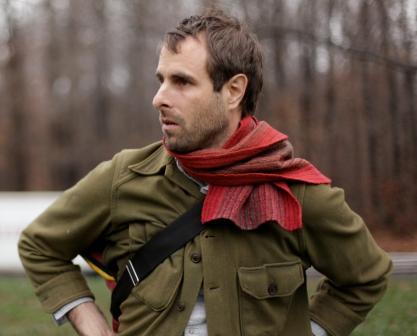 Filmmaker: How did you decide to cast Tim Heidecker, a comedian known for his absurdist humor, in this more dramatic role?
Alverson: Tim has a real capacity for vacillating between the deceptively safe and the disturbing in his performances, and a talent for blending the two in a very unconventional and uncomfortable way. As does Eric Wareheim and Gregg Turkington, who also feature in the film. I'm very interested in the disconnect between people and their ideas, their ways of being in the world that are in conflict with their desires for being in the world, and those spaces between people that are unbridgeable. I was looking for a personality that was at home in that space, in that discomfort.
Filmmaker: And what was it like working with James Murphy and Will Sheff, musicians who I imagine didn't have an extensive amount of acting experience.
Alverson: For my first film, The Builder, I solely used non-actors: friends, musicians, people cast for their personalities, for their professions or preoccupations. I felt comfortable directing them. I found it comforting that I could ask things of them and they would not consider "motive" or meaning, they would simply utilize their own relationship to the thing without dilemma. I could assess their social responses and their behavioral impulses and reframe them in the fiction. I found the idea of directing musicians particularly interesting, having been a part of that world myself. They were familiar with the scrutiny of an audience but hopefully unacquainted with the character concoction that can be a pitfall of the actor's performance. I knew James and Will were native to the area (Williamsburg) and that they had a relationship to that world. That meant a lot. They rounded out the core group, along with Richard Swift, and provided a necessary complexity that fought back any danger of the stereotype. Hipsterism is always a myth of the moment. It is an idea of a cultural classification. I had no interest in a demonization of these characters, I wanted as much contradiction as I could get.
Filmmaker: Your first two films told stories around working class immigrants. Why the shift in focus to the lily-white affluence of Williamsburg?
Alverson: The film, for me, has two main characters: the protagonist and the modern, diverse populace he flirts with outside of his small clique. The immigrants and the minorities, even the women in the film, operate in a space on the margins of the domain of these privileged men. I think The Comedy is a tale of the hazards of a cloistered life, of lives that take for granted their good fortune. Wealth, even the relative wealth of the American middle class and its increasingly unlimited set of options, does not ultimately produce freedom – there is always the basic limitation of the animal that we are, waiting in the wings. That animal desires utility and the fundamental, intrinsic meaning of labor and a sense of place and proportion, to do things by its own means. It is not a stretch to say this dilemma produces a kind of meaninglessness, a malaise, ultimately an elitism, a belief for generations in the authority and safety of a national identity, of never questioning the fragility of that construct, even the violence of it. It is that ignorance and disconnect that are at the heart of the film.
Filmmaker: What kind of audience do you envision The Comedy drawing? What do you hope they take away from the film?
Alverson: I dealt with the idea of an audience, a viewer, with this project more prominently than any of the others. I am somewhat desensitized to the film, to its crudeness, but I hope there will be people who will find themselves questioning their relationship to entertainment and even their relationships to the larger, more diverse, world around them.
Filmmaker: This is your third film in as many years. What's next?
Alverson: A film called Clement, set in Reconstruction era rural Virginia, a collaboration with my writing partner (also the lead actor in the Builder and New Jerusalem) Colm O'Leary, based on a novel of his. It deals with the collapse of the old America, built on foreign slave labor, and the infrastructural, moral and emotional void that accompanied it. Mike S. Ryan who produced The Comedy is onboard. We'll need all the beards we can muster.
Also a film starring Neil Hamburger called Entertainment, set in the deserts of the southwest.