Back to selection
RACHEL/SYNECDOCHE CONTEST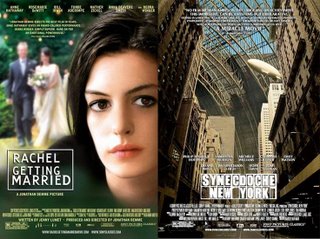 Today Jonathan Demme's Rachel Getting Married and Charlie Kaufman's Synecdoche, New York are released on DVD and Blu-Ray. We're giving away 1 DVD & Blu-Ray disc of each film to the first people to e-mail us the correct answers to the designated questions below. The answers can be found in our stories on the films in the Fall, 2008 issue.
E-mail your answer to editor.filmmakermagazine AT gmail.com. (In subject line put in the film title and either "DVD" or "Blu-Ray" so we know what question you're answering. Please only answer 1 question.) The winners will be notified and mailed the disc.
DEADLINE is 5:00 pm (EST) today. Good Luck!
(DISCLAIMER: Contest is only available for those living in the U.S.)
Rachel Getting Married
DVD QUESTION: What did Rosemarie DeWitt say inspired her to jump and hit the ceiling at the end of the film? (REMEMBER: When you e-mail the answer type "Rachel Getting Married DVD" in the subject line)
BLU-RAY QUESTION: What film does Jonathan Demme say is the first time he trusted his actors to take full responsibility of their characters? (REMEMBER: When you e-mail the answer type "Rachel Getting Married BLU-RAY" in the subject line)
Synecdoche, New York
DVD QUESTION: Who does Charlie Kaufman say was the person who conviced him he didn't need to reshoot the ending of the film? (REMEMBER: When you e-mail the answer type "Synecdoche, New York DVD" in the subject line)
BLU-RAY QUESTION: What does Kaufman say his reason was for hiring editor Rob Frazen? (REMEMBER: When you e-mail the answer type "Synecdoche, New York BLU-RAY" in the subject line)
Update: We have our winners. Congrats, everyone. The answers are: "Hitting the attic door in her house," "shooting Citizen's Band," "Phil Hoffman," and "the work of Nicole Holofcener."