Back to selection
Attenberg — A Hammer to Nail Review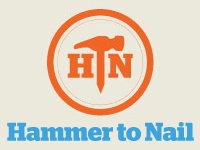 (Attenberg world premiered at the 2010 Venice Film Festival and is being distributed in America by Strand Releasing. It opens on Friday, March 9, 2012, at the IFC Center in NYC. Visit the film's official page at the Strand website to learn more.)
The world would be a much less grating place if certain cinematic sub-genres were to be banned from the table immediately. Reading a description of Athina Rachel Tsangari's Attenberg, one might worry that she has committed the double-sin of embracing two of the more increasingly overused and deplorable ones: 1) the "stunted-to-the-point-of-retarded adult-child;" and 2) the "quirky art film for quirky art film's sake." But from the startlingly unbroken first shot of this film, in which one 20-something female friend teaches her innocent 20-something female friend how to tongue kiss, it's readily apparent that we are in the hands of a filmmaker who is going to instead use two very important attributes to put those pitiful sub-genres in their place: 1) a unique personal vision; and 2) a sincere mission to say something genuinely heartfelt about living and dying in the real world. That Attenberg manages to retain a stylistically original, inventive, and daring flair in the midst of all this? Well, that's just parsley on the hummus.
Much has already been—and will continue to be—made about this newly emerging Greek Weird Wave, which made its first big splash in 2009 with Yorgos Lanthimos's Oscar-nominated (?!) Dogtooth. The fact that Tsangari was an associate producer on that film, as well as the more direct involvement of Lanthimos on Attenberg—not only is he a producer, he appears on screen in a pivotal role—makes it easy to want to lump them together. But doing that would a lazy thing to do, for there is one gaping distinction between these superficially similar films that make them as different as can be: while the father-child dynamic in Dogtooth is an abusive and callous and crippling one, the bond between father and daughter in Attenberg is generous and warm and achingly sweet.
Marina (Ariane Labed) might look like a 23-year-old, but she acts like a naïve third grader. Having never left the small town where she was born, she works as a driver for the employees of a nearby factory. When she isn't soaking up Sir David Attenborough's mammal documentaries (hence, the film's deformed title) like a hypnotized sponge, she spends the rest of her free time with her best friend, the far more liberated and experienced Bella (Evangelia Randou). When we meet her, Marina is beginning to watch her good-natured father Spyros (an award-worthy Vangelis Mourikis) whither away from cancer. At the same time, she begins to form a gentle bond with a visiting engineer at the factory (Lanthimos). In more ways than one—all of them momentous for an individual of any age—the time has finally come for Marina to grow up.
The magic of Attenberg is how Tsangari is able to not only deftly balance her seemingly competing agendas—stylistic originality vs. grounded, honest-to-goodness universal human emotion—but that she somehow uses each distinct element to support and enrich one another. And that is perhaps the best explanation for why Tsingari has done it right while so many others do it painfully wrong: Attenberg isn't a self-conscious act of filmmaking; it's a self-expressive one.
Filmmaker has partnered with our friends at Hammer to Nail for a weekly "Pick of the Week" post that will be exclusive to our newsletter and blog for a long weekend, at which point it will go live over at Hammer to Nail as well. In the meantime, be sure to visit www.hammertonail.com for more reviews and lots of other great editorial.