Back to selection
AN ESSENTIAL ANDREI TARKOVSKY RETRO AT THE WALTER READE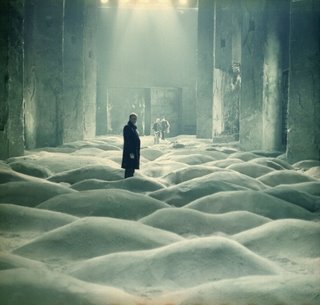 I received an email asking if I'd post something about the upcoming Film Society of Lincoln Center Andrei Tarkovsky retrospective at the Walter Reade. Sure, I wrote back, laughing as I imagined that a retro of the great Russian filmmaker would actually need a press boost, that it wouldn't be packed from the outset with lines of people around the block hoping for tickets. But then I thought, what if that is not the case? Could it be that the current generation of young moviegoers has yet to fall under the spell of this rigorous and involving master director? Maybe. Tarkovsky is a director poorly aided by the video age (the dispute over the correctness of the various DVD editions out there compounds the problem.) His films demand to be seen on the big screen, because of the extraordinary beauty of the images but also because of the films' sense of quiet, the specific precision of their sound designs, and the sense of immersion they both induce and require.
When I was in my 20s working (not in film) in New York, there'd be a Tarkovsky retro at least once a year or so, and the individual films would play frequently on double bills at theaters — the New Yorker, the Metro Twin, the Thalia, the Bleecker and even the decrepit Olympia, as well as the old Film Forum on Watts Street — that are no longer there. It was easy to see these films on screen again and again, and just because it was, it doesn't mean that you still didn't go. I've seen all of them several times, something that's particularly apt when it comes to titles like (my favorite) The Mirror, his experimental, partly autobiographical film that beautifully and reverently fuses memories and dreams, newsreel footage and family drama and which almost demands to be seen in a kind of half-sleep.
In many ways Tarkovsky's films fall into two categories. There are the "major films," that are often epic in scale and which have at their heart journeys: the life adventures of a medieval icon painter in Andrei Rublev; the mission to save a disabled space station orbiting a mysterious planet in Solaris; and a trip by three travelers to the mysterious "Zone" in some kind of vaguely apocalyptic future landscape in Stalker (pictured). All three are masterpieces and must be seen. (Especially Solaris if you've only seen Soderbergh's misguided remake.) But I've always especially liked the more intimate films: his debut, Ivan's Childhood, is one of the great movies about children during war time — in this case, a World War 2 in which our young Ivan is orphaned and then accepts a series of dangerous missions. Filmed in stunning black-and-white, Tarkovsky gives the film a dreamy. poetic texture, cross-cutting between Ivan's memories of his family and his time with the soldiers. The Mirror is my favorite, and a runner-up might be Nostalghia, which was co-written by Antonioni-scripter Tonino Guerra. Set in a small Italian spa town, the film was Tarkovsky's first outside Russia and its themes — the homesickness of, particularly, a Russian man for his country, and, of course, the subject of spiritual quest that can be found in all of Tarkovsky's work — are echoed in its production history and the director's subsequent decision to leave Russia and work in the West. The story concerns a poet who travels to the town to research a book. He's paired with a beautiful translator (the stunning Domiziano Giordano, later to appear in Godard's Nouvelle Vague) but, away from Russia and his family, he sinks into a kind of melancholic fugue, spending his days with a local madman who locked his family up underground, convinced that the end of the world is coming. The movie is as much film as installation, with dripping water, steam from the spa, the ancient buildings, and a final sequence in a shallow pool that is one of the most devastating film endings I've ever seen.
From Tarkovsky's Sculpting in Time:
Ultimately I wanted Nostalgia to be free of anything irrelevant or incidental that would stand in the way of my profound objective: the portrayal of someone in a state of profound alienation from the world and himself, unable to find a balance between reality and the harmony for which he longs, in a state of nostalgia provoked not only by his remoteness from his country but also be a global yearning for the wholeness of existence.
Tarkovsky's last film, The Sacrifice, made after he had been diagnosed with cancer, was shot in Sweden with Bergman's cinematographer, Sven Nykvist and regular actor Erland Josephson. It's once again amazing, with an emotional wallop of an ending dedicated to Tarkovsky's son, who the director left in Russia, but it's not as strong as the others, mostly due to a script that's too on-the-nose about its escatological subject matter.
There's so much to praise about Tarkovsky: his extreme formal control, the fusion of his religious intensity with his filmmaking practice (making that practice compelling even to non-believers), his exquisite sound designs, and his ability to shoot giant landscapes and sumptuous images that are as much about internal journeys as outer ones. But one thing I keep coming back to is an idea highlighted by Tarkovsky himself in the title of his book on filmmaking, Sculpting in Time. In this passionate argument for the centrality of artmaking in man's existence, he discusses the role of rhythm in cinema, arguing against Eisenstein's ideas of montage cinema by saying that meaning in cinema is not the result of a mechanical process or the riddle posed by the juxtaposition of one shot against another but is instead a product of the filmmaker's ability to use cinema to express a personal and artistic conception of time.
From the book:
In so far as a sense of time is germane to the director's innate perception of life, and editing is dictated by the rhythmic pressures in the segments of film, his handwriting is to be seen in his editing. It expresses his attitude to the conception of the film, and is the ultimate embodiment of his philosophy of life.
Also screening in the series is Dimitry Trakovsky's documentary, Meeting Andrei Tarkovsky, which is described like this:
In 1987, a year after Tarkovsky's death, Dmitry Trakovsky and his parents emigrated from Russia to the United States, where he grew up feeling a special relationship to the images, sounds, and themes in Tarkovsky's films. Here, he goes in search of other lives affected by the auteur's work: collaborators Erland Josephson and Domiziana Giordano, friends Krzysztof Zanussi and Franco Terilli, an Orthodox priest, and even the director's son. Andrei Andreevich Tarkovsky. The result is a touching, highly personal and provocative record of the lingering effects of Tarkovsky on an extraordinary range of individuals.
To buy tickets or learn more, visit the Film at Lincoln Center site. There's also a "Film Talk" podcast on the director. And for the ultimate fan/resource/information site, visit Nostalghia.com.
Here is the Meeting Andrei Tarkovsky trailer:
An amazing scene from The Mirror: