Back to selection
FILMMAKER'S "25 NEW FACES"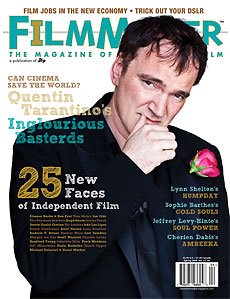 Our press release announcing our annual "25 New Faces" feature has just gone up at Indiewire, and you can read our profiles of the selections on our site here. As I wrote in the editor's letter for the upcoming issue, we looked at a lot of work this year — maybe too much work, actually — and could easily have made a list of "125 New Faces." Of the people we finally chose, every person on the list was championed passionately within our editorial team, and each person also seemed to us to be approaching their roles as filmmakers, dps, editors, actors, etc. with a broader recognition of the particular challenges and opportunities of this historical moment. We tried to select from a range of work representing different communities within our broader independent world, spanning from old-school underground cinema to political documentary, from artists for whom YouTube and user-generated platforms are integral to their process to filmmakers who are defiantly sticking to the values of old-school big-screen cinema.
Broader trends in the list will probably become apparent to us as time goes by, but one thing that struck us this year is how fast stuff moves given the blogosphere these days. There were people we learned about just a few months ago and already knowledge of their work is everywhere. A few people who fall into this category are on the list, although in many cases it was knowledge of their new projects and the different directions they are moving in that motivated their inclusion. There were a few people we didn't include because, honestly, we blew it by not putting them on the list last year, and have since tried to make it up by covering them in the magazine and on the site. For whatever reason we have fewer short filmmakers this year, perhaps because so many filmmakers seem to be making their early mark by going right to digital features. (One short film filmmaker we included, Andy Betzer, is notable for his steadfast insistence on sticking to the short genre and finely honing his approach to it.) Artists like Lena Dunham, the Purchase Brothers, Morgan Jon Fox and Lost Zombies, who move fluidly between film and new media impressed us with their forward thinking. Like I said above, we also took note of filmmakers like Tina Mabry and Asiel Norton, who have argued that their subject matters need the heightened attention and more finely crafted sense of beauty that traditional cinema can provide. In the past we've selected actors like Ryan Gosling, Hilary Swank, Ellen Page, Peter Saarsgard and Olivia Thirlby for the list. This year Rooney Mara is our pick for an actor who will hopefully continue her balancing of independent and studio films. Filmmakers who we saw late in the process and whose work is just so out-there, like Norton and Frankie Latina, whose Modus Operandi is a total trip, were exciting discoveries too.
Like I said, there are another 100 or so people whose work we liked this year and we'll look forward to tracking not only our list of "25" but these other folks as well. So, as the months go by, recognize that between the magazine, the blog, the weekly Directors Interviews (this week check out Eileen Yaghoobian, whose Died Young, Stayed Pretty opens at the IFC this week), we cover a lot of new faces so please look for them year round.