Back to selection
BLOGGING FROM THE SUNDANCE CREATIVE PRODUCING LAB: THOMAS WOODROW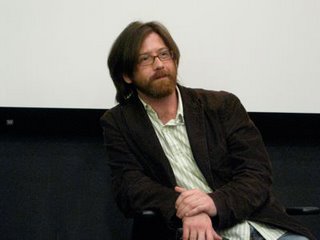 We continue with our series of posts from the Sundance Labs, this time with producer Thomas Woodrow, who is attending the Sundance Creative Producing Lab.

For some reason, when I think of the role of the producer, I am always reminded of the role George Martin is characterized as having played for the Beatles in a documentary I saw years ago. It's not exactly the same in music as in film, obviously, but in that documentary, Martin was ever-present: encouraging, discouraging, masterminding, playing politician, literally writing orchestration at times (for Sgt. Pepper) and at all times moving the process toward its maximal conclusion.
And what a conclusion it was. It was through Martin's coaching and his vision of what "could be" that carried the Beatles forward from Rubber Soul, through the astonishing breakthrough of Sgt. Pepper.
George Martin is the kind of producer I want to be. A polymath with interests ranging from the financial to the technical to the literary to the visual. Like many of you, I went into film producing because I am tremendously motivated by both challenge and learning curves. I often say that if I am sure I can do something, I am not motivated to attempt it.
Independent producers are, however, a lonely bunch. For the love of God. You know what I'm talking about.
There are so few forums for independent producers to compare notes in a serious way as to how we ply our trade. There's not really any such thing as a "training program" for producing (and I say this having actually gone to film school). There are a few basic principles (equity financing, budgeting/scheduling, etc.) but beyond that, it seems to be a matter of just accumulating experience. The only way to learn how to produce is actually to do it.
And what a solitary road that can be. If we're lucky, we will run into people who will take a deep breath and walk us through the building blocks, who will pick up our calls as we stumble through production for the first time, struggling with unions, problematic actors, or even the odd camera truck fire (it happened to me).
And if we're even more lucky, we will run into peers on the festival circuit or just "around," with whom we can compare notes about the astonishing picture we just saw, share a drink as well as networking contacts, encourage each other on to the next grand adventure and, on a dramatically impractical day, try to figure out how to survive being paid very little for one of the most labor-intensive jobs around.
But unless you're working directly with someone on a project, you don't really have the opportunity to have them help you pick the machine apart, examine the pieces, and think seriously about how to make it run better. A few days from now, I will have the privilege of joining a handful of peers as well as an extraordinary group of mentors to do just this with an upcoming project.
I am going into the Sundance Creative Producing Initiative (CPI) with a project called The Skeleton Twins. It's been written by Craig Johnson and Mark Heyman. Craig wrote/directed my previous feature, True Adolescents (starring Mark Duplass and Melissa Leo) and Mark Heyman is a producer and the development director at Protozoa Pictures (also the co-writer of Darren Aronofky's recently announced Black Swan, with Natalie Portman attached).
The Skeleton Twins is about estranged twins Milo and Maggie, who coincidentally cheat death on the same day, which prompts them to reunite and confront how and why their lives went awry. The screenplay has extraordinary roles for both male and female actors and I think it's a terrific story. But as with any independent film, there are challenges.
And I am entering the CPI with the hope of figuring out how best to tackle them. I'll be comparing notes with peers and mentors on a few critical questions about this project and producing in general. And I will be sharing the results here with you all.
•"What are the best ways of financing an independent film in this rough economy?
•"Are there ways of ensuring distribution before we shoot, or are festivals and critical recognition really the best/only way for small films?
•"How do presales and debt financing work?
•"Are there financially realistic means of distribution outside the accepted framework? If so, what are they?
•"How shall we best sustain ourselves as independent filmmakers without either losing our shirts or selling out (i.e., doing something that prevents us from continuing as independent producers)?
Yes, it's an ambitious list of questions, but if anyone can answer them, it's the folks at Sundance. I look forward to reporting back. Next stop, the Sundance Resort!
Thomas Woodrow is a New York-based independent producer, whose feature film credits include True Adolescents (starring Mark Duplass and Melissa Leo) and Shadows (dir: Milcho Manchevski). Together with his Furnace Films partner Jennifer Lee, he develops multiple genre-inflected, character-driven feature film projects. His television credits include episodes for an Emmy-nominated season of Made for MTV and commercials for J. Walter Thompson, handling clients such as Microsoft, Trident, and JetBlue.