Back to selection
SXSW: Tchoupitoulas vs. Beasts, Battle for the Innocents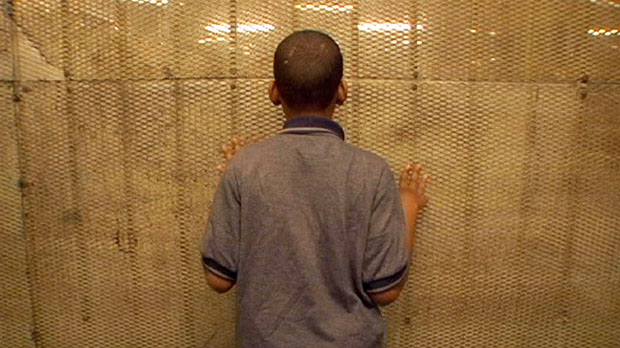 Tchoupitoulas
Bill and Turner Ross' new documentary Tchoupitoulas premiered in Emerging Visions this year at SXSW. The film was eagerly anticipated by fans of their debut feature, 45365, the Documentary Jury Prize winner a few years ago. Three young brothers in Louisiana take a ferry into New Orleans, observe and engage in everything from transvestite clubs to street musicians Mardi Gras floats to an abandoned ship yard on the outskirts of town. Pretty soon the youngest brother, William, a sensitive kid who plays the recorder at school, starts to get tired. "I'm just a child," he insists, to the jeers of his brothers, who want to stay up all night. All three of them are kids — witness them gaping, wide-eyed, at a cook tossing pizza dough in a shop window — but it's William whose perspective the film relies on to turn encounters with rambling drunks and glitter-covered hippie street musicians into evocative little miracles.
There are some superficial comparisons to be made between Tchoupitoulas and Beasts of the Southern Wild, this year's Sundance winner. Michael Gottwald, Dan Janvey and Josh Penn, of the Court 13 collective, produced Beasts, and executive produced this film as well. Both are set in Louisiana — Beasts on a semi-fictional, semi-mystical island of the Gulf Coast known as the "The Bathtub," where a 9-year-old girl named Hushpuppy helps to lead the misfit local community through an epic flood (a sequence that can be read literally as a Hurricane Katrina metaphor or as a biblical End of Days.) Both use the dreamy, poetic narration of their pre-pubescent African-American lead characters to put a magical-realist spin on the harsh reality of Louisiana poverty. These kids are living in a very adult world, through very adult times, but their gaze turns what's around them into a fairy tale.
Occasionally Tchoupitoulas departs from the boys' perspective and goes where they're not allowed to go — into the basement of a strip club where girls are getting ready to perform, onto a park bench where two liquored-up adults are negotiating the rest of the evening. Throughout Beasts, modern reality is always at the door; Hushuppy's father is sick and getting sicker, and a FEMA-like organization is hunting them all. To stop that reality from coming, she swims to a ramshackle lost-in-time brothel in the middle of the ocean, and fights a herd of gigantic wild boar. This is where it becomes clear that Beasts and Tchoupitoulas have something big in common: the truth is, neither of these kids will be innocent for much longer. Sex and drugs and violence can't be part of a dreamy fairy tale forever. Adulthood is coming for them, and they know it.
There's a scene where William and his brothers come upon a young, white, articulate street musician, dressed in angel wings and covered in glitter. She hooks into William, explaining the fundamentals of wind instruments, suggesting he segue from the recorder to the clarinet or bassoon. Then she hands him her flute, and encourages him to try to play. Later, in voice over, he murmurs about "my angel." The hope and generosity in this exchange is lovely, but it breaks your heart. This is a poor black kid from the outskirts of New Orleans — he's going to have to fight tooth and nail to get to college, let alone become a bassoon player.
As night in New Orleans goes on and on, William gets even more tired, hungry and helpless. The film builds, flipping back and forth from the sex and death behind closed doors on Bourbon Street to William and his brothers playing in the streets, and the night feels endless. But you know the sun has to come up sometime, and you realize what's about to happen: those closed doors on Bourbon Street are going to open. William is going to grow up. Reality is going to crash into his life like a tidal wave and wash away his innocence… just like the flood heading towards Hushpuppy's Bathtub. Where Beasts employs a raucous, emotional musical score and shock-and-awe surrealism to get at this idea, the Ross brothers investigate it with a raw simplicity that should not be overlooked.