Back to selection
Lady Vengeance: A Genre Fan's Guide to 2012 New Directors/New Films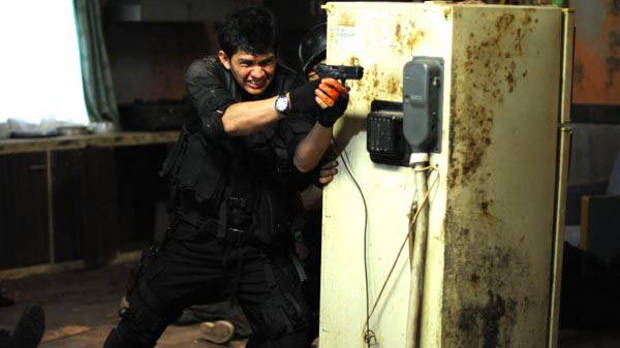 New Directors/New Films is known for bringing some of the freshest, boldest films to light, and not necessarily just for New York audiences. Arthouse theaters around the country often make selections from this well-regarded festival's programming. The relatively high-brow co-presentation of the The Museum of Modern Art and the The Film Society of Lincoln Center is not, however, generally considered a place to discover new genre film, despite its reputation for supporting ballsy young upstarts. Yet perhaps the increasing cultural and cinematic significance of sufficiently well-made genre films is now keeping them from being overlooked by the festival that saves many a movie from being overlooked; this year's ND/NF includes The Raid: Redemption, a stylishly heart-pounding action flick from Indonesia which is also out in select theaters today. Considering even some dedicated genre fans and critics have yet to become familiar with Southeast Asia's distinctive, burgeoning contributions to the fields of horror, action, and slasher flicks, this playful bit of programming evinces particular foresight.
While The Raid may be the only film in the festival that is genre in the strictest sense, here's a selection of other ND/NF films that should appeal to those of the genre persuasion.
FEAR AND DESIRE (Stanley Kubrick, USA)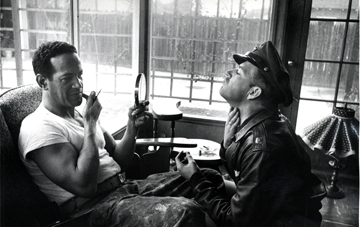 This isn't exactly a genre film, and isn't exactly new. (Perhaps the folks at ND/NF decided that screening a repertory film at an envelope-pushing festival for new work would be the ultimate transgressive programming move.) Regardless of the reasons for its place in this festival, and the fact that Kubrick has repeatedly tried to disown and "disappear" the film since it's 1953 run, it's thrilling to see this on the big screen (rather than on YouTube, where Robert Altman's recently unearthed first film, Modern Football, currently resides). Critics theorize that the typically unnerving war drama is either a precursor of Paths of Glory or the original second portion of Full Metal Jacket.
THE MINISTER (Pierre Schöller, France)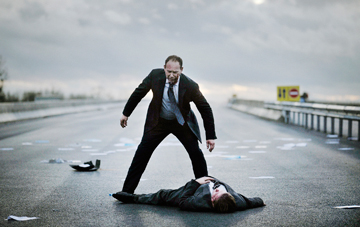 This tight, tense political thriller focuses on a French cabinet minister in charge of national transportation with legitimately good intentions that are gradually chipped away as he justifies one moral concession after another in order to reach his goals. The film features corruption, corporate intrigue, timely topical subject matter practically ripped SVU-style from the headlines, and a heart-thumping action. All that combined with the trailer's promise of a dissonant plucked-strings horror-movie score and a near constant haze of moody cigarette smoke should guarantee that this film provide more than enough gritty pleasure for any genre fan.
THE RABBI'S CAT (Joann Sfar and Antoine Delesvaux, France/Austria)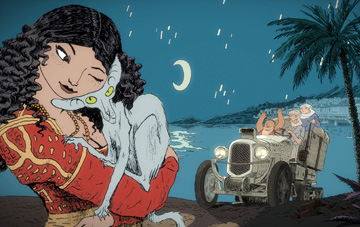 Although this lively work from Israel could be considered a children's film, don't let that turn you off. The film has surprisingly adult themes, wry humor, and a fair amount of not-so-cartoonish violence. It is also happens to be adapted from the graphic novels of co-director Sfar, and will be shown in 3-D, a first for ND/NF. The French usually kill it when it comes to innovative, unexpectedly cool feature length animated films — think The Triplets of Belleville or A Cat in Paris — so I wouldn't be surprised to see this one make an appearance come 2013 Oscar time.
THE RAID: REDEMPTION (Gareth Huw Evans, Indonesia)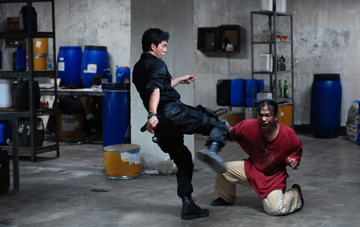 This is one of those films that hasn't exactly been plucked out of obscurity by the great hand of ND/NF; it has been garnering a lot of buzz on the festival circuit including at the 2011 Toronto International Film Festival, the 2012 Sundance Film Festival, and most recently at South by Southwest in Austin. It is also hugely popular in its home country of Indonesia, and has been released in the U.S. today by Sony Pictures Classics. And you know what? The artful, astoundingly choreographed, breathtakingly shot, relentlessly action-packed movie deserves every bit of that recognition.
TWILIGHT PORTRAIT (Angelina Nikonova, Russia)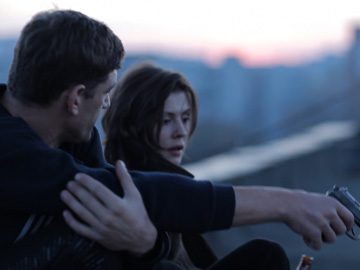 A debut feature for director Angelina Nikonova, Twilight Portrait is being billed as a slow-burning subversion of the expected and formulaic in urban crime thrillers. Set in a modern Russian city overrun by crime and corruption and seemingly populated by smart-mouthed, if downtrodden, citizens, the film explores the unexpectedly turbulent aftermath following the rape of a young woman by the local police. Lady Vengeance is very happy to see a female filmmaker turning in a dark, disturbing, and by all accounts thought-provoking entry to the traditionally male-dominated world of gritty criminal dramas and police procedurals.
FARIHAH ZAMAN began working in film as a Programmer for Film South Asia documentary film festival before moving to New York in 2005, where she was the Acquisitions Manager at independent film distribution company Magnolia Pictures. In 2008 she coordinated IFP's No Borders program, the only international co-production market in the US, before becoming Program Manager of The Flaherty Seminar until 2010. Farihah currently writes for The Huffington Post, as well as online film journal Reverse Shot, among others. She is co-directing a documentary, REMOTE AREA MEDICAL, shooting in April 2012.