Back to selection
DISPATCH #2 FROM 66th VENICE: POLITICS AND PERSONALITIES

This has been a festival of surprises, beginning with higher attendance than anticipated in view of the world-wide economic crisis, and the emergence of unexpected stars: how about Michael Moore and President Hugo Chavez as media darlings? Moore, who apparently is better known in Europe than one would imagine, brought Capitalism: A Love Story (right), drawing an overflow crowd to his press conference and enthusiastic audiences to the screenings. Moore's is one of the six U.S. films competing for the Golden Lion. The real coup, however, was an international stage for Chavez in Oliver Stone's South of the Border, signing autographs, posing for photos and basking in the press coverage and the forum it provided. From Venice Chavez goes on to Teheran, Tripoli, and Moscow for serious talks, no doubt still trailing his media fame and the alarm it is causing in some quarters, while Stone deplored media attacks by the West.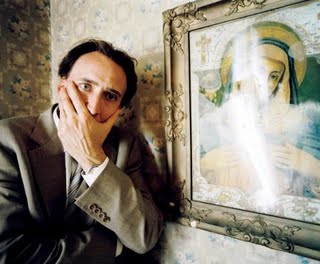 Tried and true stars are not about to go away, however: George Clooney in Men Who Stare at Goats still draws huge crowds and endless speculation about his love life. The word "reinvention" is used to describe Werner Herzog's Bad Lieutenant: Port of Call New Orleans (right). He appeared with his stars, Nicholas Cage and Eva Mendes, to great enthusiasm, and is also the first director to have two films in competition at the same festival: his My Son, My Son, What Have Ye Done was listed in the program as a surprise film. His feud with Abel Ferrara (over his version of Bad Lieutenant, which Herzog claims not to have seen), here with his documentary Napoli Napoli Napoli, apparently continues.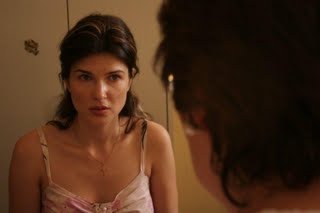 This year's scandal is Francesca (right), a first film by the Romanian director Bobby Paunescu in which he denounces Italian racism, calling Alessandra Mussolini (granddaughter of the dictator and a member of the Italian government) a whore for having said that all Romanians have rape in their DNA, and also castigating the mayor of Verona for driving Romanians out of his city. Paunescu refused to apologize and screenings of his film have been suspended due to legal action by the distributor Fandango against the director. Stay tuned. — Belle Burke
Read Dispatch #1 from Venice and stay turned to The Blog for more coverage from the fest.