Back to selection
PREVIEWING THE TORONTO FILM FESTIVAL
Howard Feinstein will be covering Toronto for Filmmaker this year. Below, he jots down a few of the things he's looking forward to.
Question: How to group the films at Toronto I am most eager to see, by section or by geographical programming (a major plus for the festival)?
Answer: Both. Here goes, but frankly, the titles are hardly exhaustive.
"Visions," with only 12 titles, could turn out to be the hot strand. I'm eager to see Trash Humpers (above left), by the poet of the most ignored among the marginalized, Harmony Korine. Ditto To Die Like a Man, by the poet of the most ignored among the marginalized Portuguese gays, Joao Pedro Rodrigues (Phantom). The former is about Korine's typical assortment of almost freakish outsiders; the latter, a transsexual drag performer whose added endowments begin to betray her.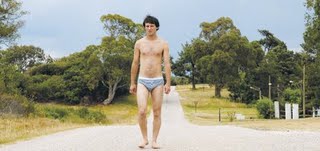 More on the plane of reality as most of us know it is Hiroshima (at right), a film about his troubled brother by the gifted Uruguayan director Pablo Stoll (Whisky, 25 Watts). I've heard wonderful buzz about Samuel Maoz's Lebanon, which, like last year's Waltzing With Bashir, is a catharsis for the Israeli filmmaker. Most of Lebanon takes place inside a tank during the horrid 1982 invasion of Lebanon.
Several offerings in the section "Special Presentations" seem promising. Gallic director Bruno Dumont, a cinematic philosopher, is a personal favorite. Here he has Hadewijch, the story of the encounter between an extremely devout Christian girl and an equally religious Muslim man. Todd Solondz is back, now with Life During Wartime, the tale of two sisters whose husbands are incarcerated deviates, and who attempt to recreate their lives. A guilty pleasure for me is the work of Nicolas Winding Refn, an unpredictable Dane (the Pusher trilogy, Bronson) who, in Valhalla Rising, makes a revisionist Norse epic.
Of course, everyone is curious about Michael Moore's Capitalism: a Love Story, which couldn't come out at a more apt time. Let's face it: The housing crisis and the bank failures are clear signals that capitalism as we know it just doesn't, and can't, work, that the implemented recovery strategies are bandages at best.
I usually run from any movie included in "Gala Presentations"—frequently bad stuff with B-list performers–but how can one ignore a director like Atom Egoyan? Hopefully, after Where the Truth Lies and the disastrous Adoration, he is back in form with Chloe, in which Julianne Moore and Liam Neeson star in a drama about fidelity and jealousy, but with the multiple layers and audience-trusting tempo we associate with this one-of-a-kind talent.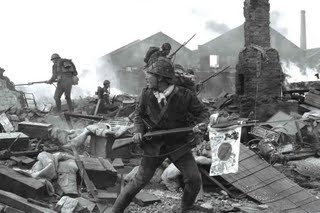 Anything Asian strewn across the sections tends to be a good bet, thanks to programmer Giovanna Fulvi's sharp eye and ear. The Japanese film Bare Essence of Life, by Satoko Yokohama, could be a discovery. A mentally challenged young farmer enters new emotional and physical terrain when an attractive city woman moves nearby. Reviews in Cannes were super positive for Chinese filmmaker Lu Chuan's City of Life and Death (left), a black-and-white fictional account of the 1937 "rape of Nanking" by the Japanese military. Lu explores the reaction of both Chinese and Japanese characters; perhaps this is the reason he has received death threats for being too soft on the latter. Why do I put stock in this movie? His poignant Mountain Patrol: Kekexili was the revelation of the New York Asian Film Festival a few years back. — Howard Feinstein