Back to selection
PICTURING NOLLYWOOD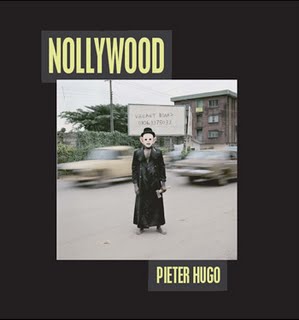 One of the most reprinted articles we've run at Filmmaker was South African producer Jeremy Nathan's 2002 piece on "No Budget Nigeria," the thriving Corman-esque film scene otherwise known as Nollywood. Now, artist Pieter Hugo has released a book containing his stunning square-format photos featuring portraits of performers from these films. It's called, appropriately, Nollywood. In an essay about the images, Federica Angelucci explains Hugo's approach, which is to compose photographs that play off the mythologies created by the films. An excerpt:
Movies tell stories that appeal to and reflect the lives of its public: stars are local actors; plots confront the viewer with familiar situations of romance, comedy, witchcraft, bribery, prostitution. The narrative is overdramatic, deprived of happy endings, tragic. The aesthetic is loud, violent, excessive; nothing is said, everything is shouted.

In his travels through West Africa, Hugo has been intrigued by this distinct style in constructing a fictional world where everyday and unreal elements intertwine.

By asking a team of actors and assistants to recreate Nollywood myths and symbols as if they were on movie sets, Hugo initiated the creation of a verisimilar reality.

His vision of the film industry's interpretation of the world results in a gallery of hallucinatory and unsettling images.

The tableaux of the series depict situations clearly surreal but that could be real on a set; furthermore, they are rooted in the local symbolic imaginary. The boundaries between documentary and fiction become very fluid, and we are left wondering whether our perceptions of the real world are indeed real.
Writer Stacy Hardy discusses the relationship between Hollywood and Nollywood horror: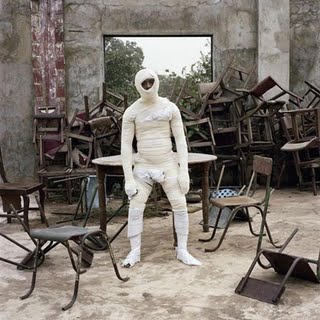 Boundaries become confused: documentary bleeds into fiction as reality and fantasy fuse. Nollywood and Hollywood trade secrets. Catwomen of Outer Space-style sci-fi mixes with Black Caesar-style syncretic blaxploitation. Spiritual belief systems are played through videogame warzone in an unlicensed gameshow-without-end. Identity changes and shifts and cracks open. As Haraway writes, the vampire "drinks and infuses blood in a paradigmatic act of infecting whatever poses as pure."

Image sequence: the Madonna reimaged as the ghost of the Emperor Haile Selassie meets Idi Amin, Charlie's Angels do Rambo — Foxy Brown-style, David Lynch's Lost Highway snakes through Lagos, Ghostface Killa mutates into Fela's "Zombie" and Dracula gives way for Blacula. Voodoo, hoodoo and mambo are mashed up with Igbo rituals. Ahhwooooo… Werewolves of Lagos.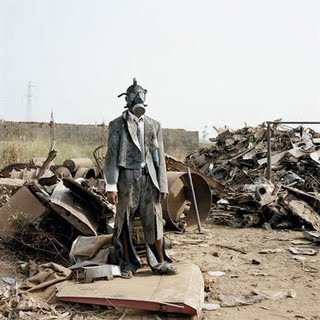 Pieter Hugo's Nollywood, published by Prestel USA, is in bookstores this week.