Back to selection
JON REISS ON OUR FORUMS, AT THE IFC CENTER AND (MAYBE) FREE IN YOUR MAILBOX

We inaugurate our "Weekly Player" series with filmmaker Jon Reiss (Bomb It), who will be on the forums all this week (November 9 – 16) answering your questions about DIY distribution, marketing, publicity and outreach. Jon is the author the new book, Think Outside the Box (Office): The Ultimate Guide to Film Distribution and Marketing for the Digital Era, and readers will know him from the great series of articles he's written for us — "My Adventure in Theatrical Self-Distribution," "My Adventure in Home Video," and "How to Market Your DVD Online." These articles grew into the book, which I've read and think is an indispensable manual for filmmakers figuring out how to launch their works in today's new digital world.
So, if you aren't a member yet of the Filmmaker Forums, I hope you become one this week and post your questions for Jon at the Weekly Player forum. It's free, of course. As an incentive, we'll be giving away five copies of Jon's book to the originating posters of what we judge to be the five best threads.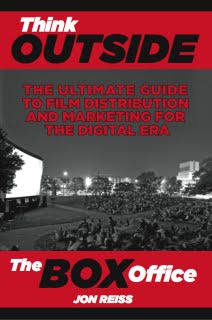 Finally, Jon will also be the speaker at part one of our series at the IFC Center, "The New World: A User's Guide for Filmmakers and Audiences." In this special series, experts on the new, digital-era ways of financing, distributing, marketing and building an audience for independent film will relay their hard-earned practical advice and strategies. Learn how the industry is shifting and providing fresh opportunities for films and audiences to connect in new ways. Technology is changing all the rules — we'll track the new revenue sources being created for filmmakers and help audiences navigate the expanding options.
Jon's seminar, which takes place Tuesday, November 17 at 6:00PM, will teach how to create unique distribution and marketing plans for independent films, explaining both do-it-yourself and hybrid approaches. He will outline what filmmakers need to do to prepare for distribution while making their films. Finally he will details ways in which filmmakers can take back and redefine the theatrical release by playing a combination of conventional theaters, community screenings and festivals. Admission is only $12.50, and tickets can be bought here.
One more thing: if, hanging out on the forums you decide you'd like Jon's book, he's offering a $5 discount coupon at his site.
Hope to see some of you online this week and in person next week at the IFC Center.