Back to selection
Five Questions with Journey To Planet X Director Josh Koury
Josh Koury is a chronicler of art on the fringes. In 2002, he founded the Brooklyn Underground Film Festival (BUFF), which he ran until 2006, screening weird and wonderful movies that had failed to find a home elsewhere, and in 2007 he directed the documentary feature We Are Wizards, which spotlighted Harry Potter fans who demonstrated their profound love of J.K. Rowling's world by forming bands that performed "wizard rock." Now Koury has teamed up with his frequent collaborator Myles Kane (the co-founder of BUFF and Koury's editor on Wizards) to co-direct Journey to Planet X, a non-fiction feature that focuses on Eric Swain and Troy Bernier, two scientists who spend their spare time working together on zero-budget genre movies and now take on their most ambitious project to date, Planet X.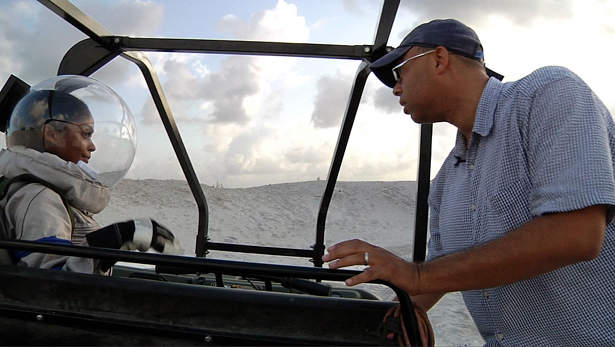 Filmmaker: How did you first come across Eric and Troy? Did you immediately want to make a film about them?
Koury: We actually met Eric and Troy back when we were running the Brooklyn Underground Film Festival.  They submitted to the festival in our first year, and we instantly fell in love with their low tech/outsider approach to filmmaking.  In 2008 we reached out to them to see if they would be interested in us making a documentary about their process – they were interested, but didn't conceive of their new piece (Planet X) until a year later.
Filmmaker: Journey to Planet X ultimately seems like a love letter to filmmaking, but were you at any point concerned about being seen to be mocking your subjects?
Koury: We were worried about that, and I think it's a fine line to walk when making films like this.  The biggest challenge was making a film about amateur filmmaking that was funny and entertaining but also wouldn't be misunderstood as something condescending or exploitative. The key is that we really do love Eric and Troy's work, and always have since the first time we saw it back in 2001.  I think that genuine respect goes a long way.
Filmmaker: What is your relationship with Eric and Troy now? As a documentary filmmaker, do you often remain friendly with your subjects after the films are no longer on the festival circuit?
Koury: Journey to Planet X took about 3 years to complete, and I think whenever you make a film like this, you grow close to the subjects as both friends and colleagues.  The process is physically and emotionally straining and we felt overwhelmed and anxious at every turn.  We saw our own anxieties, excitement, and fear reflected in every step of Troy and Eric's production and really bonded through this shared experience.  The similarities were eye-opening. They are our friends and have mean a great deal to us after such a long journey, so I hope we'll continue to be in touch.
Filmmaker: You co-directed the film with your longtime collaborator Myles Kane. Can you talk about how you shared and/or divided duties?
Koury: Myles and I were a two-man shooting crew over two years.  We pretty much stayed together throughout the entire process of making the film. I know that working as a co-director can be difficult for some people, but Myles and I have been working together since the days of the Brooklyn Underground Film Festival, and we have a long relationship of collaboration.  It also helped that we were both really intrigued by the idea of a documentary like this – we've been wanting to make this film for years.
Filmmaker: This film and We are Wizards are both about an outsider's take on popular culture. Were you very conscious of parallels between the two films, and do you feel that similar personal preoccupations are being explored in both?
Koury: I think both films are about people taking trying to do what they love, and being inspired and creative through the process. For Myles and I, these documentaries are passion projects on the nights and weekends – and it very much reflects what all of the characters in both films are doing.  People doing whatever creative project they come up with, even if it seems impossible or ludicrous, because they love what they're doing.  So that's what the subjects are doing, and that's what Myles and I are trying to do with both of these films.