Back to selection
WIN "DRAGONSLAYER" SKATEBOARDING SWAG!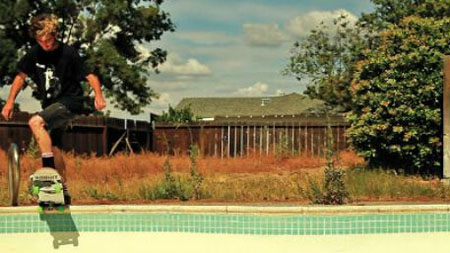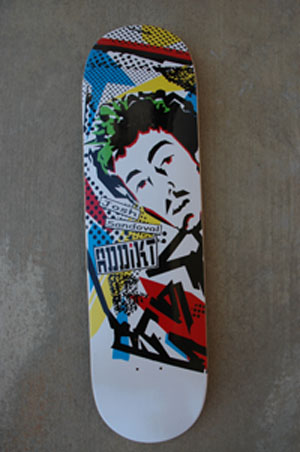 Our friends at SNAGFILMS are giving away swag for the iTunes launch of Dragonslayer, director Tristan Patterson's award-winning skate documentary about Josh "Skreech" Sandoval. (You can watch it here.)
The first prize winner will receive an 
Addikt Skateboard
 deck (right) inspired by the legend of "The Gonz" graphic,
Skatebook 3
— a skateboard photography coffee table book — as well as an action-packed street skateboarding DVD featuring Skreech and other insane skaters. Two runners-up will receive the Addikt deck and the DVD.
To enter, just send an email to nick@filmmakermagazine.com and tell us which award Dragonslayer won at last year's SXSW Film Festival.
To whet your appetite for the film, here's an extract from an
interview
Filmmaker
did with Patterson last year to coincide with
Dragonslayer
's theatrical release:
Filmmaker: The entire film has a fever dream quality to it, despite being grounded in the economic realities of the time. When was it clear that following him [Skreech] around would lead to this kind of film? Did you know their was a feature in it from the beginning?

Patterson: This thing happened really early on where the first day of filming we broke into this abandoned casino that had burnt to the ground where he had heard that there was a swimming pool. We filmed him cleaning it out. I couldn't believe it, it probably took him like two or three hours to clean the pool, then he skated for five minutes and then an old lady came out and kicked him off the property. I remember that night being in a hotel room somewhere in California, probably Modesto or something, looking at the footage we shot and thinking that we were getting something that was cinematic. I never thought about it like I was making a documentary, my ambition was to make something that was a piece of cinema, and I remember looking at the footage and thinking I'd never seen anything that looked quite like this. He was so natural in front of the camera that maybe there was a chance to do something that was really new. A little bit later I got the memory card from the camera I had given him, his sort of interpretation of that same day. That idea of colliding our very observational footage with their flip-cam footage really put you inside of his head. I think the first thing he shot was the scene where he charges into the party and tells everybody, "I'm just drunk and filming my eyes!" I remember thinking what an incredible line that was.

So I didn't know what the movie was going to end up being, but the idea of colliding those two very different kinds of footage would amount to a movie so at that point it became more about this experiment and figuring out what that would ultimately become. Once I had that frame, it started to take shape pretty quickly.