Back to selection
BURIED NABBED BY LIONSGATE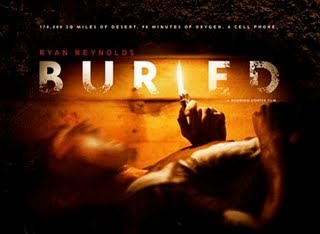 Thought by most to be an obvious choice, Lionsgate has acquired the much buzzed about Sundance Midnight film Buried, according to Variety.
Directed by Rodrigo Cortes and written by Chris Sparling, the film stars Ryan Reynolds as a U.S. contract driver in Iraq who after a sudden attack on his convoy awakens to find himself buried alive inside a coffin with nothing more than a lighter, a cell phone, and little memory of how he ended up there.
The trade reports the deal was between $3 to $4 million.
Other titles in buyer's sights include Josh Radnor's happythankyoumoreplease, Debra Granik's drama Winter's Bone, Eli Craig's comedy Tucker and Dale vs. Evil and Amir Bar-Lev's doc The Tillman Story.
Read our story on how Chris Sparling got his Buried script made.