Back to selection
AT CANNES: THE SUN SHINES AT THE WETTEST FESTIVAL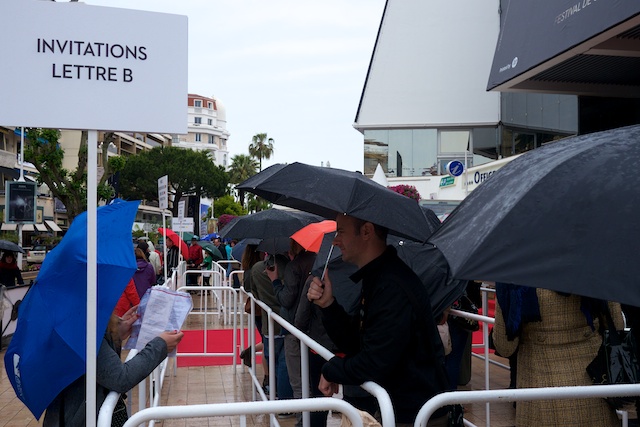 Is there anything worse than some other guy going on about the weather?
When Angelenos extoll their perpetually sunny climes, it always feels a bit like a reproach to those who live anywhere else. Pacific Northwesterners discuss their persistent rain quietly, as if wearing some old war medal. But journalists in Cannes? What do readers feel when reading reports of how cold and soggy it is in the south of France? Sympathy? Schadenfreude? Or perhaps just disinterest?
Despite my suspicion that it is the latter, I still have to go there because, yes, the rain has been the most notable story so far at the 65th edition of the Cannes Film Festival. While the sun is shining as I type this — and after many industry folk have left — since Friday it's been more or less rain, rain, rain. I've been coming to Cannes for almost 15 years and I never remember it like this. My shoes have been soaked, remaining still wet in the morning; I've changed screenings based on whether I've been carrying my umbrella or not; and, mostly, I've looked expectantly out my window each morning — or through the windows of the Palais as I head out of a screening — for rays of sun. Somehow, the experience of spending two hours in a dark theater is able to convince you that the world outside will have changed by the time you exit. But no, you look up and the clouds remain.
My wet shoes are nothing, though, compared to the problems of women in their couture heading to the evening galas. Or the BFI, which had to move the site of its annual party indoors from the Marriott Rooftop. Or, as The Hollywood Reporter reported, filmmakers Gonzalo Tobal and Christian Mungiu, who saw screenings cancelled after the roof of the temporary industry screening site, the Soixantieme Theater, partially collapsed under the weight of all that water.
The rain has had an effect on business too. As Deadline reported, buyers have stayed in their hotel rooms to close deals while the palliative effect of glamorous Cannes on film dealmaking seem to have vanished due to the downpours. "I think when sellers are sitting on the lawn of the Grand Hotel, the sun is shining, they're having a glass of rosé and pitching their movies, there's a difference," one executive told Deadline.
Okay, but what about the films? The only Competition film that has near-unanimous praise from critics is Michael Haneke's Amour, the story of an elderly couple after the wife has a stroke. Next in order of enthusiasm is, I'd say, Cristian Mungiu's Beyond the Hills, the story of two young female friends who, after being separated, meet again in a convent. II haven't seen either, but I did see and like this afternoon Andrew Dominick's Killing Them Softly, a 2008-set post-Obama neo-noir. In Directors Fortnight, Pablo Larraín's No, starring Gael Garcia Bernal, is a bona fide breakout hit, scoring a standing ovation and a Sony Pictures Classics pick-up. My thoughts on the movies, including Leos Carax's Holy Motors, which I'm seeing tomorrow, later. (As I type, ecstatic reactions are coming in via Twitter from the Holy Motors premiere.)
Cannes didn't start out all wet. I arrived in nice — if a bit chilly — weather on Thursday, just in time for the IFP and Calvin Klein's Celebration of Women in Film. Held not on the beach but up in a villa, it was a tremendously sleek affair mixing Hollywood A-listers, glamorous faces from the fashion industry, and many of the festival's independent filmmakers and industry. Among those attending were Jada Pinkett Smith, Alec Baldwin and his fiance, Hilaria Thomas, Ben Stiller, and Chris Rock. Filmmaker James Toback showed Cannes newbies how it's done by setting up shop with Baldwin and filming material for his documentary on financing a movie at Cannes. On the independent side, guests I spoke with included many of the Beasts of the Southern Wild crew, including producers Dan Janvey and Josh Penn and exec producer Paul Mezei; Two Days in New York actor and screenwriter Alexandre Nahon; indie producers Vinay Singh (Nancy, Please) and Jason Berman (LUV, The Brooklyn Brothers Beat the Best); and distribution vets Bob and Jeanne Berney. Pictured above, IFP Executive Director Joana Vicente (at right) with the evening's honorees: (from left to right) Shailene Woodley, Jessica Chastain, Naomi Watts, Ludivine Sagnier, and Diane Kruger.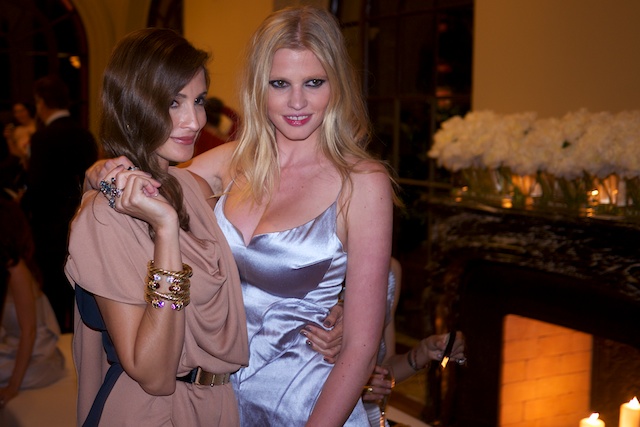 I snapped this picture of models Astrid Munoz and, at right, Lara Stone. Eagle-eyed readers of my Twitter feed (or my private Tumblr) will recognize Stone from her appearances in shorts by filmmakers like Alex Prager.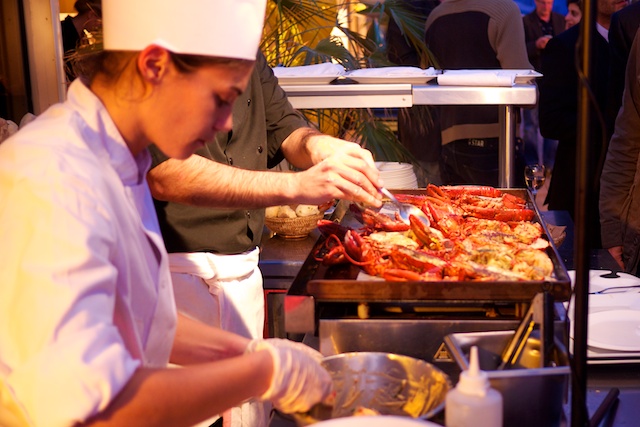 The following night Fox Searchlight hosted a great party, including an excellent lobster spread, for the aforementioned Beasts, which received a lengthy standing ovation here in its Un Certain Regard screening.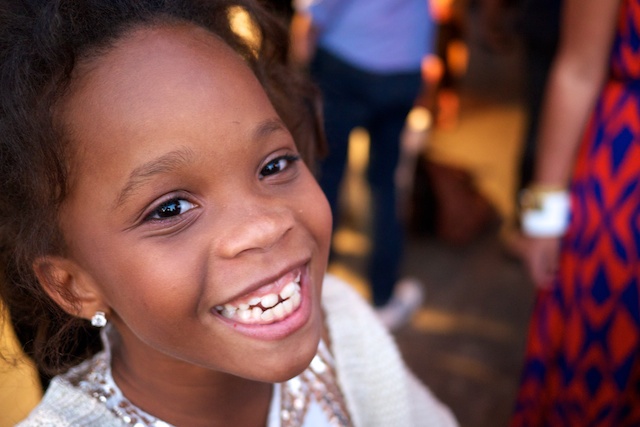 At the Beasts party, lead actress Quvenzhane Wallis.
UPCOMING: Movies, including Lawless, Killing Me Softly, Reality, Paradise, Holy Motors, Like Someone in Love, Room 237; filmmakers at the Shorts Corner; new digital initiatives; and more.