Back to selection
ACADEMY AWARDS NOMINATIONS REVEALED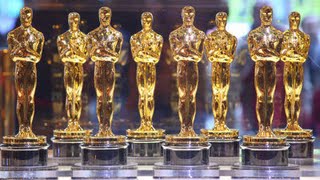 Moments ago the nominations for the 82nd Academy Awards were announced. Though most of the obvious choices did come through, there were some nice surprises on the indie side, including multiple nominations for The Messenger, including Best Supporting Actor for Woody Harrelson and The Last Station (Helen Mirren for Best Actress and Christopher Plummer for Best Supporting Actor). Colin Firth received a nomination for his moving lead performance in A Single Man, and another surprise was Maggie Gyllenhaal receiving a Best Supporting Actress nomination for Crazy Heart.
And for the first time since the late 30s the Academy is recognizing ten Best Picture nominees.
The Oscars will air on March 7 @ 8:00pm on ABC.
Read the full list of nominees below.
MOTION PICTURE OF THE YEAR
Avatar
The Blind Side
District 9
An Education
The Hurt Locker
Inglourious Basterds
Precious
A Serious Man
Up
Up in the Air
ACHIEVEMENT IN DIRECTING
James Cameron, Avatar
Kathryn Bigelow, The Hurt Locker
Quentin Tarantino, Inglourious Basterds
Lee Daniels, Precious
Jason Reitman, Up In The Air
PERFORMANCE BY AN ACTRESS IN A LEADING ROLE
Sandra Bullock, The Blind Side
Helen Mirren, The Last Station
Carey Mulligan, An Education
Gabourey Sidibe, Precious
Meryl Streep, Julie & Julia
PERFORMANCE BY AN ACTOR IN A LEADING ROLE
Jeff Bridges, Crazy Heart
George Clooney, Up In The Air
Colin Firth, A Single Man
Morgan Freeman, Invictus
Jeremy Renner, The Hurt Locker
PERFORMANCE BY AN ACTRESS IN A SUPPORTING ROLE
Penelope Cruz, Nine
Vera Farmiga, Up In The Air
Maggie Gyllenhaal, Crazy Heart
Anna Kendrick, Up In The Air
Mo'Nique, Precious
PERFORMANCE BY AN ACTOR IN A SUPPORTING ROLE
Matt Damon, Invictus
Woody Harrelson, The Messenger
Christopher Plummer, The Last Station
Stanley Tucci, The Lovely Bones
Christoph Waltz, Inglourious Basterds
ORIGINAL SCREENPLAY
The Hurt Locker
Inglourious Basterds
The Messenger
A Serious Man
Up
ADAPTED SCREENPLAY
District 9
An Education
In The Loop
Precious
Up In The Air
ANIMATED FEATURE FILM
Coraline
Fantastic Mr. Fox
The Princess and the Frog
The Secret of Kells
Up
FOREIGN LANGUAGE FILM
Ajami
The Secret of their Eyes
The Milk of Sorrow
A Prophet
The White Ribbon
DOCUMENTARY FEATURE
Burma VJ
The Cove
Food, Inc.
The Most Dangerous Man In America: Daniel Ellsberg and the Pentagon Papers
Which Way Home
ACHIEVEMENT IN MUSIC (ORIGINAL SONG)
"Almost There" (The Princess and the Frog)
"Down In New Orleans" (The Princess and the Frog)
"Loin de Paname" (Paris 36)
"The Weary Kind" (Crazy Heart)
"Take It All" (Nine)
ACHIEVEMENT IN MUSIC (ORIGINAL SCORE)
Avatar
Fantastic Mr. Fox
The Hurt Locker
Sherlock Holmes
Up
ACHIEVEMENT IN EDITING
Avatar
District 9
The Hurt Locker
Inglourious Basterds
Precious
ACHIEVEMENT IN CINEMATOGRAPHY
Avatar
Harry Potter and the Half Blood Prince
The Hurt Locker
Inglourious Basterds
The White Ribbon
ACHIEVEMENT IN ART DIRECTION
Avatar
The Imaginarium of Doctor Parnassus
Nine
Sherlock Holmes
The Young Victoria
ACHIEVEMENT IN COSTUME DESIGN
Bright Star
Coco Before Chanel
The Imaginarium of Doctor Parnassus
Nine
The Young Victoria
ACHIEVEMENT IN VISUAL EFFECTS
Avatar
District 9
Star Trek
ACHIEVEMENT IN SOUND EDITING
Avatar
The Hurt Locker
Inglourious Basterds
Star Trek
Up
ACHIEVEMENT IN SOUND MIXING
Avatar
The Hurt Locker
Inglourious Basterds
Star Trek
Transformers: Revenge of the Fallen
ACHIEVEMENT IN MAKEUP
Il Divo
Star Trek
The Young Victoria
DOCUMENTARY SHORT SUBJECT
China's Unnatural Disaster
The Last Campaign of Govenor Booth Gardner
The Last Truck: Closing of a GM Plant
Music by Prudence
Rabbit a la Berlin
ANIMATED SHORT FILM
French Roast
Granny O'Grimm's Sleeping Beauty
The Lady and the Reaper
Logorama
A Matter of Loaf and Death
LIVE ACTION SHORT FILM
The Door
Instead of Abracadabra
Kavi
Miracle Fish
The New Tenants