Back to selection
Five Questions with Last Kind Words Director Kevin Barker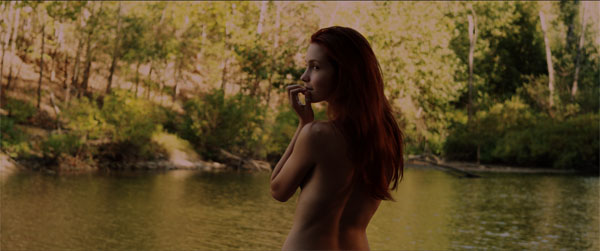 New York City writer/director Kevin Barker's Last Kind Words – which gets its first hometown screening June 8 and 10 as part of the Brooklyn Film Festival – is a supernatural thriller with a Southern Gothic setting, starring Deadwood's Brad Dourif, Spencer Daniels (The Curious Case of Benjamin Button), and Sarah Steele (Spanglish). Barker has a parallel career as a musician, having worked with Devendra Banhart, Antony & The Johnsons, and Joanna Newsom, in addition to recording his own music. Ghosts, violence, and murky atmosphere abound in the multi-talented Brooklynite's film, in which music unsurprisingly plays a key role.
Filmmaker: You've said that part of the inspiration for Last Kind Words came from the Delta blues tune "Last Kind Words Blues," by Geeshie Wiley, which also happened to provide the soundtrack to a particularly creepy moment in the Crumb documentary. What's the song's relationship to the film?
Barker: The tune was a big inspiration for me and my wife, Amy, who helped me develop the story. Amy read John Jeremiah Sullivan's article "Unknown Bards", in which Sullivan attempts to decode and dissect the lyrics to the mysterious recording with the help of the late guitarist and folk scholar John Fahey. Amy was struck by some of the fascinating, archaic language and ghostly imagery in the song and asked me if I'd ever heard of it. I told her it's one of my favorite pieces of music ever recorded. I played it for her immediately and she was floored.
In the song, Wiley tells of seeing her dead lover across the Mississippi River after he dies at war in Germany. This image of love across the boundaries of life and death found its way into the story, and was part of why I chose the title for the film. The song does appear in the film over the end credits…I ended up using so much other amazing music — Sibylle Baier, Espers, P.G. Six, Feathers, and a score by Robert A. A. Lowe/Lichens — that the best place for the song ended up being the moment when the final shot of the film cuts to black.
Filmmaker: Your double life as a filmmaker and a musician came together on your previous feature, the documentary The Family Jams. Can you talk about the genesis of that project?
Barker: After I moved to NYC, I was playing music as much as I could and soon began to play with some other really interesting people. One of the most interesting was Devendra Banhart…I told him I thought he'd make a great subject of a documentary. Maybe six months later, as Devendra was putting together a tour for the summer of 2004 with Joanna Newsom and Vetiver, he invited me to come along and document it. I jumped at the opportunity. I travelled with them, played music with them, and filmed our adventures. It was a blast — an amazing, life-changing experience for me.
When I got back, I had the feeling that I had a good film in there, but I wanted to wait a little while and see how their careers developed before finishing the film. Devendra, Joanna, and Vetiver all moved in very different directions, and I think it's particularly interesting now to look at this fleeting moment when they were all in the same van, on the same stages, at a very different time in their lives and careers than they are now. It's really a story of youthful possibility and the beautiful moment when young artists first find their feet and take off.
I edited the film myself. I had never tackled a project anywhere near the length and complexity of The Family Jams –100 hours of footage cut into less than an hour and a half — and it was a crash course in storytelling. It was important to me that the movie be a story, not merely a concert film. The music, of which there is plenty, is always meant to relate to the narrative. I paid very close attention to the lyrical content of the music clips I used, and they always comment on the story.
Filmmaker: Last Kind Words is described as a "Southern gothic ghost story." What would you consider to be the precedents for it in that context?
Barker: Murder ballads and Southern folklore were heavily on my mind as I was developing the story and writing the script. "Dark Holler" by the great banjo player Clarence Ashley was another big influence, though the original song didn't make it into the film. The South has an incredibly rich history, but one that has an incredible darkness that ripples underneath it. It has an undeniably violent history, as much of the world does, but the way that violence has percolated into the folklore is particularly interesting to me. Especially the tradition of murder ballads — the intersection of love and death, sung in sweet, close harmony.
As for films that inspired me, the tone and the love story of Let The Right One In were a bit of a touchstone for me. Also elements of Badlands and Days of Heaven were on my mind when thinking about the look and feel of the film. We came to think of the tone as a "Terrence Malick horror film", if such a thing could possibly exist. I wanted to invoke the expansive beauty of the landscape the way Malick does. The endless hills and prairies in Badlands and the rolling farmlands in Days of Heaven are so baked into my mind when I think of those films. I wanted the dying forests and decaying fields of Last Kind Words to have that same kind of impact.
Filmmaker: How did you come to cast Brad Dourif, and how would you describe his character in the film?
Barker: I was obsessed with Deadwood. Brad is so amazing as Doc Cochran on that show, and I felt he'd be perfect as the charming but darkly ominous Waylon in Last Kind Words. He has the cockeyed intensity, but he also has a depth and vulnerability that I was really looking for. He's an amazing chameleon — his character in Deadwood is so different from, say, Wormtongue in Lord of the Rings. He just totally transforms. He had us get a local Kentucky person [to] read all of his lines on tape so he could study the accent, which he nailed perfectly.
Filmmaker: You've contributed music to other people's productions, and used your own musical experiences as a starting point for your filmmaking – how do your music and film sensibilities affect each other?
Barker: I think music is an incredibly important part of a lot of my favorite films. Just thinking about some of the strong, exciting choices in films like Harold & Maude, McCabe & Mrs. Miller, Rushmore, Observe and Report (a very underrated film), Cisco Pike, Badlands — often the music gets me as excited as the story and leaves as lasting an impression. I think that my music in Gabi on the Roof in July was used by Lawrence Levine and Sophia Takal in a bold and interesting way…I likewise spent a lot of time choosing and editing the music for Last Kind Words, and I hope people find it interesting.
On a technical level, I came to film editing with a solid background in the music recording software Pro Tools, and I found it very easy to adapt to Final Cut Pro. Many of the same concepts are used in the two programs, and I find creating a story in Final Cut to be very similar to creating a song in Pro Tools. You're building something from the ground up, letting performances play, supporting the writing with embellishments and flourishes that enhance but don't interfere with what's happening, and building a palate that feels organic while being very carefully constructed. They're surprisingly similar disciplines, actually.