Back to selection
HANNAH FIDELL AND "A TEACHER" AT US-IN-PROGRESS, PART ONE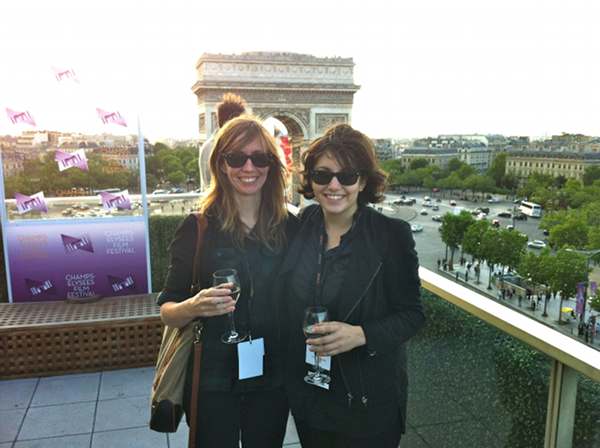 Hello internet! My name is Hannah Fidell and I wrote and directed the film A Teacher. It's screening in rough cut form at US-In-Progress which is being held at the first ever Champs-Élysées Film Festival in Paris this week. Three other American independent films were chosen to compete for various postproduction grants and all are screened for European distributors and sales agents. Being the first time I've ever participated in anything like this, the nice folks over at Filmmaker thought it would be a good idea for me to share my experiences. Enjoy!
June 6, 2012
8:32pm – Dropped off at JFK by my dear friend Emily. Just as we pull up, a SWAT team descends upon an unclaimed briefcase by the entrance. I'm able to rush inside with my hastily packed giant suitcase filled with everything I own and more before the area is closed off.
8:58pm – I've made it through check-in and security in record time with a good two plus hours to kill before my plane begins boarding at 11pm. I decide to rewatch Luc Moullet's Brigitte et Brigitte while waiting which seems fitting since I'll soon be reunited with Kim Sherman, one of the producers on my film (and the entire reason that I'm going in the first place). I've actually been spending the past week rewatching some of my favorite French language films in anticipation: Michael Haneke's The Piano Teacher, Claude Chabrol's La Cérémonie, Bertrand Bonello's House of Pleasures, Maurice Pialat's A Nos Amours, and Catherine Breillat's Sex is Comedy. All are amazing and worth watching (or rewatching).
11:20pm – Plane takes off. I fall asleep immediately. As usual, the stack of months old New Yorkers remain untouched in my bag.
June 7, 2012
12:15pm – Plane lands in Paris and I'm woken up by a flight attendant shaking my arm to (one can only assume) make sure I'm not dead. I'm not.
2pm – My cab driver has been to New York over a dozen times and I honestly believe knows the city better than I do after four years of living there.
7:28pm – Being my anal, punctual self, I rush Kim out of the hotel and to the designated dinner spot only to find that we're the first guests to arrive. Later, during the meal, the distributors and sales agents who in theory have always scared me turn out to be very nice and accessible.
9pm – After dinner, a group forms and we head to an unknown party somewhere off of the Champs-Élysées. The party is alright, but everything changes when a Swede with a bowl cut puts on "Ni**as in Paris" by Jay-Z and Kanye. And I only break one glass the whole evening!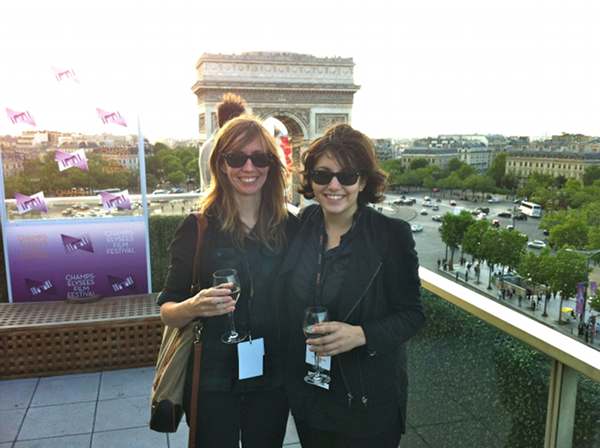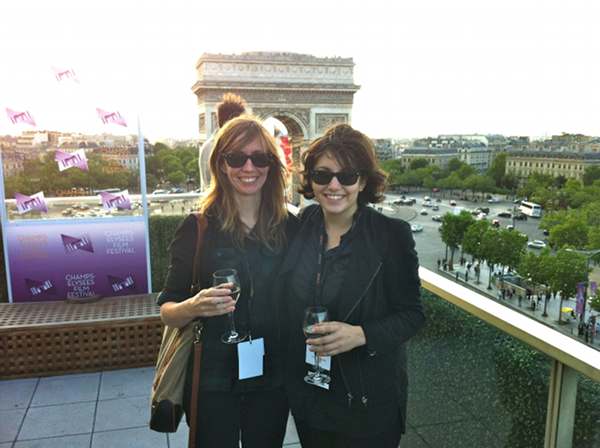 June 8, 2012
8am – I've gotten four hours of sleep and it's Day 1 of the festival. A Teacher is the first of the four films to screen and I'm hoping that the industry folks aren't as exhausted as I am. I find it somewhat humorous that my film is screening first; and can't wait to watch the reactions of the viewers as the (very emotional and graphic) story unfolds.
11am – Success! The film screened and I wasn't cringing the whole time. I return to the hotel and tried to catch up on some sleep because in my sleepless fog I can barely make complete sentences let alone talk about my film.
7pm – I meet back up with everyone and hear that the other films are all incredibly strong, especially Travis Senger's Desert Cathedral. Kim and I head to the Publicis Groupe's Rooftop which is the official party spot of the festival. We take touristy pictures up there with the Arc de Triomphe in the background.