Back to selection
A TRIBUTE TO AN EXCEPTIONAL MAN: MICHAEL RIVA, IN THE DETAILS
Production designer J. Michael Riva passed away in Los Angeles on June 7. Below he is remembered by Jon Reiss. — Editor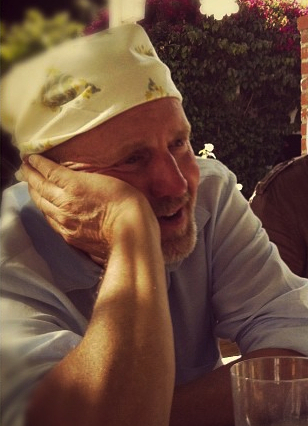 When I first met Michael Riva I thought he was a bit nuts. It was thirteen years ago on a pre-school camping trip for our sons and he had outfitted his tent fit for a bedouin princess. This was accomplished without any expense – a brightly-colored French handkerchief over a side table here, a cot and mattress covered by sheer Indian fabric there, and on the "wall" of the tent he somehow managed to jerry-rig a small landscape. I returned to my $30 pup tent and two sleeping bags lying on the dirt thinking, who is that guy? He constructed this fantasy world not only out of devotion for his wife Wendy (who was on the trip with us), but because Michael turned everything he touched into a work of art. From that moment our wives became as if long lost sisters separated at birth. (And poor Michael was constantly dragged to our house to advise on or approve a building plan or furniture arrangement). In fact we literally moved down the street from their family – not only for the design advice and the friendship but for the incredible meals that Michael cooked for all who dropped by, greeting every visitor with a shout of their name, a huge smile and a warm glint in his eyes.
Michael was a true artist. He found artistry in everything around him, and everything he did was filled with artistry. While he is known primarily for production designing multiple iterations of big Hollywood spectacles — most versions of Iron Man(s), Charlie's Angels(s), Spiderman(s), Lethal Weapon(s) — even his smaller works incorporated spectacle (Goonies, Buckaroo Bonzai). (He was also Oscar-nommed for The Color Purple and won an Emmy for designing the 79th Academy Awards.) It was his attention to detail that elevated the audiences' experience of these films to another level, whether it was the shape of Jamie Foxx's glasses in the upcoming Django Unchained or the shower of gold confetti in the final scene of Charlie's Angels.
In every moment that I was with him he would find joy in some detail of life and share it with whoever was close by. It could be a pile of dying stag-horn ferns that he rescued from a trash bin which now lushly adorn the entrance path to his house, an incredible cheese from a French market ("Here, Johnny, smell this – isn't it fantastic?"), a box of ripe white peaches straight from a farm, ghosts on wires and faux body parts in jars to delight the neighborhood children on Halloween. We, like many families, spend a few hours decorating our Hanukkah bush. Michael would lay out a table of meticulously organized ornaments and different colored tinsel and proceed to spend weeks perfecting the look of their Christmas tree.
Impatient at UCLA Film School, he struck out on his own and quickly realized that the monthly check his grandmother (Marlene Dietrich) was sending him would end his career before it started. On a recent walk he recounted this decision to ask her to stop sending checks as a crucial turning point in his life because it forced him to start a career. Michael was a builder of fantastic worlds who eagerly helped those around him create new meaning in theirs. Michael was a huge supporter of my second career writing and speaking about entrepreneurship for filmmakers and artists.
While Michael felt blessed to have been able to collaborate with so many talented people, he lived for his family. Django Unchained was the first film shot outside of Los Angeles that he agreed to work on in 16 years. He previously refused location work so that he would not be away from Wendy and his boys. This more than anything shaped his oeuvre since he would have liked to have worked on more smaller, character-based films, but those rarely shoot in LA.
In Michael's focus on living a good and meaningful life, making every moment matter and prioritizing family and relationships above all else, he was and will remain a role model for me. He was an incredible father, always finding a crazy activity to do with his sons, and a devoted husband. He was a passionate observer, yet always present – connected with those around him.
Michael had a way of seeing the world that was infectious and inspiring – he helped us see the world differently and elevated everyone around him. Michael exuded so much life, love of life, love of others that I don't feel that he has left us – he permeates everything and everyone he touched – but even so, there still is a whole in my heart and I will miss him terribly.
The Riva family asks that donations made in Michael's memory go to H.O.P.E. Haiti.