Back to selection
CRISIS? WHAT CRISIS? VIEWS FROM MARCH 2012's THESSALONIKI DOC FEST
It's the Greek moment. Again. Still. Thousands of years of civilization, and we're still anxiously awaiting an epistle from Hellas! In the first hours after Sunday's fraught second Parliamentary election of the year, few analysts are confident there won't be a third election or that even the successful formation of a coalition government would last, or be able to withstand the growing force of the Euro-wide economic crisis.
The Thessaloniki Documentary Festival, also known as "Images of the 21st Century," in its fourteenth year, took place in mid-March 2012, before the inconclusive May 6 elections had even been set. Here are some of my images from that seemingly distant moment.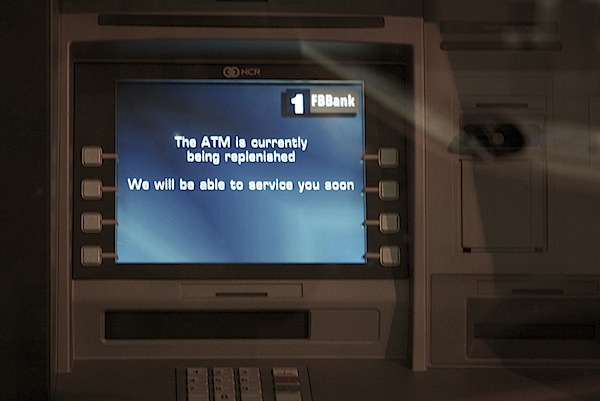 Greece is in its fifth year of recession, but the Thessaloniki festival's two annual outings have survived, partially through funds from the European Union through its NSRS (National Strategic Refererence Framework) program. (As reported by Screen correspondent Alexis Grivas, formerly with the festival, funding is available at least through November 2013 for TIFF and March 2014 for TDF.)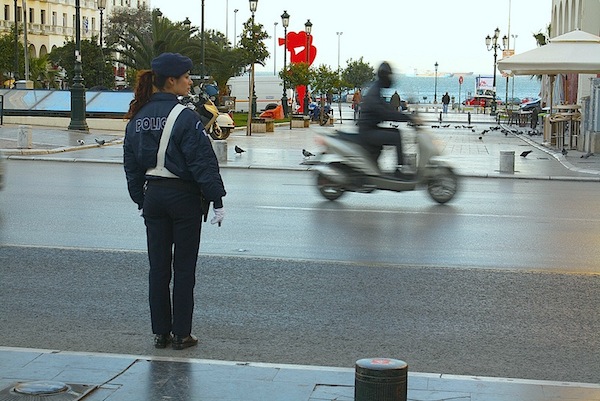 Thessaloniki, the country's second largest city, which considers itself the cultural capital, reflects signs of the country's strain, but hardly to the degree seen in news footage and documentaries from Athens. The city's streets have scattered store closures, and bars, restaurants and clubs have thinned, but the general atmosphere, at least in March, was as resigned, as philosophical, as ever. (Political protests and conflicts since then have heightened, as each day's headlines from Europe reflect.)
No more or less smoking than ever.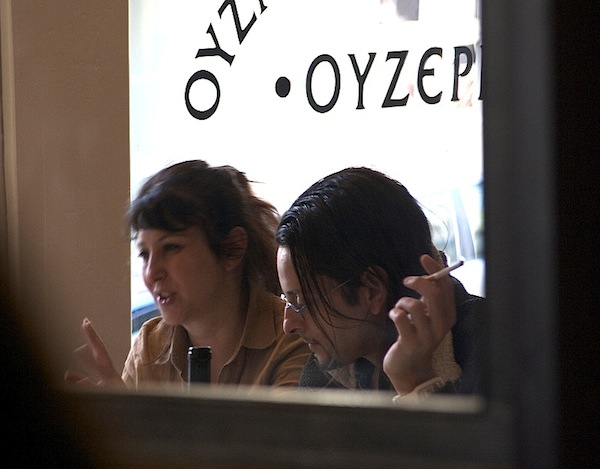 Filmmakers and journalists talked over reflective lunches and late at night at bars and parties, warmed by the gloom of night, not the gloom-and-doom of day.
The city is filled with evidence of antiquity, ranging from fourth century arches celebrating the Roman emperor Galerius, to the ancient city wall built as late as the ninth century, to defunct 1970s shops that printed invitations, made photocopies, had photobooths.
Guardian correspondent Jon Henley combined trips to Athens and Thessaloniki for a series called "Greece on the Breadline," and crowdsourced his columns and Twitter in search of Greeks to talk about the country and its economic prospects before its first election of the year.
Israeli-born, French-based filmmaker Eyal Sivan, a longtime friend of the festival, premiered his newest documentary and spoke at length at both a masterclass and a press conference about his ideas. His simple thank-you to Dimitri Eipides, "It is great honor for me to be here and I want to thank the director of the festival just for existing," showed his affection for TDF. But then the talk, both practical and philosophical: a natural raconteur and provocateur, Sivan put forward propositions that included, "The frame contains a hypocritical, arrogant point of view, since we include in it something that could not otherwise be seen." But for Sivan, "the frame is censorship; it is about what we decide not to show. This is roughly where the discussion about subjectivity and objectivity begins. The documentary is an invitation to look at something from an unfamiliar perspective. Documentary tradition dictates the way in which we film the 'other' so that we can make him or her the film's main character. I don't like the term, 'the other,' it usually refers to the poor, prostitutes, victims and prisoners. In this way cinema becomes a kind of secular church, where instead of the Jew hanging on the cross we see the victims of life and suddenly feel caring, compassionate, and human." Sivan went toe-to-toe with questioners at both his press conference and masterclass, optimism rising from fiery idealism.
Maria Giannouli's Survivors is a short about a four-time Greek paragliding champion who falls 3,000 meters from the sky in the 2009 World Championship and survives. Much of the Greek work on show dealt directly with the ongoing effects of the Crisis, capturing street protests, political action and analyzing the prospects for transforming the country in teeming profusion. Any incidental invocation of the myth of Icarus seems more fact than symbol in these times.
"My method is much simpler," Michael Glawogger told his masterclass of the construction of documentary. "I record the flow of reality, I become invisible, so that people can open up to the camera. I often leave the camera running and take a break. I leave things free. But this doesn't mean that I let things happen by chance. It is never by chance, I always make choices. Things develop by themselves only in football and war." And banking? "It is best to admit that there is no reality, only the point of view of each one of us. On the other hand, if one can manage to combine 'inner' and 'outer' reality in an interesting way, he can approach the moment of authenticity."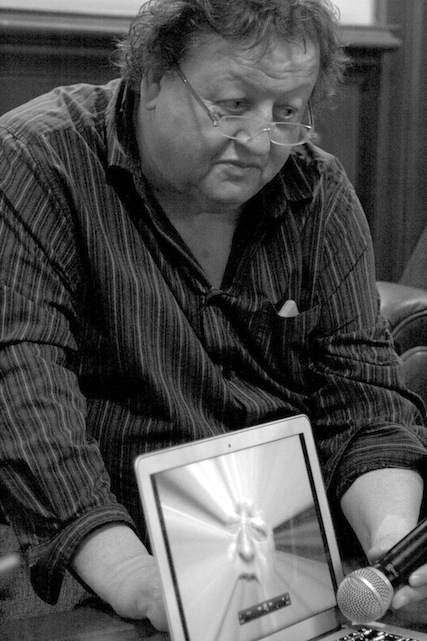 Producer-consultant-filmmaker-gadabout Peter Wintonick delivered one of three "Market Talks," along with Jan Rofekamp from Films Transit and a tribute to IDFA's Ally Derks. A couple days earlier, Wintonick and I had gone to the open air markets a couple blocks up from the festival and I shot him sharing his ideas about the marketplace of ideas and of co-productions, with in-camera editing as we went along. Before his session, the video was lost, alas, but Wintonick improvised, as is his knack, in this case, by interviewing his digital doppelganger.
The key graphics of the November Thessaloniki International Film Festival and the Documentary Festival have become simpler and more bold in the past few years, especially since the 2008 worldwide economic downturn: matchsticks arrayed as man-tall walls, labyrinths spun from traditional Greek decorative patterns and now barbed razor-wire, here entwining the public ticket box at Aristotelous Square in the center of the city.
Shuttered storefronts bloom with graffiti, most in Greek, some in English, some in cryptic slogans.
Outside the festival's central theater, the palatial Olympion, viewers walked out onto an impromptu singalong among dozens of their countrymen. (The video below captures one song.)
The event boasted record attendance of over 50,000. Spirits were high. (Spirits were drunk.) Activist documentaries about Greece's dilemma slotted snugly alongside the year's festival circuit favorites and mad auteurist glories like Victor Kossakovsky's ¡Vivan Las Antipodas!  Anxieties? Yes. Hope? That, too.
Plus singing: