Back to selection
The Queen of Versailles — A Hammer to Nail Review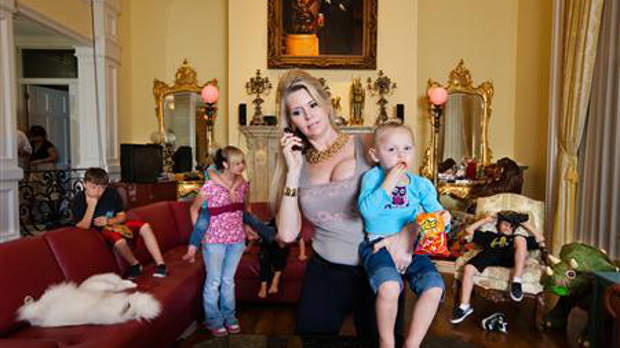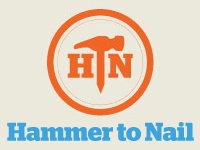 As I left the screening of the documentary The Queen of Versailles, my immediate thought was, "This is why we can't have nice things." Director Lauren Greenfield has created a complicated, fascinating, and humbling film, perfectly calibrated to the zeitgeist. Election-year rhetoric aside, we remain in the ever-widening wake of the Great Recession, and Greenfield's riches-to-rags story releases waves of conflicting emotion: pity, schadenfreude, guilt, empathy, disgust. With fortuitous—and perhaps shrewd—timing, her film captures an America in flux.
The Queen of Versailles tells the story of David and Jackie Siegel, a billionaire couple who were building the largest house in America, a 90,000-square-foot behemoth outside Orlando that they call Versailles. Or "Ver-size": one of the film's running gags is how Jackie—and, later, the broker tasked with trying to unload the house—mis-pronounces the name. The home is a pastiche, modeled on the monarchical French palace as well as the Vegas fabrication of Paris, but truly American in its ambition, tackiness, and ostentatious disregard for its surroundings. David Siegel runs Westgate Resorts, one of the largest time-share companies in the world, and he built his empire by selling timeshares ("luxury" fantasy vacations) to people who can't really afford it. As the pitch goes, if everyone wants to be rich, then "the next best thing is to feel rich." This is how they reel in "the Walmart customer," or in Westgate-speak, "the mooch," because they get free show tickets in exchange for listening to the sales pitch. Watching a Westgate employee close a sale is a distressing experience.
At the start of the film David is on top, smug about his achievements, which in his estimation include getting George W. Bush elected. How? He'd rather not say, because "it may not necessarily have been legal." In addition to Republicans, David also has a fondness for milk-fed beauty queens, and Jackie, a model and former Miss Florida, is exactly his type. When she became Mrs. Siegel, Jackie left behind past failures — a darkness only hinted at — to become the Queen of Versailles, a cosseted life that includes chauffeured cars and a litany of (foreign) housekeepers and nannies to help raise the Siegel's brood of eight (seven children of their own plus an adopted niece). Their 26,000-square-foot "starter mansion" is packed to the gills, necessitating the construction of Versailles. With plans including a bowling alley, ice rink, health spa, and baseball diamond, the Siegels will want for nothing.
Greenfield's initial presentation of the Siegels is coy, but nonetheless comes across as subtly mocking. When their fortunes take a downward turn, the family surprisingly allowed Greenfield to continue filming them, which has a curious effect: we are drawn closer by their vulnerability, but can also see the universal resonance in their downfall. Versailles was to have been David's crowning glory, what Greenfield calls "the ultimate realization of the American dream." Instead, it remains half-completed, an unintentional monument to the years of cancerous, cavernous excess.
David's response is to retreat from the family, holing up in his office amidst piles of paperwork. Jackie tries to be chipper and resourceful in the face of their financial hardship, but whatever her meager roots, she seems desperately, sometimes carelessly, out of touch. It can be funny, like when Jackie expects her Hertz rental car to come with a driver. She goes discount retail for her Christmas shopping, but compulsively piles a fleet of shopping carts full of gifts. Unlike catered fetes of yore, the holiday party is now a stripped-down affair, but it's somehow still necessary to make the nanny dress up in a Rudolph the Red-Nosed Reindeer costume for everyone else's entertainment. It's a cringe-worthy moment that comes across as a humiliating abuse of power.
Jackie seems kindhearted, but the family's attitude toward the nannies and housekeepers is often dismissive. On a rueful tour of the unfinished palace, Jackie turns to her housekeeper and points out that on "the bright side, you won't have to clean this house." Greenfield takes note of this, deliberately including interviews with some of the maids and nannies in her narrative. Surrounded by such a glut of wealth, they work around the clock to send money back to families they never get to see, and their teary-eyed exhaustion is touching and disturbing.
As it turns out, what David Siegel saw in the gilded mirror didn't please him: he is now suing Lauren Greenfield for defamation. It's obvious that Greenfield manipulates her material to craft a certain arc, but I got the sense that she's less interested in exposing the Siegels than in exposing something about our national character. The Siegels function as a sort of cautionary tale, and a representation of the American Dream of which Greenfield is critical. It's obvious that Jackie and David weren't born with money, but they had an admirable amount of hustle. As Nathanael West puts it in The Day Of The Locust, "It is hard to laugh at the need for beauty and romance, no matter how tasteless, even horrible, the results of that need are." If in the end The Queen of Versailles uses the Siegel's story, it's to reflect on the malleability of American identity, and about the bitter striving that often breeds success. David Siegel shouldn't complain — even filmmakers are entitled to a hustle of their own.
Filmmaker has partnered with our friends at Hammer to Nail for a weekly "Pick of the Week" post that will be exclusive to our newsletter and blog for a long weekend, at which point it will go live over at Hammer to Nail as well. In the meantime, be sure to visit www.hammertonail.com for more reviews and lots of other great editorial.