Back to selection
QUARTERLY GIFTS TELL THEIR STORIES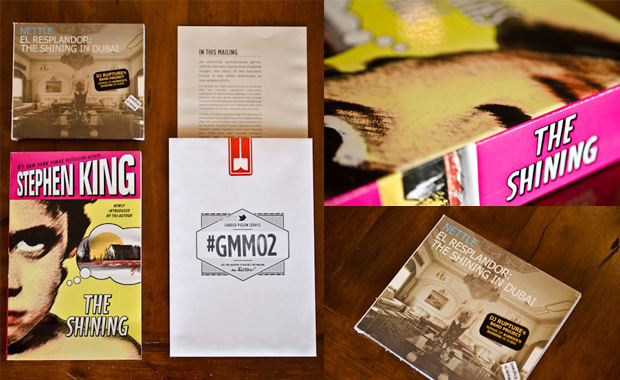 In the current issue of Filmmaker, Lance Weiler writes about scarcity and abundance in the digital world — namely, the trend of digital artists creating physical media limited editions for their fans and followers. Weiler references several such projects in his piece, and, indeed, I'm discovering more every day. Here's the latest: Quarterly, a subscription service that brings you a unique, curated gift from a trusted curatorial source every three months. "Each shipment tells a story," the site promises.
From the site:
Quarterly is a new way to connect with the people you follow and find interesting. We spend so much of our lives connecting with people online that we forget the value of tangible interactions that happen in the real world. Quarterly wants to bridge that gap by allowing anyone to subscribe to influential contributors and receive physical items in the mail from them. It's like a magazine, but instead of receiving words on a page, our subscribers receive actual items that tell a compelling story crafted by the contributor.
Founder Zach Frechette — the former editor of GOOD — elaborates on the Quarterly Tumblr, explaining that he was inspired by the care packages he'd get from his mother while attending an "intense" summer camp that wasn't as much fun as it should have been. He writes:
The seemingly innocuous contents belied a treasure trove of illicit substances: an Aspirin bottle was filled with Skittles; a deck of cards was carefully packed with chewing gum; a container of talcum powder was full of Pixie Stix dust; and a stuffed bear had been gutted to house a cache of—wait for it—Gummy bears.

This package, and the ones that followed, transformed my summer from one of drudgery and despair to one of clandestine fun and ill-gotten popularity.
What's cool about Quarterly is its aggregation of stellar curators who are both stars in their fields while not being the same old familiar faces. The presence of Geoff Manaugh of BLDGblog immediately caught my eye as Filmmaker recently co-hosted the "Breaking Out/Breaking In" Film Festival with him. Here's how Geoff's gifts are described:
The spatial experience of human life extends beneath the streets and sidewalks of our cities, into the heart of an augmented wilderness, and up through—and beyond—the planet's atmosphere, to places few of us ever see for ourselves. From urban tunnels and future storms to the ruins of the space age, the boxes in this series will equip you with the tools, texts, maps, and artifacts through which to glimpse impossible destinations—souvenirs of the periphery and blueprints of another world.
His most recent package, pictured above, is themed around "the haunted house as an architectural genre."
Another curator I noticed is Maud Newton. We profiled her The Chimerist on our Super 8 last issue. She writes:
My Quarterly objects will be books and other great stories that I hope will make you cancel plans or miss your stop or ignore the doorbell. Sometimes they'll be juicy and suspenseful; other times they'll be weirder, less about sinking into a story than thinking about the way we tell them. Occasionally they'll be both, so you can experience them, and ponder them, and then experience them again.
Other contributors include blogger star Jason Kottke, tech/gaming video host Veronica Belmont (who promises local foods from San Francisco), science writer Joshua Foer, and the Stanford d.School.
Quarterly's business model is explored by Lora Kolodny at the Wall Street Journal. She reports that the venture raised $1.25 million in a Series A capital round led by True Ventures and that curators receive 10% of the profits from their curated mailings.
Craig Shapiro, the founder of Collaborative Fund (who previously worked with Frechette as president of Good) said he believes that Quarterly is a kind of "tactile Twitter." Instead of following someone 140 characters at a time, he says, "You can bring the experience into the real world for $25."

Frechette notes that Quarterly's one-size-fits-all pricing may change over time. The company will also explore a white label approach, extending its technology and service to help people offer curated care packages from their own sites, or potentially a "kind of Kickstarter model," Frechette says, whereby people who are able to get commitments from a minimum number of subscribers can become contributors, even if they are not invited by Quarterly.

With its newfound capital, the company hired the former vice president of retail production at Green Dot, Tonya Michlin, as chief of operations. It also began scaling the number of contributors it brings on and packages it sends. In its first twelve weeks of business, Frechette reports, the company racked up $100,000 in gross sales.
Want to get in Quarterly mailings? You better act quickly. Several subscriptions — including Geoff Manaugh's — are already sold out. Visit the site to learn more and subscribe.