Back to selection
OSCILLOSCOPE PICKS UP "ONLY THE YOUNG"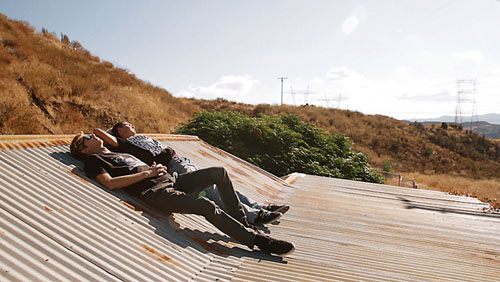 Oscilloscope Pictures has added to its consistently strong catalog of films by snapping up Only the Young, the debut feature from documentarians Jason Tippet and Elizabeth Mims. The film made its debut at True/False earlier this year and won Silverdocs shortly afterwards, while its directors made it onto our "25 New Faces" list for 2012.
In his profile of Tippet and Mims, Scott wrote the following aboutOnly the Young:
One day, [Tippet and Mims] met high school seniors Kevin Conway and Garrison Saenz at a skate park in Canyon Country, an economically ravaged town located within Santa Clarita, Calif. Skaters, Christians and best friends, Conway and Saenz "didn't pay attention to the camera," Tippet says, "and those are the kind of people we're interested in." …[T]hey filmed the teens, and three months in found their dramatic conflict: Skye Elmore, Saenz's quasi-girlfriend, who has kissed Conway and not him.

Over a shoot that lasted almost two years, Tippet and Mims captured the youthful indecisions and sexually charged jealousies of these friends, most often in beautifully composed, locked-off shots. The finished film, Only the Young, has a stylized formal precision to it as well as reality TV-style direct address moments, but in its gentleness, its avoidance of artificial drama, this sweetly melancholic film feels like something new.
Oscilloscope's Dan Berger, one of the architects of the deal, said in a statement, "Only The Young is a revelation. It's exactly the type of film that we like to champion and we couldn't be more pleased to invite it into our cult family."
New Yorkers can catch the film when it plays this Friday as part of Rooftop Films' summer series.