Back to selection
CLARESSA SHIELDS, SUBJECT OF DOC BY "25 NEW FACES" DIRECTORS, TRIUMPHS AT OLYMPICS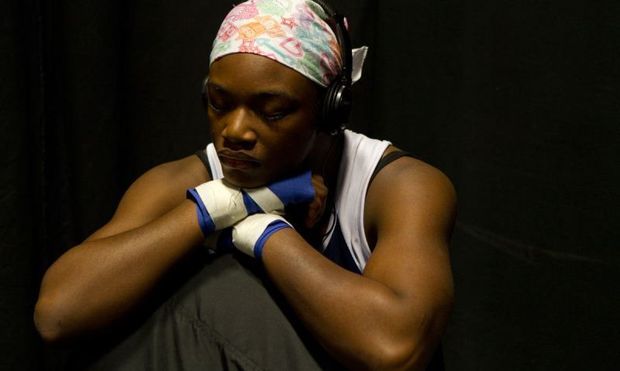 A month or so, we featured T-Rex — the debut doc directed by 2012 "25 New Faces" alums Drea Cooper and Zackary Canepari — on our Kickstarter page. The currently shooting film is all about Claressa "T-Rex" Shields, a 17-year-old African-American boxer from Flint, Michigan. "It's the first time in 2,000 years that women boxers will compete at the games," Cooper said when Vadim Rizov interviewed him for the pair's "25 New Faces" profile. "It's pretty much the only thing we talk about these days."
And now the film got a whole lot more interesting.
Earlier today, the young fighter won a gold medal at the Olympics in London, beating Russian pugilist Nadezda Torlopova by a score of 19-12 in the final. In a dismal year for American fighters, this win makes Shields the only member of the U.S. boxing team to come away with any hardware from the 2012 games. Shields lost a crucial fight earlier this year that seemed to have ended her chances of qualifying for London, so the film has ended up with what is now an amazing narrative arc.
In a just published profile of Shields on the NPR website, Bill Chappell concludes his piece by writing:
Claressa's coach in Flint, Jason Crutchfield, said he noticed her talent and potential one week after she walked into his gym.

"A coach always wants a champion; that's why we coach," Crutchfield said back then. "I just never thought it was going to be a girl."

At these Olympics, when the American boxing champion could only be a girl, Shields proved her doubters wrong. And she delivered on the promise she showed in her young career.

The enormity of what she had accomplished seemed to sink in for Shields only as the gold medal went around her neck, when she grinned and threw her head back and bobbed around. I can't say I've ever seen an athlete so animated on the podium's top step.

And as the U.S. national anthem played, Shields sang along — until she couldn't anymore, because the smile on her face had become too wide.