Back to selection
First Impressions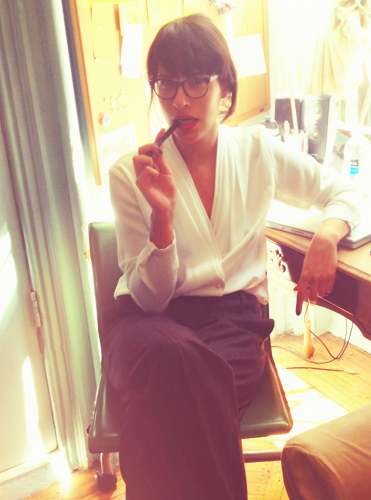 Executive Filmmaker Realness
I've never been good at first impressions. The first time I met my ex-gf, I got incredibly drunk and vomited in front of her. The first time I was interviewed for a magazine, I told the story of how I got drunk in front of my ex-gf and vomited. And here I go again, making a bad first impression.
That's probably why I have first-day-of-school nerves about attending my first Independent Film Week. Excited and ready to go, but I'm also a bit unsure of how I'm going to approach the situation. Cool and aloof? Eager and personable, milking it for all it's worth? I've been told that it's a lot like speed dating, so that brings out my impulse to dress like a slut and overshare about my childhood.
"Let the other person talk," my girlfriend advised me. "You tend to…" and here's where her voice got all soft and I'm not trying to insult you even though what I'm saying is insulting on me: "You tend to fill silences with non-stop talking when you get nervous."
She's right. I do.
Things to keep in mind:
Don't talk too much.
Look good.
Be instantly likeable, but naturally and in a way that the person across from me believes s/he had the original idea to like me on their own (even though I secretly tricked them into it!)
When making a film, you meet so many people along the process, and have so many fleeting, promising moments. The thing is, only about 10% of these interactions translate into something real.
Such is the filmmaker lifestyle, but being the sensitive flower that I am, I find the process exhausting. I'm too gullible, too emotionally invested in each new friend, and sometimes just being in the presence of a room full of strangers who want to do what I want to do triggers the part of my brain that's all about curling up into a ball and watch all four seasons of Felicity in one sitting.
Judging from the people I've met during my time at NYU's grad film program, the majority of people attracted to directing films weren't exactly the most popular, social little fuckers growing up. Except for those Court 13 kids. They were hip in utero.
It took me two years and about 16 film shoots to feel comfortable at school. Perhaps that's why all this nervous energy translates into an obsession with my appearance. I was up all night mentally planning how I'll dress at Film Week, what I'll do with my hair, whether or not I'll wear my glasses…
I'm pretty sure male filmmakers don't give a shit about this stuff. They can look however they look and that's that. Are you a female filmmaker reading this and getting pissed off because you're too cool to give a shit about this kind of superficial bullshit? I'm guessing you make docs.