Back to selection
Ruba Nadda and Alexander Siddig Return to Tiff with Inescapable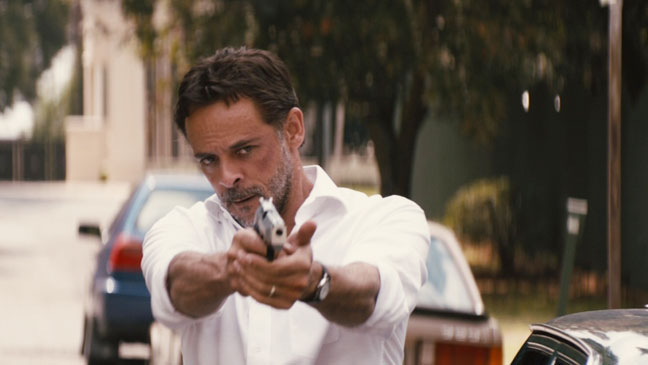 Ruba Nadda, whose Cairo Time captured Best Canadian Feature in 2009, returns to TIFF with Inescapable. Both star leading man Alexander Siddig and are set in the Middle East. However, Inescapable is anything but a charming romance, but rather a fast-paced political thriller set in the most dangerous country in the world, Syria.
When he learns that his daughter has gone missing in Syria, Adib (Siddig) leaves his comfy business in Toronto to track her down in Syria. Turns out that the Syrian government has abducted Adib's journalist daughter and that a shady Canadian diplomat (Joshua Jackson) knows more about it than he lets on. Adib gets help from old flame (Marisa Tomei) who's chagrined to help find the daughter of the man she almost married 20 years ago.
Credit Nadda for making a thriller. Though it sounds mad to Americans, the Canadian film system frowns on genre pictures and encourages filmmakers to produce arthouse fare or low-budget drama. Not only that, but Nadda is also stepping away from the romantic films she's known for. As her first thriller, Inescapable is not bad. The film's strongest suit is Siddig, who carries the picture. He's completely absorbing as a distraught father on a mission and as a political rogue to the Syrian government. He and Marisa Tomei are believable as old flames, though their relationship is a little undersketched.
Whereas Cairo Time was dreamy, Inescapable is all action, fast and furious, though the music is heavy-handed at times and the pacing suffers some awkward jolts. In particular, the ending fails to reach an explosive climax, only partially so in an action sequence. Despite its flaws, Inescapable launches the viewer on a gripping ride through the darkest part of town — in this case, Damascus.
Ironically, the seeds of Inescapable were planted long before the Syrian uprising. "Back in 2005 when I was travelling with Sabah," her first feature, explains Nadda, "I was in the Middle East and my dad was not happy about me being there by myself. I called home to let him know I was fine and okay. He said, 'Don't go missing. Don't make me come after you.' And I thought, 'What a great idea!' "
Nadda wrote Inescapable at the same time as Cairo Time, to keep her creative juices flowing. The thriller aspect evolved organically, but Nadda feels that "this is a personal story about a man on a desperate search to find his daughter. Because I'm Syrian, I always wanted to set a story in my old home." Nadda lived there till she was 12 and feels that her film is a vindication. "I feel justified, because for years when I was trying to finance this movie, people were asking, 'Why are you setting this movie in Syria? Audiences don't care. They can't find Damascus on a map. This is crazy of you."
Obviously, Nadda couldn't film in the Middle East because of the Arab Spring, and settled for Johannesburg, South Africa, where she shot six-and-a-half day weeks, totalling 26 brutal days. Nadda couldn't compete with the rapidly changing events in Syria and so did not try to depict the war, which began as a public protest and has descended into bloody anarchy. "I knew as a Syrian that the President wasn't going to fall as easily as [Egypt's] Mubarak," she says. In Inescapable, Syrian President Bashar al-Assad's poster hangs on every street corner like Big Brother, which Nadda insists is not a deliberate decision, but an accurate depiction of the capital. "It's eerie. He's always watching you."
Siddig raises a wider point: "To date, 25,000 people have died. Sooner or later someone in Syria–who's lost someone like a brother or sister–is going to see this film and they mustn't feel that we have come in and made a film on the back of their misery."