Back to selection
The Power of the Humble Bar Napkin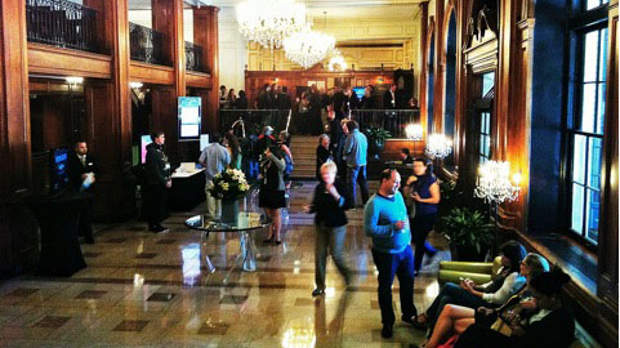 I had a lunch meeting with two of my partners on an international co-production. We are planning a South Africa / Canada treaty co-production on a $15m film and planned to meet up at Strategic Partners. Today, we worked on our laptops, smartphones and iPads as we ate sushi on the beautiful Halifax waterfront. After an hour, we hit an obstacle in our work and were uncertain how to proceed.
Then later, my Canadian partner started talking to a UK producer who is a good friend I made at TAP, and she had different thoughts. A German producer weighed in with his thoughts and after some healthy debate with a top sales company and a few high-profile European producers we had thrashed out a new and more workable finance plan on that old faithful technology, the bar napkin.
All great things have humble beginnings, and I'd like to think this new film had been birthed like this. A bar napkin tops an iPad anytime. The euphoria of having an actual plan simmered down in to reflections on the last few days.
My experience of SP this year matched my experience six years ago when I came for the first time. This is an intimate event that provides multiple opportunities for delegates to meet each other repeatedly over a few days and begin to build relationships rather than just having meetings. I felt like I got a real opportunity to get to know people better, which is pretty important since the partners we choose heavily influence our success and happiness for years to come.
The cherry on top of the SP cake for me has really been TAP. By the time the one-to-one meetings began, we were a well bonded cohort and the energy and intimacy of a strong group like we have had added another dimension to the experience. Because we were often meeting the same people, we were able to share intelligence, exchange ideas, offer advice and help each other get the right meetings, even at the parties.
That all sounds very serious, very businesslike – which of course it is – and to do this all amidst the warm and generous hospitality of our Canadian Maritime hosts was an absolute joy.
The last day in Halifax ended with an incredible musical performance and high expectations ahead of furious follow up work.
I had 23 meetings over the three days – not a bad average. I got everything I came to SP for and more, and am leaving with a sense of anticipation for what lies ahead in New York. I'm not sure my liver can take another TAP module right away, but the momentum of this trip is building and the Big Apple is looking very shiny, bright and inviting.