Back to selection
In Production: The World's End, Cheap Thrills, The Angriest Man in Brooklyn and Ping Pong Summer
"In Production" is a regular column which focuses on notable independent films that are currently shooting. If you would like your film to be included in this space, please send an email to nick@filmmakermagazine.com
Marking the third installment in his "blood and ice cream" trilogy following the insanely re-watchable Shaun of the Dead and Hot Fuzz, writer/director Edgar Wright reteams with co-writer/star Simon Pegg for The World's End. The film, which follows a group of friends who decide to go on an epic pub-crawl during humanity's final hours, stars Pegg alongside regular sidekick Nick Frost. The cast also includes Paddy Considine (The Bourne Ultimatum) and Rosamund Pike (An Education). The film is currently shooting in England with Working Title Films producing. Universal Pictures and Focus Features are handling distribution.
Production is currently underway on E.L. Katz's directorial debut, Cheap Thrills, in Los Angeles. The film reunites The Innkeepers stars Sara Paxton and Pat Healy (who had great on-screen chemistry in Ti West's chiller), and focuses on a man who has recently become a father but now faces eviction from his home. He then meets a wealthy couple that offers to help him out on one condition – he must join them in an elaborate and dangerous game of dare. The film also stars David Koechner (Anchorman), Ethan Embry (Empire Records) and Amanda Fuller (Red White & Blue). Trent Hagga (Deadgirl) and David Chirchirillo wrote the screenplay. Snowfort Pictures (The Aggression Scale) and New Artists Alliance is producing.
Robin Williams leads an all-star cast in The Angriest Man in Brooklyn. Directed by Phil Alden Robinson (Field of Dreams), the comedy-drama focuses on an intolerable hospital patient (Williams) who is lied to by an irritated nurse that he has 90 minutes to live.  He then goes on a feverish quest to resolve everything in his life before it's over. The Angriest Man in Brooklyn also stars Mila Kunis (Black Swan), James Earl Jones (Field of Dreams), Melissa Leo (Francine) and Peter Dinklage (HBO's Game of Thrones). The film is currently shooting on location in New York with Landscape Entertainment producing.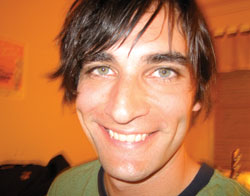 A teenage boy fascinated with ping-pong has a life-changing summer vacation with his family in writer/director Michael Tully's Ping Pong Summer. Currently shooting in Ocean City, Maryland, the film stars Susan Sarandon (Arbitrage), John Hannah (The Words), Amy Sedaris (Beware the Gonzo) and Robert Longstreet (Take Shelter). A regular contributing writer for Filmmaker Magazine (and a "25 New Faces" alumnus from 2006), Tully received many accolades for his 2011 Sundance entry Septien, an offbeat and irreverent family comedy, which he wrote, directed and starred in. Ping Pong Summer is being produced by Compass Entertainment, Nomadic Entertainment Pictures, Lucky Hat Entertainment and Epic Match Media.