Back to selection
Nuts, Bolts and Zen: Independent Film Week Wrap-Up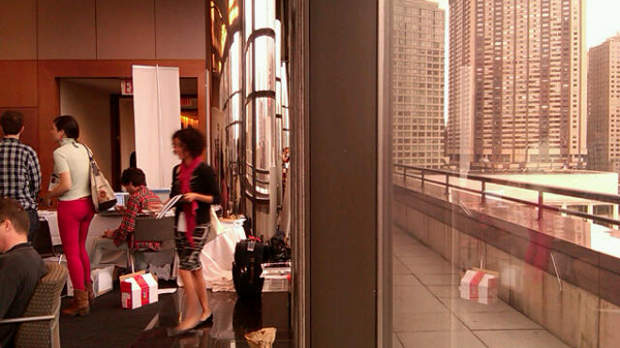 IFP's Independent Film Week came to a close on Thursday, I took the train home on Friday, spent Saturday relaxing, and here we are…ready to take a more in-depth look at my time in New York City. I've already covered practicing my pitch in the days leading up to Film Week, delivering that pitch at the Emerging Narrative orientation, and experiencing unexpected moments during my one-on-one meetings. But I feel like I've barely scratched the surface – on either the nuts-and-bolts level, or that philosophical plane that I've become so fond of.
To begin with, let me explain a little bit more about what the IFP Independent Film Week is. Writers and filmmakers can apply to one of several forums depending on whether their project is a narrative or documentary, and how far along it is in development. We submit project summaries, bios, scripts or films, application fees, etc. and then various programmers at IFP decide which projects are selected. There are forums for U.S. scripts in early development by writers or writer/directors (Emerging Narrative), scripts with producers and some financing by U.S. or international teams (No Borders), documentaries at various stages of completion (Spotlight on Documentaries), narrative and documentary features in post-production (Independent Filmmaker Labs), and a program for U.S. and international producers with a project in development (Trans Atlantic Partners).
During Independent Film Week itself there are numbers of panel discussions, screenings, parties, and conferences that participants can attend, but the heart of the event is the one-on-one meetings. Industry people had the opportunity to review our projects online and select who they wanted to meet with. Different projects have different needs, as do the various industry people. So the companies/people in attendance represented everything from producers looking for scripts, to companies providing completion funds, to film festival programmers, etc. A little something for everyone!
Emerging Narrative selected 25 screenplays. Only three projects – including Hands and Knees – were represented solely by their writer/directors. Most of the projects included small teams of 2-3 people that included a co-writer and/or a producer. The 25 scripts were written by a total of 33 people: 14 women and 19 men. (Independent film continues to be much more egalitarian than its Hollywood counterpart – both in terms of gender and ethnic diversity, and the Emerging Narrative projects reflected this.)
30-minute meetings for Emerging Narrative were scheduled between 9am and 1pm, Monday – Wednesday. (On Tuesday I had the maximum number of possible meetings: 8.) As it turned out, there were some cancellations among the industry folks – especially on the final day (I had 2 of my 4 meetings cancelled, though one is now re-scheduled as a phone conference.) The meetings took place "behind the curtains"… Well, it was a lovely penthouse conference room divided in two: waiting lounge on one side; industry meetings on the other side, beyond the panels of curtains. Imagine speed dating – on 30 minute intervals – and that's pretty much the scenario. The numbered tables were covered with white linen, and IFP volunteers kept the whole thing running smoothly, making sure the meetings ended on time, and escorting each of us to our next table.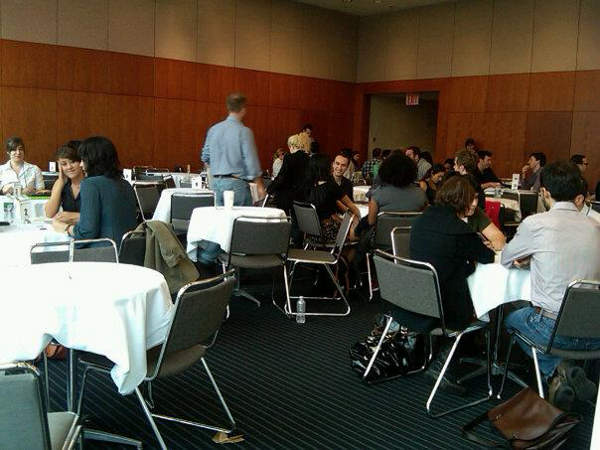 I had no idea what to expect prior to that first day of meetings. What sorts of questions would people ask? Would the process be intimidating? Would it be hard to concentrate in the middle of so much chaos? When would I find the time to have a snack or go to the bathroom?
Fortunately, my new Zen state served me well. Where once I would have been both intimidated and overwhelmed by the chaos, I somehow managed to only see and hear the person sitting in front of me. Each situation was a little different of course, but being present – and truly able to listen to the other person – made each meeting go smoothly. I did not have an agenda – truly, none. I reacted to the cues of the person I was meeting with, and spoke calmly and passionately about my project. It was thoroughly enjoyable! (And I even found time to nibble on snacks between meetings and run to the ladies' room.) What could be better than fielding questions about my story, my experience, my goals! Where once I would have thought of this as an opportunity on which to capitalize (which it was) – something I would have driven myself mad over, fearing I might blow it – I had no such worries. Honestly, I had no expectations at all, and this freedom from expectations has been the most freeing and grounding aspect of my new Zen state.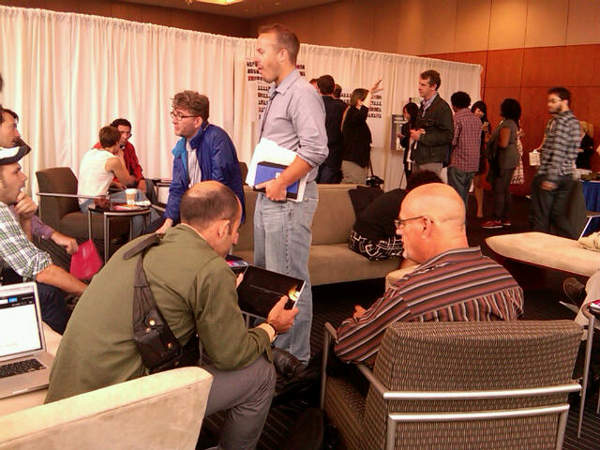 In the filmmakers' lounge I sometimes bristled against the energy – the nerves, aggression, and desperation that tended to hover in the room. I am certain I radiated none of this. I was neither nervous nor desperate. In one of my first meetings I was asked whether I was nervous and I replied "No – I am just so genuinely happy to be here." In a late meeting on the last day I was asked if the process had been crazy and I said "No – if I had to pick a word to describe my experience of this, I would say thankful." Both times the people looked surprised.
In spite – or because – of the state of my health, I was somehow in the perfect frame of mind to represent myself and Hands and Knees. I have fought a long, long battle with my body – beginning 29 years ago. We have been at odds, and it is truly unproductive and anti-wholistic for one to be so at odds with one's body. But somehow during my troubles this summer I experienced this disconnect: I was no longer defined by my body. I finally achieved a necessary sense of being separate from it – which I know sounds in opposition to the idea of being "whole," but this was necessary in my case. My identity had been very much tied together with this body that never did as I wanted, and always let me down or held me back. Finally, I have reached this point where I accept that my body is doing whatever it's doing – but meanwhile, I'm going to do what I want!
So, back to my meetings… Obviously some were of more interest to me than others. I mean, I'm not opposed to considering making a film in Columbia, but it's not a personal goal (now if someone had been there promoting the Scandinavian film industry that would have been different). Nor could I quite see the personal relevance of an entertainment attorney who charges a discount rate of $275 per hour for emerging filmmakers. Thanks, but no thanks. But of all 11 producers/production companies whom I met with, all 11 are now reading my script. That's 11 sets of eyeballs I personally gazed into; 11 individuals who I shared good conversations with! Now reading. My script.
One of the producers turned out to be another former thespian from Pittsburgh – and we kept trying to find mutual connections. Then we kept laughing that in spite of knowing people who worked on Night of the Living Dead, or knowing people who graduated from the theatre department at the University of Pittsburgh we couldn't find a single common person. (Yet, we agreed, Pittsburgh would be a great location for Hands and Knees.) Another producer had acted – as a teenager – in a play I had written/co-produced Off-Off Broadway in 1998! Since then I have kept vicarious tabs on her: seeing her in independent films; reading her pieces in Filmmaker Magazine; and finally marveling at her success last year as a producer with a break-out indie. It was great to catch up with her, and she was the person I had been happiest to see on my list of meetings.
The questions I fielded varied from person to person. Some told me a lot about their own companies; others told me little. Some only wanted the broad strokes of the story: what's it about? But in one of the meetings I most enjoyed I was asked almost everything conceivable about the characters and story progression. In her challenging questions I saw that she was looking at my project seriously and deeply, and I loved her expressions of satisfaction and understanding when I filled in her blanks and erased her uncertainties. Many people asked if this was my first script, or if I'd had other people read it, or inquired how developed it was. I am very confident that if I "sold" them on the idea of Hands and Knees while talking about the project, they will not be disappointed when they read it! I've been writing for more than 20 years; two other writer/directors have read/commented on the script; the film-savvy mother of an Academy Award-winning actor also gave me feedback; the folks at IFP thought the script was in a great place and suggested no notes during my phone consultation.
Will Hands and Knees be exactly what all of these producers and companies are looking for? Probably not. Will it spark some level of interest in at least one of them? I'm cautiously optimistic.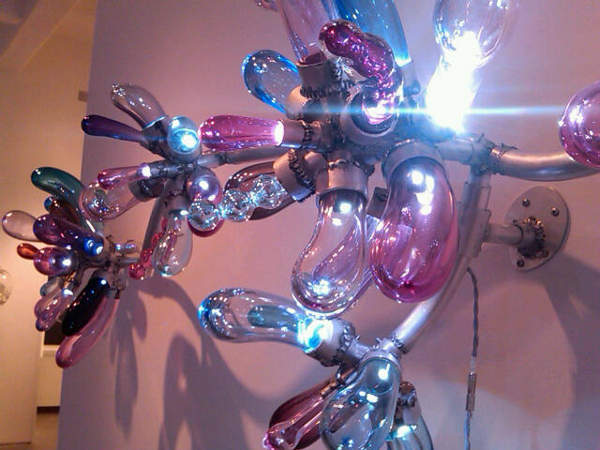 Following my half-days of meetings, I went back to Chelsea. My friend Lisa served as my stress buffer/aide throughout Film Week, and my friend Paula gave me her couch and warm hospitality. I had meals with one or both of them nearly every day. Asian or diner fare. I'm usually super busy when I'm in New York City, but I intentionally kept it as mellow as possible this time. Instead of running around the city, Paula and I did an on-demand marathon of Game of Thrones, season 2 and True Blood, season 5. I took taxis back and forth between Chelsea and Lincoln Center and went nowhere else. Where once I would have visited museums and gone to shows, on this trip I walked up the street to see Beasts of the Southern Wild with Lisa, and the three of us stopped into the Steven Kasher Gallery to look at phallic light bulbs. On my last day in the city I met another friend, Liz, for dinner and had my best meal of the trip: steamed flounder in ginger broth – and I'm now determined to buy a bamboo steamer and make this delicacy at home.
It is relatively simple to satisfy simple needs. And it is glorious to walk away from New York City feeling blessed and lucky. Having no expectations left me feeling so appreciative for every little thing. Where once I would have worried about the "Big Picture" – about What Happens Next and Will I Succeed? – I am blessed now to feel like it is one small thing at a time. All throughout this trip I felt victorious moments: the train arriving on time; the beautiful weather; seeing my friends; quiet evenings; doing my wee pitch for a large room; noticing people's reactions, people's helpfulness and kindness; feeling snazzy with my short haircut and new clothes; feeling centered. Oh, in the wrong crowd I could be the most annoying whackadoo right about now: I was in the moment. I was comfortable in my own imperfect skin. I was content in a way I never thought possible.
When a roll of film runs through a projector it stops, briefly, on one image at a time. Intermittent motion. Our brain puts it all together, perceiving constant movement, the flow of images. Life is like this too: one image, one second at a time. But it is usual to feel the pull of the future, the pull of what-happens-next. To the degree that's possible, we need to experience our lives as that one stopped frame in the projector. Each of those moments is real, and leads to the next image with no need for hurrying or tugging on the film strip. Ultimately, that's what I take away from Independent Film Week. I don't know how the film ends. But I marvel in its creation. To experience a sense of magic is more than one could hope for.
This post was originally published at Zoje Stage's personal blog, Alice in Actionland.