Back to selection
Independent Film Week: 3 Films I Can't Stop Thinking About, Part 2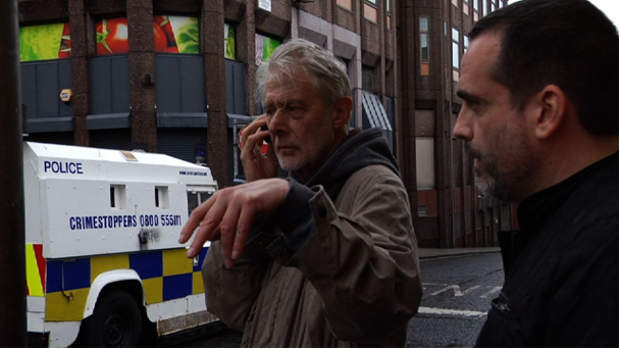 The first rule of Film Week is that if you have time to blog during Film Week, you're probably not doing it right. The second rule of Film Week is that if you attend, the best part is that you will meet all kinds of awesome people making awesome films. This may intimidate you. It's okay. Be cool. I guess that's the third rule of Film Week, bro: just be cool.
When the good folks at Filmmaker Magazine asked me to blog about Film Week again this year, I knew I wanted to write about some of the awesome people making awesome films I knew I would meet. With all the "industry" stuff to get excited/nervous about, it's good to remember that everyone that is at Film Week is there because of the films. I could write about all of the films included in Film Week, all of whom deserve it, but I've chosen three I can't stop thinking about. Here is the second:
The Peacemaker
It's impossible to describe just how random the encounters can be at Film Week. On Day Three, I was running somewhere from somewhere else and somehow ended up engaged in (harmless, I swear!) gossip with a total stranger and before I knew it, he was giving me sage advice on a problem I was having. This turned out to be James Demo, a lovely human in the midst of finishing his first feature documentary, The Peacemaker.  I went to his industry screening shortly thereafter, and haven't stopped thinking about his film since.
James Demo came to documentary filmmaking by way of law, business and – most weirdly – after having directed a short comedy about erectile dysfunction starring John Savage, Karen Black and Amanda Plummer (it's really good!). The Peacemaker is a complex portrait of Padraig O'Malley, who has worked for forty years at the vanguard of the peace and reconciliation movement. Demo first learned of O'Malley's life work at The Plough and Stars, a Cambridge pub owned by O'Malley (which incidentally boasts an impressive literary history). Demo explains more about his inspiration here.
Here is how Demo described the film on his Kickstarter page:
"I wanted to understand how Padraig was able to accomplish so much with so little and continuously find himself a part of history.  I also wanted his story to be heard so that others could learn from it. His process seemed so intuitive coming from a man in recovery [O'Malley is an alcoholic]; cultures in conflict are in the best position to understand and help each other, as an alcoholic is in the best position to help another alcoholic, because only they can truly understand each other.  If Iraqis needed help, who other than the Northern Irish and the South Africans, who had been through as much, had better standing to talk to them.
In addition to the "how," during the course of filming, a second fascinating question emerged; Why does he do it?  Padraig does not have the luxury of a government mandate nor does he have the deep pockets of a large private organization. He walks into these conflicts putting his financial and physical well being often at risk.
The Peacemaker will try to answer these questions as it explores the life and work of one man on the vanguard of the peace and reconciliation movement."
At a private screening, I saw some early selects and was blown away. I think it's safe to say everyone in the room was blown away. The subject is powerful and important, but I was most impressed by Demo's nuanced, philosophical approach to it. From these early scenes, I can already see O'Malley emerging as a fascinating character in a complicated world.
What I saw of the film reminded me of one of my favorite books, Mountains Beyond Mountains (written by Tracy Kidder), and one of my favorite films, Reporter (directed by Eric Daniel Metzgar). Like Kidder and Metzgar, Demo is not content to simply present and celebrate the work of his protagonist, but wants to get at something deep about the nature of altruism, even heroism: what drives it? How does it function in the real world? And what are its costs?
I asked James to tell me what Film Week was like for him:
"Film Week is such an important step in a project's life. It allows the filmmaker to debut the project, as a work in progress, to key people and organizations within the documentary world. I viewed the week, coming into it, as an exciting opportunity to begin a conversation with each meeting. Having the film receive such a positive response was heartening, and I am really looking forward to having many of those conversations continue.
Beyond that, I really enjoyed the camaraderie among the filmmakers, everyone is truly rooting for each other and wants to see each other succeed. I think it is because we all know how difficult and, at times isolating, the process can be. Everyone that works for IFP was incredibly supportive as well and worked really hard to make it all go seamlessly."
Principal photography on The Peacemaker is nearly complete. After traveling with O'Malley to Kosovo and Northern Ireland, the crew is going next month to Iraq. Right now, James is looking for finishing funds. His most pressing need today is to raise enough money to begin working with an experienced editor.
One of the best parts of being a documentary filmmaker, and getting to know other documentary filmmakers, is the opportunity to continually learn new things about the world around me. Meeting James Demo, and learning about Padraig O'Malley, has already started to change me. I am really looking forward to seeing this film come to fruition.
Follow this film on Facebook.