Back to selection
"Best Film Not Playing…" Nominees Screen at MOMA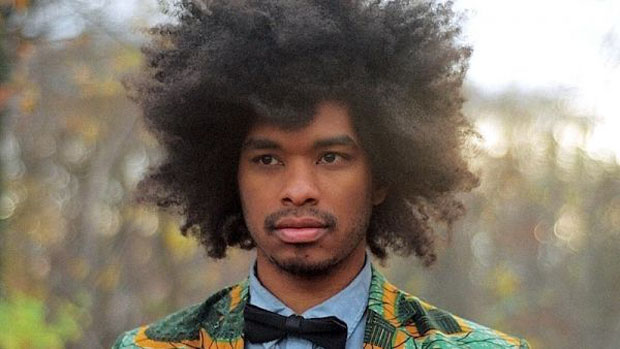 If you're in New York this weekend head over to the Museum of Modern Art for the museum and Filmmaker's annual screenings of the nominees for our "Best Film Not Playing at a Theater Near You" Gotham Award. Playing are Terence Nance's wildly inventive doc/fiction relationship deconstruction, An Oversimplification of her Beauty (pictured); Amy Seimetz's psycho-noir romance, Sun Don't Shine; Alex Karpovsky's real-life filmmaker comedy, Red Flag; the Zellner Brothers darkly humorous metaphysical exploration, Kid-Thing; and Frank V. Ross's subtle and affecting relationship drama, Tiger Tail in Blue. I'll be joining Nick Dawson, Alicia Van Couvering, MoMA's Josh Siegel and the IFP's Milton Tabbot to intro and do Q&A's with the filmmakers and actors. The complete schedule is here at the link.
At Indiewire, Eric Kohn previews the program and includes individual assessments of the films. From Kohn:
Given the Gothams category singling them out, it's no surprise that these aren't films made for commercial reasons. Visions of sad, lonely people trapped by conundrums only they can fully understand, they maintain an unflattering intimacy with their subjects — which, in two cases, are blatant autobiographical creations. The films either twist genre conventions to reach more audacious thematic heights or defy any easy categorization altogether. Here's an overview of the contenders.
Here are our blurbs for the included films:
Sun Don't Shine
2012. USA. Written and directed by Amy Seimetz. With Kate Lyn Sheil, AJ Bowen, Kentucker Audley. Combine Bonnie and Clyde, Wanda, Badlands, Panic in Needle Park and True Romance, then toss them all into the steamy backwoods of the Florida Everglades, and you'll have a taste of what's going on in Sun Don't Shine, Seimetz's plaintive ballad of doomed lovers veering off the blacktop. Leo and Crystal are drifters in a desperate embrace, running from something awful, with something even worse hidden in the trunk of their car. Inspired by 1970s American cinema, Seimetz relishes the overwrought pleasures of genre filmmaking while capturing something authentic and romantic along the way. 83 min.
Kid-Thing
2012. USA. Written and directed by David Zellner. Produced and photographed by Nathan Zellner. With Nathan Zellner, Sydney Aguirre, David Wingo. The Zellner Brothers have been making loopy yet emotionally piercing independent films for years, but the bizarre and haunting Kid-Thing contains a new level of gravity. Ten-year-old Annie, left by absent parents to her own devices in rural Texas, fills her days with random moments of solitary vandalism. One afternoon, from a hole in the ground, she hears the voice of an old woman trapped in an underground well. Unsure of whether she's the devil or just someone who might like a PB&J—to say nothing of a ladder—Annie finds herself thrust into an unexpected metaphysical crisis. 83 min.
An Oversimplification of Her Beauty
2012. USA. Written and directed by Terence Nance. With Alisa Becher, Jc Cain, Dexter Jones, Nance. A highlight of New Directors/New Films 2012, Nance's inventive and charming An Oversimplification of Her Beauty defies easy categorization. Using documentary footage, animation, and Nance's own hypnotic score, it playfully ponders, reenacts, and explodes the director's own unrequited love affair, even drafting in Nance's would-be paramour as co-star. Formally audacious, utterly sincere, and impossibly cool, Oversimplification yokes themes of romantic indecision and interpersonal communication in the digital age to larger dialogues about the nature of memory and the meaning of life. 90 min.
Tiger Tail in Blue
2012. USA. Written and directed by Frank V. Ross. With Anthony J. Baker, Allison Latta, Megan Mercier, Ross. A subtle and affecting naturalistic drama, this sixth feature by Chicago-based "mumblecore" writer-director Ross focuses on a recently married couple—Chris (played by Ross himself), an aspiring writer who waits tables at night, and Melody (Rebecca Spence), a high school teacher—whose conflicting work schedules keep them apart. Chris finds a more palpable kinship, and glimmering sexual tension, with Brandy (Mercier), a sassy restaurant colleague. Shot by Mike Gibisser, this is a beautifully calibrated, emotionally compelling piece of observational cinema. 76 min.
Red Flag
2012. USA. Written and directed by Alex Karpovsky. With Karpovsky, Dustin Guy Defa, Jennifer Prediger, Keith Poulson. The version of himself that Karpovsky plays in his laugh-out-loud comedy Red Flag is an even more hilarious reinvention of the filmmaker-actor's inimitable on-screen persona—familiar from his comic turns in Lena Dunham's Girls and Tiny Furniture, and in Madeleine Olnek's Co-Dependent Lesbian Space Alien Seeks Same (a Best Film Not Playing at a Theater Near You Award nominee in 2011). Newly single thanks to his aversion to marriage, Karpovsky embarks on a road trip throughout the American south to screen his second feature, Woodpecker, at college campuses and indie cinemas. He conscripts his reluctant friend Henry to go along for the ride (Onur Tukel, all shaggy-dog warmth). Inevitably, they get mixed up in series of madcap misadventures, including Karpovsky's one-night stand with a congenial stalker. Gleefully indulging the myriad indignities of a life in microbudget cinema, Karpovsky's self-deprecating star turn and docu-fictional style transcend the very limitations the movie sends up. 84 min.