Back to selection
Will Comcast Get Disney?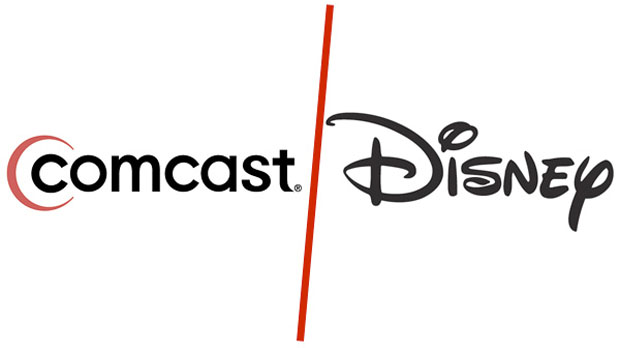 Earlier this month Comcast made an unsolicited bid to buy the Walt Disney Company for $66 billion. Other than acknowledging the offer, neither the Disney board nor management has formally responded to the offer.
Over the last decade, Comcast has moved aggressively through a series of mergers and acquisition to become the nation's largest cable television operator and, potentially, media combine.
The Disney bid comes about two years after federal regulators approved Comcast's $30 billion acquisition of NBC Universal. In 2002, Comcast acquired AT&T's cable and broadband holdings for $29 billion. In 2004, it made a $48 billion bid for Disney that was rejected.
The pre-NBC Comcast of 2011 operated in 29 states and had 22-plus million cable subscribers along with 8 million Internet subscribers. Comcast has long coveted "content" or programming as part of its business model. It had interests in the Golf Channel, E! Entertainment, G-4, Style, the lifestyle website Daily Candy, and runs the Philadelphia Flyers NHL franchise and the NBA's Philadelphia 76er as well as operating regional sports cable services.
In its pre-acquisition days, NBC was one the nation's leading media conglomerates. It was owned by GE and had one of the four major broadcast licenses and controlled 33 local TV stations, the Spanish-language network Telemundo, 13 cable networks (including USA, CNBC, Bravo, SyFy, MSNBC, CNBC, NBC Sports, Oxygen, the Weather Channel). It also controlled Universal, a major movie studio (and Focus Features, a boutique "art house" micro-studio), and Universal theme parks in LA and Florida. In addition, it controls numerous websites and has a stake in Hulu, the free online TV rebroadcaster owned with Fox and Disney.
If Comcast acquires Disney, it would expand its control to more theme parks, a movie studio, the ABC broadcast television and radio networks and the ESPN cable television network. The crown jewels of the acquisition would be the control the major producers of animated content, be it movies or games. In 2006, it acquired Pixar (for $7.4 billion); in 2009, it gobbled up Marvel Entertainment ($4 billion); and earlier this year it signed a deal to acquire Lucasfilm (also $4 billion).
Also earlier this year, Comcast and Disney signed a comprehensive 10-year programming retransmission agreement enabling Comcast's Xfinity subscribers access to more than 70 services for TV, Web and handheld devices. According to Brian Roberts, Comcast's CEO, "This is a pretty compelling combination." If Comcast does acquire Disney, its market cap will be about $94 billion, just below Verizon ($107 billion) and AT&T ($125 billion).
The deal will propel Comcast into a super-media conglomerate, further eroding the classic line separating "pipe" and "content" companies. In 2001, TimeWarner (TW) merged with American Online (AOL) in a $164 billion deal. Within a year AOL-TW's stock price plunged and the much-hyped "synergies" that was the merger's rationale turned out to be a mirage. The company wrote off $99 billion in losses. Only bankers and corporate management benefited from the get-rich-quick scheme. However, in 2003, the News Corp. acquired DirecTV, foreshadowing the integration of programming and conduit. This line has been steadily eroding over the last decade. Cablevision, the 9thlargest operator, owns Rainbow Media Holdings that controls the AMC Networks consisting of the IFC, Sundance, We and other (intellectual) properties.
If the Comcast-Disney deal is approved, it might spike a round of media mergers. The big pipes, most notably AT&T and Verizon, may well seek to acquire major content companies like Viacom and possibly Paramount or Sony Entertainment.
Groups from both the left and right are warning about the consequences of such a merger. Adam Theer, of the Cato Institute, argues the deal is "going to change the dynamics of what we see and how much we pay for it, and I think for the most part for the better." Gene Kimmelman, of the Consumers Union, echoes this assessment: "If this deal goes through it tightens the ownership grip over the most important sources of news, information and entertainment in our country."
The deal will likely get federal approval. The Justice Department, Federal Trade Commission and the Federal Communications Commission have, since the Clinton era and the adoption of the 1996 Telecommunication Act, supported media industry consolidation. They have promoted huge, vertically-integrated companies in an effort to encourage globalization.
The consequence has been a marked decline in domestic media competition, especially in telecom services. According to Europe's Organisation for Economic Co-operation and Development (OECD), the U.S. ranks 15th in terms of subscribers per 100 inhabitants (as of December 2011) and 19th in terms of broadband datarate (as of July 2011). The merger, if it occurs, will only further erode the U.S.'s global standing.
* * *
David Rosen is a writer and business-development consultant. He is author of the indie classic Off-Hollywood: The Making & Marketing of Independent Films (Grove), originally commissioned by the Sundance Institute and the Independent Feature Project. He can be reached at drosennyc@verizon.net. For more information, check out www.DavidRosenWrites.com and www.DavidRosenConsultants.com.