Back to selection
The Happy Baby Theory of Kickstarter: You Need 800 Supporters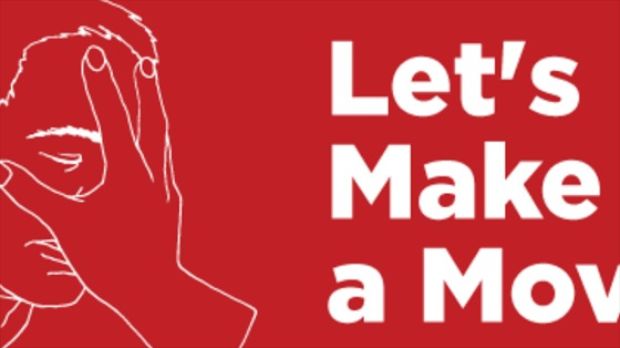 Last month we added Stephen Elliott's Happy Baby to our curated Kickstarter page and ran here one of his daily Rumpus newsletters where he discussed the film and the goals for his campaign. Now, with hours left, he is tantalizingly within reach of his ambitious $85,000 goal. (You can put him over the top here and score an imaginative reward in the process.) As his campaign nears its close, I thought I'd run with permission today's newsletter, in which he discusses what will hopefully be his successful "800 backers" strategy. — SM
We're almost at our Kickstarter goal for the Happy Baby movie. As of right now we're 90% of the way there with 767 backers and 58 hours left. Interesting to note, I said in an earlier email that if we had 800 backers we would meet our goal. It didn't matter if they only gave a dollar. We only had 250 backers at that time. A lot of people did only give a dollar. But it's looking pretty accurate, perhaps more accurate than I'm used to being. We're 33 backers away from meeting our goal (not exactly, but pretty darn close to that).
Why is that? Well, of course there have been a handful of larger contributors. If everybody only gave a $1 we wouldn't make it. But that's not how it works. People contribute what they're comfortable with, and that's a different number for everyone, related to their circumstances, needs, and their own relationship with money and philosophy. But the biggest barrier is the one between wanting to participate and not wanting to participate. That's why contributing a small amount has an outsized importance.
I'm just hypothesizing. But I think when members of a community see other members of their community participating in something then they want to be part of it. The building of community is more important, I think, then arm twisting people to give more than they can actually afford, which none of us would feel good about.
I got a note from a well meaning filmmaker friend, responding to some questions from me, that we didn't have enough money to make a good movie even if we reached our goal. I thought about that a lot yesterday. We chose $85,000 not because it's an ideal budget but because we thought we had a chance at getting there. Of course, after expenses and kickstarter's cut it's only $70,000.
At least twice I've seen directors make great movies and follow them up with more expensive movies that were worse. The most obvious example is David Lynch's Dune. I also had two conversations yesterday about how we came up with the budget. The answer is we reverse engineered. And when I was walking around the track at MacClarren Park last night speaking with S. in the rain, I said it's easy to predict that an independent movie won't turn out well, because most don't. First we'll need great actors, and a really good cinematographer. We already have a great sound guy, and we already have some great actors. We'll need so many other things, but there are 767 contributors to the movie now. Some of them might have the locations, lights, cameras, other things we need, like a bed for a one man sound crew. We certainly have a great community to problem solve with.
Contributors automatically get all updates from the project sent through kickstarter. It'll be interesting to try to harness this energy.
Another thing we talked about, in the rain, which was perfect, it was a great rain for walking in, it's been so cold but the last couple of days have been relatively mild, was the opportunities for things to go wrong. Great directors with every possible resource still make bad movies. I'm talking about Scorsese, Allen, Altman. It's just like life, I said. There's always an opportunity for things to go irrevocably wrong.
Elia Kazan said there were only two things that really mattered in making a movie, casting and editing. He took for granted a good crew and enough money and a good script. But of course it's a good script, if you didn't believe that you wouldn't want to make the movie, so he skipped that part. With his budgets he knew he would have good cameramen and art direction. At lower budgets those things become minefields. You have to search for your D.P. the way you search for your actors. Not just finding a great actor, but a great actor who is right for the role. At this kind of a budget, presuming we don't raise much more than the Kickstarter goal, presuming we make the kickstarter goal which I'm feeling very optimistic about right now, though of course it's still possible to not make it and not get anything.
Still, I basically agree with Kazan, though we face more obstacles. No matter what else goes right the acting has to be perfect. I think I'm good with actors, I take pride in that. I make a point of their comfort, building them up, giving the kind of unconditional affection that gives them the confidence to fail. Because if an actor is afraid to fail you're doomed. But that doesn't mean I can give an actor special powers. If an actor isn't right for a role there's not much you can do to change that. The director's job is to help an actor achieve their potential. Actors aren't puppets. You don't pull strings and tell them when to smile. You keep them safe, listen, see what happens. The best director in the world can't make a good movie with bad casting.
That's actually one place where I don't agree with Kazan. He said it was important that he wanted to fuck the leading actress. That seems like the worst situation in the world. For me, the relationship with actors is selfless and pure, even if it isn't. It feels that way. In other words, when I'm working with actors I feel like a better person. More caring, a better listener. And that might be part of what I love about movie making. Some day I'd like to do a play.