Back to selection
Cameras: 2012 Year In Review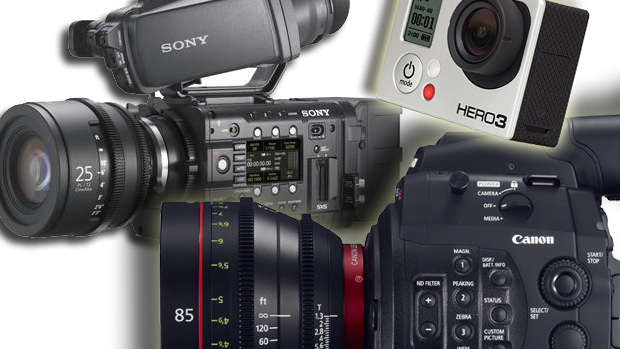 It's the end of the year and everyone's doing year-end lists, so why not me? Here's my top ten camera news and developments in 2012:
1. The end of film
Film's been having a tough time of it, but did anyone in 2011 think that 2012 would be the year that film would roll over and die?
This was the year that Kodak went bankrupt, Fuji announced they would cease production of motion picture film, and the major film companies announced the timetable for moving toward 100% digital distribution. It was also the year that a James Bond movie was shot digitally.
We've moved from questioning whether digital is as good as film to arguing whether film offers things that digital doesn't. It's a subtle but major shift in the discussion.
2. Action cameras
These small, inexpensive and somewhat weatherproof cameras have become increasingly popular for shooting in the field, particularly for reality TV series. But 2012 was the year that saw companies like Sony and JVC enter the field, and GoPro release a 2.5K/ and sort-of-4K camera, the Go Pro Black.
For those on a budget, an action camera makes for a good expendable camera.
3. 4K
This was the year that Canon and Sony got serious about 4K production. Canon announced – and shipped – the C500, while Sony announced – but won't ship until early next year – the PMW-F5 and F55. The later are aggressively priced, and Sony seems intent on taking on ARRI and RED with these cameras.
Sony also shipped a sub-$10,000 4K capable camera, the NEX-FS700, though you have to spend another $5,000 for the 4K recorder.
4. Falling prices
A good camera is still expensive, but there's a lot more choice, and a lot more bang for the buck these days. To underscore this, at the high end RED slashed the prices on their cameras on the same day that Sony announced their new 4K cameras. At the low-end, Blackmagic's $3,000 Cinema Camera offers a lot of bang for the buck and they would probably sell very well – if they could just make them.
5. What will become of video DSLRS?
2012 saw the retirement of the 5D Mark II, a camera that started a revolution, and the arrival of its replacement, the Canon 5D Mark III. It's difficult to follow a legend, but it's not clear that Canon really tried that hard, given that they are now selling their EOS Cine line of cameras.
This was also the year that Canon announced a 4K DSLR, the 1DC that costs $12,000. Despite this, DSLRs have remained evolutionary rather than revolutionary, and many serious shooters are moving towards "real" video cameras like the Sony NEX-FS700 or Canon C100 & C300.
For those on a tight budget, and for students, DSLRs remain attractive, but they weren't where the action was this year.
6. Cine lenses becoming a consumer items
Cine lenses have traditionally been made in small quantities and sold at high prices to the professional market. Often they are rented rather than owned. But now Canon and Sony are producing Cine lenses. Perhaps more surprisingly, this year saw Samyang, the Korean company known for producing budget lenses, offer a $550 35mm Cine lens in different mounts, as well as a 8mm, 14mm, 24mm and 85mm. Soon everyone will own their own Cine lenses.
7. Death of 3D in the consumer market.
3D movies may still be here, but clearly 3D wasn't the hit in the consumer electronics market the manufacturers were hoping for. The pitching of 3D televisions seems to have died, and the sales of low-end 3D camcorders remains poor.
8. Digital delivery replaces DVDs
At a recent panel, one filmmaker asked of DVD's 'do people still sell those?" We're increasingly moving towards consuming our content through the internet, and independent filmmakers are now looking for more ways to distribute their films online.
9. High Frame Rates
The Hobbit provoked a lot of discussion about shooting and projecting at high frame rates, and on the strength of that alone, 2012 could in the future be seen as either the birth or the death of high frame rate projection.
But 2012 was also the year that Sony rolled out the NEX-FS700, which apart from being a "regular" video camera is able to shoot full-frame at 240 fps and produce a high-quality image. It may not rival what you can do with the Vision Research Phantom high-speed cameras, but it's still an effect that's very usable in many situations. Just don't overuse it!
10. Blackmagic Cinema Camera
The Blackmagic Cinema Camera came seemingly out of nowhere, offering an amazing feature set (wide dynamic range, uncompressed recording) at budget prices. It was, perhaps, the biggest surprise of the year. Unfortunately, they also ran into some serious production delays, which mean that the end of the year has come with few of these cameras out in the field. We'll have to wait until next year to really determine the significance of this camera.
2012 has proved to be a year of great developments. Lets see what 2013 brings.
Happy New Year!