Back to selection
Focus Forward – Short Films, Big Ideas Announces Jury Prize Winners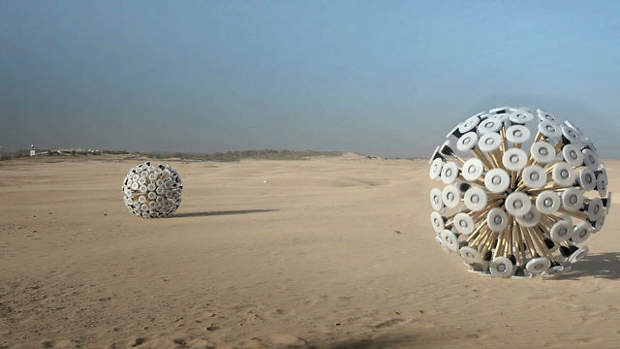 GE and cinelan today announced the five Jury Prize winners of its $200,000 FOCUS FORWARD Filmmaker Competition: Callum Cooper (Mine Kafon), Kim Munsamy (Bones Don't Lie And Don't Forget", Paul Lazarus (Slingshot), Jared P. Scott & Kelly Nyks (The Artificial Leaf), and Rafel Duran Torrent (Cyborg Foundation). The Grand Jury Prize of $100,000 will be announced at a live Awards Ceremony on January 22 during the 2013 Sundance Film Festival.
The jury for the Competition includes Sundance Film Festival Senior Programmer Caroline Libresco, actress Daryl Hannah (Kill Bill), and award-winning filmmakers Barbara Kopple (Harlan County, USA), José Padilha (Elite Squad), Joe Berlinger (Paradise Lost), Floyd Webb (Daughters of the Dust), and Peter Wintonick (Manufacturing Consent). The winning films are live and available to view for free on the FOCUS FORWARD website, along with the 15 other Filmmaker Competition finalists.
Films submitted to the Filmmaker Competition are three-minute end-to-end stories about people or organizations whose innovative efforts in medicine, computer science, robotics, engineering, green energy, or other fields of art and knowledge have had a significant positive impact on humanity. Last fall, a selection of 95 Semifinalist Competition films were made available online to a global audience through Vimeo; 10 Audience Favorites, based on a tally of public online votes, were announced on December 21.
 "Sundance Institute shares with FOCUS FORWARD a commitment to facilitating and supporting the creation and exhibition of short-form films," said John Cooper, Director of the Sundance Film Festival. "Two films supported by FOCUS FORWARD, from directors Morgan Spurlock and Albert Maysles, both of whom are Sundance alums, are strong additions to the Short Film Competition at our Festival this year."
"It is an honor and a pleasure to collaborate with Sundance on the FOCUS FORWARD project for GE," said cinelan Managing Partner Douglas Dicconson. "Their commitment, energy and unwavering support has inspired us to continue to find new ways to work together in the future."
Two new films by renowned filmmaker Albert Maysles (Grey Gardens) and Morgan Spurlock (Mansome), created specifically for the FOCUS FORWARD – Short Films, Big Ideas series of 3-minute stories about innovation, will make their world premiere in the Shorts Competition of the 2013 Sundance Film Festival and will also be paired with select features in the Sundance U.S. Documentary and World Cinema Documentary sections.  They will have their global online premiere on Tuesday, January 22, at 12pm EST on www.vimeo.com/focusforwardfilms and be shown at a special public screening beginning 5:30pm MST at the Holiday Village Cinema 1 in Park City, alongside three new FOCUS FORWARD films, by Lucy Walker (The Crash Reel), Senain Kheshgi (Project Kashmir), and David White & Paul Wedel (I Kill).