Back to selection
Inequality for All | Director Jacob Kornbluth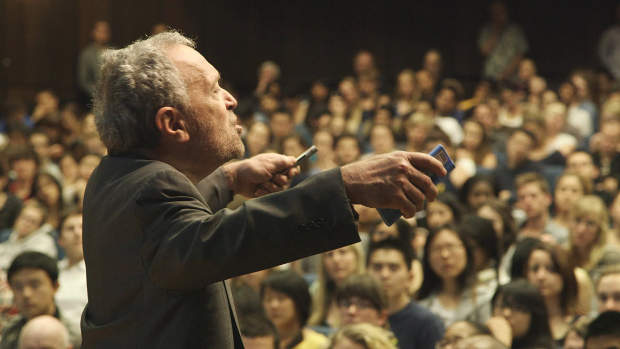 [PREMIERE SCREENING: Saturday, Jan. 19, 2:30pm — Prospector Square Theatre, Park City]
As I was growing up, I was always told that anything worth doing would take sacrifice. As an independent narrative filmmaker, which was my background before making this documentary, I was accustomed to working from a script and shooting over an intense but short period. It's an exhausting and unsustainable month or two where you sacrifice your life, but then it ends, and you sort of remake yourself from the rubble… go for a walk, read a book, and begin to feel like some version of yourself after a while. This documentary has been remarkable in how drawn out and physically taxing the process has been. In my case, it all started with a year of intense research. Since I had no formal background in the field, I look at this now as a kind of intense grad school for macroeconomics. I was learning a tremendous amount each day, but everything I learned was a reminder of how little I knew, and I had many sleepless nights worrying that I would never know enough about the topic I wanted to make a film about. Then, I began an even more intense shoot of over 60 days of shooting in several cities across the nation, all in less than one year – and all while we were editing simultaneously. The momentum and pace we've kept up to pull the entire production of this film together in one year's time has been, well, intense. And filled with sacrifice.
I haven't had a real weekend in forever… I work through them all the time. My wife and I were married a year and a half ago, and she lets me know regularly that she didn't know what she was getting into when she married a filmmaker. Most days I'm up working at 6:30am and writing notes on the film until about 11pm, when I pass out.  I haven't seen a movie or read a book that wasn't related to the making of this film since I started the project. When I sleep, I now dream in story structure and graphs. And forget about hanging out with friends… the e-mails and calls to hang out quickly slowed to a trickle, as they gave up on me a long time ago (if you're reading this — and you know who you are — sorry I haven't written back! It really doesn't mean that I don't care!). The most exhausting part was that this project enveloped my life. It was more than just hard work. It was taxing to my very being and sense of self. Was it an obsession?  Of course. There were (and are) times when I felt trapped and isolated by not just the film, but by the entire subject. I wished I could have thought about anything besides income inequality and its effect on the middle class and America. Sometimes I just wanted to think about the weather, or how J-Lo's outfits always seem so well put together — the important stuff, you know what I mean? But, alas, I simply haven't been able to. I've been caught in the web of this topic and this film.
Looking back, however, I realize that I was driven by that feeling I grew up with, for better or for worse. I knew that if I wanted to try to make something good, I would have to sacrifice.  It made intuitive sense.  The unsettling part was how genuinely terrifying it felt to sacrifice so much professionally and personally — to risk what feels like everything — before even knowing if the film is going to work. On the other hand, to have been given the opportunity to make a movie that might change the discussion of what's happened to our middle class – a topic I couldn't be more passionate about — what more could a guy ask for?  It was an amazing opportunity that I am thankful for. It was something worth doing, and something that was certainly worth the sacrifice.