Back to selection
5 Broken Cameras and Detropia Top Cinema Eye Honors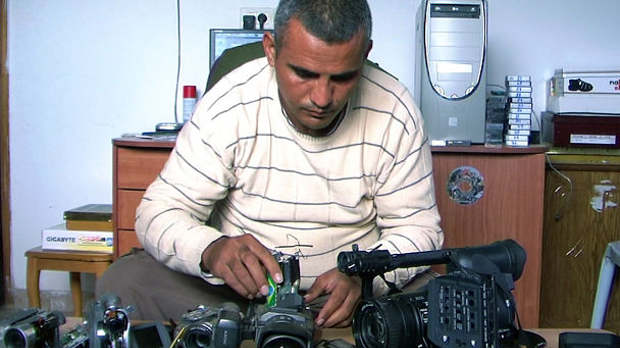 5 Broken Cameras
At the Museum of the Moving Image last night, Emad Burnat and Guy Davidi's 5 Broken Cameras took the headlines at the Cinema Eye Honors by taking the top prize, Outstanding Achievement in Nonfiction Feature Filmmaking, while Heidi Ewing and Rachel Grady's Detropia also took two prizes, for directing and score. Jason Tippet and Elizabeth Mims (2012 "25 New Faces" alums for their film Only the Young) won Best Debut Feature, while a slew of acclaimed 2012 docs such as Chasing Ice, How to Survive a Plague, Bully, The Imposter and Searching for Sugar Man picked up statuettes too.
With the announcement this morning of the Academy Award nominations, and a Best Documentary nod for 5 Broken Cameras, it's possible to see in Burnat and Davidi's win some significance in regard to their Oscar hopes, but truthfully that is not what the Cinema Eyes are about. Michael Moore, when presenting the Legacy Award to D.A. Pennebaker and Chris Hegedus for their 1993 classic The War Room, wished all present good luck the following morning, as many of the shortlisted doc directors were present. But while the Cinema Eyes take place on the eve of the Academy Awards announcement, they are anything but overshadowed. Indeed, I'm not aware of another awards show which looks less for validation of its importance from external forces than the Cinema Eye Honors; its very existence is proof of how necessary it is.
When presenting an award last night, Tarnation director Jonathan Caouette said that over the past eight years he had met and had meaningful contact with half the people in the room. That was surely no exaggeration, for the Cinema Eye Honors is an event at which the idea of community is central. It was conceived in 2007 by A.J Schnack and co. because there was no award show that celebrated the multi-faceted achievements of the documentary community, and that community has responded by every year turning out en masse for an event that feels uniquely celebratory, rather than competitive.
Because of that community aspect, the Cinema Eyes always has an intimacy that feels unique. In the audience, nominees and industry and press and jurors all sit together, with no segregation by category or perceived importance. At the start of the show, Schnack discussed and joked about the baby recently adopted by his co-host and fellow doc filmmaker Esther Robinson, while Robinson herself drew a parallel between her husband and son and those in the room, who she called her other family. When accepting the Legacy Award, D.A. Pennebaker felt so relaxed among a throng of familiar faces that he spoke at much greater length than he'd expected. And as Grady and Ewing accepted their directing award for Detropia, Robinson came from the wings to excitedly give her friends a congratulatory hug.
Because everybody there knows everybody else, or near as dammit, there's also an ease and a sense of fun that is rare at events like these. The winner of best score for Detropia, Blair French (aka Dial.81), was not present at the show, but when he gave his acceptance speech by phone, the audience was told that he was "available for work." Darius Marder, whose Loot was a Cinema Eye nominee a few years back, performed his presenting duties by assuming the persona of a "dry, self-effacing Brit," much to the crowd's amusement. (When producers Daniel Chalfen and Dimitri Doganis, took the stage subsequently – as a presenter and production award winner, respectively – they both had to make a point of saying that they were actually Brits, and not in fact just putting on a accent to continue the joke.) And in the gag reel parodying Marina Abramovic: The Artist is Present and Only the Young that opened the show – the latter segment actually featured Schnack goofing around with two of the film's three teen subjects, rather than the usual doctored clips.
As it has since 2011, Filmmaker partnered with Cinema Eye to present the Heterodox Award, which recognizes a fiction film which "imaginatively incorporates nonfiction strategies, content and/or modes of production." The nominees this year included two films from former "25 New Faces" (Terence Nance's An Oversimplification of Her Beauty and Craig Zobel's Compliance), Pablo Larraín's No – which today received a Best Foreign Language Feature nod from the Academy, and which you can read about in the forthcoming Winter issue of Filmmaker – and the Taviani brothers' Caesar Must Die. The winner, however, was Jem Cohen's Museum Hours, and in accepting the award Cohen paid tribute to the last Chris Marker, who also brilliantly mixed elements of fiction and non-fiction, saying, "I have dedicated films to him in the past, and will continue to do so."
A full list of the 2012 Cinema Eye Honors winners is below:
Outstanding Achievement in Nonfiction Feature Filmmaking
5 Broken Cameras
Directed by Emad Burnat and Guy Davidi
Produced by Christine Camdessus, Serge Gordey, Emad Burnat and Guy Davidi
Outstanding Achievement in Direction
Heidi Ewing and Rachel Grady
Detropia
Audience Choice Prize
Bully
Directed by Lee Hirsch
Outstanding Achievement in Production
Dimitri Doganis
The Imposter
Outstanding Achievement in Editing
T. Woody Richman and Tyler H. Walk
How to Survive a Plague
Outstanding Achievement in Cinematography
Jeff Orlowski
Chasing Ice
Spotlight Award
Argentinian Lesson
Directed by Wojciech Staron
Heterodox Award
Museum Hours
Directed by Jem Cohen
Outstanding Achievement in Nonfiction Short Filmmaking
Goodbye Mandima (Kwa Heri Mandima)
Directed by Robert-Jan Lacombe
Outstanding Achievement in an Original Music Score
Dial.81
Detropia
Outstanding Achievement in Graphic Design and Animation
Oskar Gullstrand and Arvid Steen
Searching for Sugar Man
Outstanding Achievement in a Debut Feature Film
Jason Tippet and Elizabeth Mims
Only the Young
Legacy Award
The War Room
Directed by Chris Hegedus and D A Pennebaker
Produced by R.J. Cutler, Wendy Ettinger and Frazer Pennebaker