Back to selection
3D Plane Crashes and Charlie Victor Romeo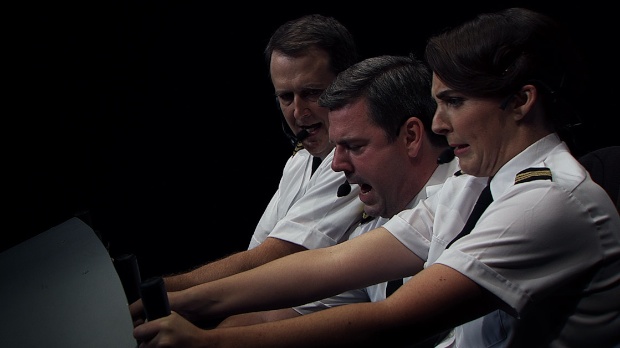 They came up with a great idea. Within months, they received the highest critical acclaim. They continued to perform and planned to make a movie of it all. It took 13 years. At Sundance 2013, in the New Frontiers section, the 3D film version of the acclaimed performance piece about plane crashes, Charlie Victor Romeo, will have its premiere. A few weeks after the shoot was completed, and as an Associate Producer and behind-the-scenes documentarian of the film, I asked several of the projects principal creators to share an inside account of the transformation.
First, Charlie Victor Romeo was a play. It was conceived in the Summer of 1999 when Bob Berger found an obscure book which had transcripts of black box voice recordings of airplane crashes. Although the actual recordings are never released, the NTSB's crash investigations result in transcripts that are published as appendices to the final reports. Berger turned to his friend Irving Gregory and said, "This would make a great play." By the time they walked from the bookstore on Broadway to The Collective: Unconscious Theater on Ludlow Street, they had already formulated how the play would be staged. 
Berger, Gregory and actor Patrick Daniels would share directing duties, choose which airline crashes they would stage, and casting. They immediately brought on sound engineer and composer Jamie Mereness, as the technical/sound director. With only a few weeks to prepare a working script and rehearse, the first few performances were an alternative to the sci-fi-horror satires C:U was known for. At first they used only a few chairs for the cockpit, but the intensity was there. As performed by actors live on stage, the play is an experience terrifying, inspiring, and educational. Word began to spread through the theater community that something different was happening. According to Daniels, the greatest honor was knowing that after weeks of training, the actors were able to present a sacred, serious, text full of technical communication between pilots and the crew members. The truth they sought on stage riveted audiences.
Berger cultivated his audience by the using internet to communicate with a small group of airline professionals who became his evangelists. A single review by an airline professional broke Charlie Victor Romeo.
Rare is the movie or TV show that presents an accurate portrayal of anything aviation. Rarer still is a stage production about aviation, let alone an accurate one. But Charlie Victor Romeo, a new play that captures the human drama that occurred in the cockpit during six real-life airline accidents, does a very credible job of capturing the tension, confusion, frustrations, fears and courage of the pilots and flight attendants on the doomed flights. – Pete Yost, AvWeb
Other positive reviews poured in. By the end of the year, the rickety theatre had sold-out audiences each weekend. The average Lower East Sider saw the show alongside airline pilots, West Pointers, and even a few crash survivors. Suddenly, the team was wearing combat boots and tuxedos to the Drama Desk Awards and they won – twice – for "Outstanding Unique Theatrical Experience" and "Outstanding Sound Design." Very quickly, they were touring the world. Daniels remembers, "All along the way, there were people who said, "This is important. You are doing something that needs to have an ongoing life. If the right people see this, you could save lives." They began discussing a filmed version. 
 
Anyone who came to share the pilot's dilemma of six plane crashes in an hour-and-a-half knew there was no lack of drama. But imagining such a claustrophobic play as a narrative required imagination. Offers to help turn the play into some kind of Hollywood movie trickled in through the years. It was a given that anyone walking out of the play, which takes place entirely in cockpits, would think it could be expanded out to a full-fledged United 93-type blockbuster. But Berger, Daniels, and Gregory had some very specific ideas about how they wanted the film to feel: as if you were in the theater, freaking out, feeling like a passenger in a plane about to crash, and hoping, praying the landing would be safe. At a certain point, they gave up the idea that anyone else could make the film they wanted to see.
The play by itself is both a simple recreation of words and button pushing and a technically complicated re-enactment of trained officers facing the failing of their machines. The narrative is something the audience creates itself, through absorbing the pilots' intellectual and emotional rigor as they try to solve the problem. To make this come off realistically, the sounds, the light, the rapidity of the technical dialogue – all must be timed correctly.
So Berger, who had worked at CNN and then got a graduate degree at NYU's ITP program, used his considerable interest in technology to investigate the methods of making 3D films. "There's converting 2D to 3D, which you can do with animated films, but if you're going to shoot something live it has to be in stereoscopic 3D."
He began to examine the various possibilities each 3D system offered. With films like Pina in the theaters, the age of interesting, independent 3D motion pictures was almost here. "We realized stereoscopic 3D was a new way of opening up this small stage."
From the point of view of production, to stage the play live before a real audience and shoot in 3D with two cameras was very ambitious. The typical issues of production came to fore. Instead of thinking of the shoot as a narrative film, with a large crew, Berger believed that the hermetically sealed theatrical setting would limit them in a positive way. And when the NHK-Cosmomedia America camera crew arrived, they took up most of the extra space.
Berger's decision was to push the technology in a direction no had yet seen. "As long as 3D technology has been used in film, it's been an end in and of itself… to increase drama by radically altering an audience's perspective and perception of depth and motion, usually as visual accent to cinematic action. We have a production that through the physical proximity to live audiences and almost forensic attention to detail, has been regarded as one of the most intense theatrical experiences in recent time. How can we capture the intimacy of that experience in a new medium? When we saw the demonstration of stereoscopic 3D camera technology, designed specifically for the recording of live performance, we were amazed and completely hooked. To have an opportunity to place the perspective of our film audience in the best seat in the theater exactly serves the requirement we require to make the Charlie Victor Romeo film as powerful and unique an experience as it is a live one."
According to Karlyn Michelson, who co-directed and edited the film, (and this Fall won an Emmy for producing and editing Beyond 9/11: Portraits of Resilience) "It was really stressful having so few people. Everyone had a lot more responsibility. But that enabled us to make decisions more quickly. And Ultimately if we wanted to do something, we just made a decision and flew with it."
There are a few things they did that no one else is doing in 3D. "Because 3D is so new, what's terrifying is that you are taking a risk…. The idea is to get you [the audience] closer than you want to be, so that you wish you could back away from the screen but you can't. And basically because we had no idea what it would look like, we had to make guesses in conjunction with NHK, looking at examples of other pieces they had already shot….] The 3D examples] that I experienced that were really moving were aquariums, or snow falling, things with dimensionality." These were shots with many planes of action from the foreground to the background. "But we're dealing with each object in the cockpit becoming a plane of action… That was the great success of shooting Charlie Victor Romeo in 3D — you feel as though you are in the cockpit."
Over the 12 years of performances across the world, Berger had maintained connections to his huge database of fans. So they also started a Kickstarter campaign and successfully raised an additional $25,000 just as production wrapped. "Without that support, we wouldn't be in post-production right now."
Said Michelson during post-production, "The biggest challenge of editing is that the proxies are in 2D and the real film will be in 3D so I can't see what it be like in 3D." In the offline, she actually only looked at one channel (called "eyes" in 3D terminology), using her memory of what each shot looked like in real life in combination with the 3D monitors on the set, and how the edits look in early tests that were done at Goldcrest Studios.
When everyone was satisfied that they had completed the final version of the film, the conform uprezzed the 3D material. In the online, they watched the film with two eyes instead of one, to make sure the "eyes" align and there's no ghosting or other strange artifacts. Michelson is thankful. "NHK did a beautiful job and there are relatively few problems with tests we have done so far. It looks pretty damn good."
One tenant of 3D is that you do not edit in quick cuts, and even films like Avatar have a slow editing style. But in the fifth airplane emergency, JAL 123, the bulkhead bursts in the first 15 seconds and it's just chaos until the airplane crashes. In addition to the movement in the cockpit, there are characters offstage in different places around the theater: the purser, the Japan Airlines company representative, Yokota U.S. Air Force Base and another air traffic controller. Michelson was worried that the traumatic cutting would be disorienting. "But it worked so well when we saw the rough cut in 3D in the studio, that we cried. And then we knew that whatever we wanted to do in pacing, we knew it would work. And that's because everything in the performances was so still, that it would not be jarring to the audience to have quick cuts."
"It's amazing, intense, incredible," Reflects Berger. "We've been making it our minds for 12 years. Now, we are completely energized and we've captured an incredible wealth of material. Not only live in front of audiences, but enough so that this can be brought to new audiences around the world. No one in this film is a crashing a plane. Everyone is trying to land a plane safely."