Back to selection
Wadjda Breaks Ground with First Ever Feature Film From Saudi Arabia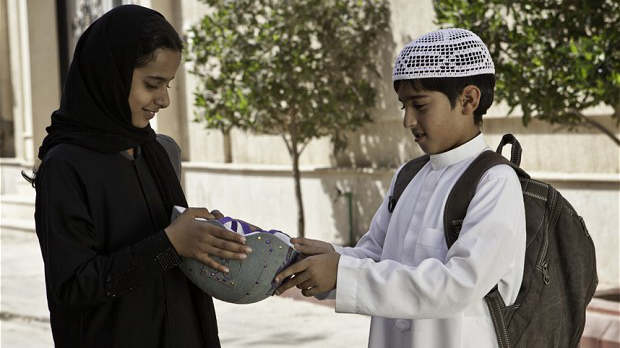 Wadjda
The best type of filmmaking takes us into worlds we've never seen before. Through cinema, we can journey into the past, into the future, to outer space, just around the corner, or to the ends of the world. But there's one place we haven't been, until now. A new film, Wadjda, breaks down one giant cinematic barrier, marking the first feature fully shot in Saudi Arabia in the history of film. And on top of that, its director, Haifaa Al Mansour, is a woman.
Wadjda, played by Waad Mohammed, is a 10-year-old girl growing up in a world built upon rules and restrictions. She dreams of buying a green bicycle (prohibited for girls to ride) to prove that she can race faster than her friend Abdullah. She sells contraband bracelets at her conservative school, but it's mere pennies in the bank toward the bike's high price tag.
The filmmaking is gorgeously subtle, revealing in layer upon layer the underpinnings of a culture without being didactic or formulaic. Wadjda searches for ways to be an individual in a school where girls are forbidden to speak out of turn, laugh, or even spend too much time with each other. "A woman's voice is her nakedness," the headmistress scolds a group of girls for giggling. A rumor spreads among the girls that the headmistress proclaimed a strange man a thief after being caught with him in her home, in order to save face.
When Wadjda's school promotes a Qur'an competition that flaunts a prize of 1000 dirhams, she transforms from a slacker into a star student, using a video game to study the verses. Her transformation blows her schoolmasters away. But when they learn of how she plans on spending the prize money, they decide to donate the money to Palestine on her behalf, which prompts Wadjda to call the headmistress out on her hypocrisy. After seemingly being told "no" her entire life, Wadjda fights to find her own voice, unwilling to accept the future that has been handed to her.
The same could be said about the director. In a country that banned film theaters and prohibits unmarried men and women being seen together in public, how did Al Mansour pull off the impossible? Not without a lot of obstacles. "I thought it would be impossible to make a film, but here I am," said the director at the 2012 Dubai International Film Festival, where audiences warmly received the Arab world premiere.
The petite native Saudi Arabian directed the majority of the film via walkie-talkie while being driven around Riyadh in a van to avoid being seen in public giving orders to men. People often stepped in front of the cameras to try and interrupt the production, voicing their opposition to the project. But other areas of the city were surprisingly supportive, including an ultra-conservative neighborhood where a mall scene was shot.
Previously most Saudi Arabian stories that have made it to the big screen made use of similar settings in the Gulf. But for both the production team and the director it was hugely important to have an authentic setting behind the story. "When we filmmakers make a film, it has to come from our culture, not isolated from outside of the culture," said Al Mansour, "so that people and viewers can relate to the films that we make."
Wadjda's production company, Razor Films (the Berlin team behind Paradise Now and Waltz With Bashir), were in complete agreement. "First of all, the actors are from there. If you tell a story about a place, you should at least know somehow what it might be like. It's always different from what you imagine," producer Roman Paul told Filmmaker. "It might be easier to shoot it in the UAE, but I don't think there would be much of a point to that, especially since we proved it is possible to shoot in Saudi Arabia." The lengthy process of navigating logistics and permissions was handled by on the ground by production partners Rotana and co-producer Amr Alkahtani.
While it's easy to get caught up in the details of making a film in a forbidden land, the real story of Wadjda is how strong Al Mansour's freshman effort is in creating a full-circle narrative that has the viewer enthralled from beginning to end. Wadjda takes the audience not only on a journey into another world, but into a story of deep humanness that all cultures can relate with.
Al Mansour doesn't see her film as revolutionary, but simply as a vehicle to help people understand that things are changing in her country. "I believe that controversy is a healthy phenomenon that can help the development of a society. I don't seek controversy, but I like to make films that represent me as a woman from the Kingdom of Saudi Arabia. For me it was very important to make a film beyond what's happening between the conservatives versus the liberals. I wanted to show a human face of the Kingdom of Saudi Arabia," said Al Mansour.
"We know it's a conservative society. We know the situation of women isn't the best. There's a consensus that the situation of women has to improve. I didn't want to talk in the language of us being victims. I wanted to talk in the language of a character that achieves success. Wadjda is an empowered woman who finds success. She finds her voice. My goal is to find characters that drive us ahead."
The film ends on a note of hope, and we see the possibility of a very bright future for Wadjda. "Women are always revolting in Saudi. They are doing everything behind the scenes. I don't want to use big words like revolution. The most important thing is for a human being to believe in him or herself, man or woman. We need to give them space around themselves for this to develop." Wadjda is just one story from a very big nation full of remarkable storytellers. With any luck, it will pave the way for more local stories to come out of the region. The film will be released in the United States by Sony Pictures Classics this summer.