Back to selection
Stories From POV Hackathon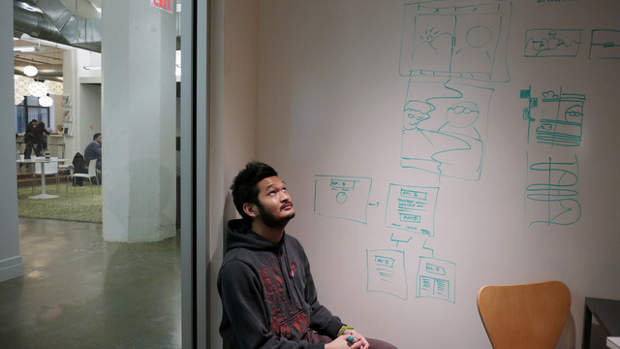 I am continuing my quest to better understand the wild new world of films that aren't just on your TV or in your movie theater — but those that tell stories interactively, that are native to the web, that you can carry around on your phone, and whatever else clever storytellers are dreaming up (lest we be restricted to calling it all the ugly word transmedia).
So, I share with you today the stories of the POV Hackathon. POV, the incredible PBS documentary series, hosts this event for documentary filmmakers to connect with designers and developers in the tech community, collaborating to create web-native documentary work that challenges form and expands their stories.
In his welcome speech at the event, Adnaan Wasey, head of POV Digital, and organizer of the Hackathon, encouraged everyone to embrace this chance to work outside their comfort zone, noting that this was an opportunity to create something quickly, in only 30 hours, versus the months & years documentaries usually take.
POV Executive Director Simon Kilmurry also stressed the themes of the day in his welcome remarks: "Be bold and don't be afraid to make mistakes and put yourself out on the line."
So, with the challenge to take a risk, the eight teams of filmmakers and developers (and designers, project managers, & other techy creatives) set off to spend the weekend together, trying to figure out the most efficient way to turn their big idea to "reinvent documentary for the web" into something achievable for the weekend. Often, this meant tackling a small component of a larger plan. In his video sample on the Hackathon blog, Whitney Dow, creator of multi-platform documentary The Whiteness Project noted that he was glad to be using the Hackathon to create a working Proof of Concept for his project, which would ideally lead to additional funding opportunities to launch the project as a whole. Dow, perhaps the most experienced filmmaker in the group, also gave tips to the group; asking that teams answer "Why this? Why now? Why me?" during their presentations at the end of the Hackathon – good advice no matter the project. Dow went on to win Best Pitch from the Hackathon jury.
IFP Independent Film Week Alum Therese Shechter used the Hackathon for her How To Lose Your Virginity doc. She set out to employ "crowd-sourced stories of sexual debuts and deferrals that now run on our blog (but are kind of buried) and construct a portal that will be searchable by the emotions and thoughts of the writers. We're mapping our hopes, fears and revelations about first time sex!" You can try it out here and submit your own tales if you're feeling bold!
I look forward to exploring Feed Me A Story, a documentary cookbook further! Their upcoming site will share video stories behind a food, along with its recipe, and you can create a paper book with the recipes of your choice.
Empire, which I first encountered at IDFA Doc Lab and explores "the unintended consequences of Dutch Colonialism," took home the Hackathon Participants Choice prize. Empire's designer Clint Beharry says in his interview on the Hackathon site, "its rare to have the opportunity to sit at the same table with filmmakers before their idea is completely realized, so you get to kind of co-design an experience." Ultimately, this kind of collaboration, where your shared interests lead to a better project, is what the Hackathon is all about.
Winner of Best Prototype is the terrifying but informative The Human Experiment, scaring the beejeesus out of you telling about all the toxic chemicals we unwittingly encounter every day and the tragic harms they cause, but helpfully providing you with lists of alternatives, and ways to minimize your exposure. This is indeed a surprisingly well crafted site, for only two days of work!
Aside from creating opportunity for these great projects to get created, POV endeavors to share their knowledge with you, providing valuable info about the projects development, including which tools the developers are using to make their interactive stories work, along with demos and the filmmakers' own pitches about what they're creating.
I'll be so curious to see what happens to all these projects as they move towards completion and out into the world. If you're inspired, too, POV is open for submissions now for Hackathon 3, slated for April.
Photo by Eline Jongsma; The Creators Project at POV Hackathon