Back to selection
Fringe Issue in Older Canon C300's Solved?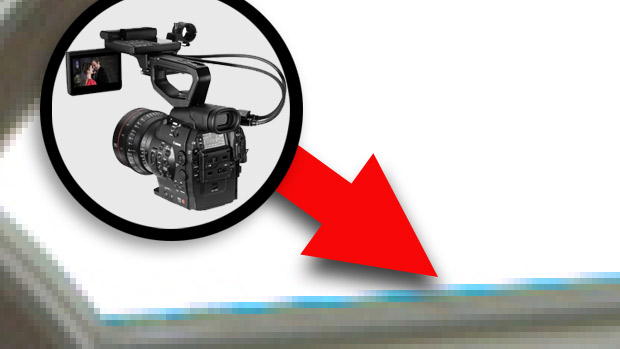 Since its release, the Canon C300 has received a lot of praise for its image quality and low-light sensitivity. But some users have reported problems with color fringing: incorrectly colored pixels that appear on in-focus vertical or horizontal borders adjacent to a blown out – or nearly blown out – background. This most commonly appears on man-made objects like railings and window edges, though it can also be seen in specular highlights on ocean waves.
The Canon C300 is not unique in suffering problems like this. By all accounts the Sony NEX-FS100 exhibits far stronger fringing. Any single-sensor camera is susceptible to color errors because the three colors of each pixel in the final frame aren't being measured in exactly the same position in the frame. Either debayering is being used, or as the C300 does, the color is being calculated by adding adjacent pixels together.
Paul Antico, filmmaker and owner of Anticipate Media and co-host of the Need Creative Podcast owns a Canon C300 and is one of those users who has seen the problem in his footage over the past year, and he has written about it here: C300 Aliased Fringe – Not so Awesome?. He has also spoken to Canon about it on several occasions, both at trade shows and via email, and has been told that the problem didn't exist, that it was chromatic aberration, or that he was not exposing the image properly.
But recently another owner sent his camera to Canon for a sensor cleaning, and it was returned with a new version of firmware. Canon denied that the firmware fixed the problem, yet the user found that his camera had definitely improved.
Paul contacted Canon about the new firmware and was first told that it didn't exist. He then sent them a screenshot of the firmware and got the reply, "That just corrects Spanish language, you don't need that." The firmware (1.0.7.1.00), remains unavailable online.
After hearing from user Randy Noland that the solution fixed his camera, and also talking to Rule Boston Camera who said that there was a known fix, Paul contacted Canon once more. This time they emailed back to confirm that there was a solution to the problem, and to send the camera to the Eastern Region Professional Technology and Support Center in Ridgefield Park, NJ for repair.
The camera came back and Paul sums up the situation, "As Canon said, the new firmware (1.0.7.1.00) 'mostly' fixes it. I can recreate a very light version of it if I really try, but you have to zoom up to see it, so in practice the aliased fringe is effectively gone. Most situations I saw it appear on before no longer show any fringe at all, even zoomed in. And in the rare case I can still cause the aliasing to occur, instead of being colored bright light blue or green, it's now a much more subtle shade where the dominant color is a proper black or grey and not blue. It's still color aliasing, but not nearly as bad as before…and at 100% it's not really noticeable. Bottom line – they fixed it."
The paperwork on the repair read:
"Your product has been examined and upon close inspection the exact cause could not be identified but it was found that the image hues were mismatched from time to time. Adjustments were carried out on the internal component. Product functions were confirmed."
Paul adds that the camera was opened up and some parts were replaced as well, including the dust proof plate and tape, cushion, and cover assembly mount, leading him to wonder if the firmware fixed the problem, or if there was a hardware change required as well. Some newer C300's that are still running the older firmware don't exhibit the problem, which further suggests it might be a hardware fix.
Unfortunately, with no official announcement from Canon, and very different responses depending upon who you contact at Canon Tech Support, owners are left to speculate about the situation and whether they need to persuade Canon to update their cameras.
Finally, though Canon did repair the camera, there was some quality control issues with the repair: Paul's camera came back with a large smudge on the infrared cover on the sensor that he couldn't clean, and the back of the camera was scratched up in several places. Canon did pay to ship the camera back and they removed the smudge and also repaired the back of the camera promptly. There is still a small spec on the glass that can't be removed – but it is outside the image area of the sensor. Another user, Brian C. Weed, reported that after having the same repair done to his C300 that "they had forgotten to plug in the rear info LCD during reassembly."
DVX User: Canon C300 Firmware fix for Color Fringing