Back to selection
The Film Society of Lincoln Center Announces Lineup for 13th Edition of Film Comment Selects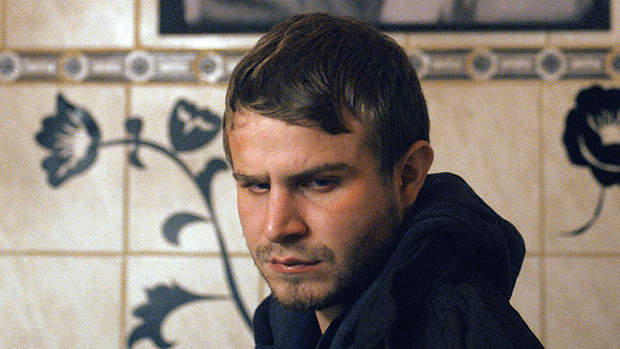 The Film Society of Lincoln Center announced today the lineup for the upcoming 13th edition of Film Comment Selects (February 18-28), Film Comment magazine's eclectic film festival. The roster is hand-picked by the magazine's editors and contributors from their travels around the international festival circuit.
Highlights include 104-year-old Portuguese director Manoel de Oliveira's Gebo and the Shadow, Antonio Campos's engrossing portrait of a serial killer-in-the-making Simon Killer, Marco Bellocchio's compelling drama Dormant Beauty starring Isabelle Huppert, Sergei Loznitsa's gritty World War II drama In the Fog and James Benning's Stemple Pass, which contemplates the life of Unabomber Ted Kaczynski. Exciting new discoveries include Ashim Ahluwalia's delirious look at the sleazy underside of Bollywood with Miss Lovely and Sébastien Betbeder's beguiling story of a couple's nocturnal exploration of a unique Paris park, Nights with Theodore.
Film Comment magazine's editor-in-chief Gavin Smith said, "As in years past, this edition of Film Comment Selects promises a wealth of riches and surprises – with singular cinematic voices like Ingmar Bergman, Michel Gondry, Takashi Miike, and Ben Wheatley as well as the latest from filmmakers as wide-ranging as Antonio Campos and Manoel de Oliveira. Add to that, a revival of Electra Glide in Blue and a double feature by underrated '70s comedy director Howard Zieff and, once again, audiences can expect a dynamic and unpredictable mix of films that Film Comment Selects has become known for."
Tickets will be on sale both at the box office and on www.FilmLinc.com to members on Tuesday, February 29 and to the general public on Thursday, January 31. Tickets are $13 for General Public, $9 for Student/Senior and $8 for Film Society Members. Take advantage of a Three film Package: $30 for General Public, $24 for Student/Senior and $21 for Members.
All screenings will take place at the Film Society of Lincoln Center's Elinor Bunin Munroe Film Center, 144 West 65th Street (between Broadway and Amsterdam). Visit www.FilmLinc.com for additional information.
Films, Descriptions & Schedule
OPENING NIGHT
NEW YORK PREMIERE
SIMON KILLER (2012) 105m
Director: Antonio Campos
Country: U.S.
An American in Paris, only dark. Very dark. Afterschool writer-director Antonio Campos crosses the Atlantic to descend into the unraveling psyche of a charming young sociopath at loose in the City of Lights. On the rebound from a troubling breakup, sketchy and possibly unhinged Simon (Brady Corbet) becomes fixated on prostitute Victoria (Mati Diop)—and from there a chilling, claustrophobic, and unpredictable dance of death unfolds. This ostensible portrait of a serial killer in the making makes for tense, compulsive viewing, in no small part due to Corbet's fearless performance, while Campos's evocative location shooting perfectly captures the textures and sleazy ambience of Paris by night. An IFC Films release.
Monday, February 18 at 8:15pm
CLOSING NIGHT
U.S. PREMIERE
THE WE AND THE I (2012) 103m
Director: Michel Gondry
Country: U.S.
Michel Gondry's delightful and wholly unexpected lo-fi experiment is a mobile kammerspiel set entirely on a crowded bus wending its way through the Bronx as it takes its high-school student passengers home on the last day of school. The film was developed by the unpredictable French director and his ensemble cast in an after-school arts-and-activism workshop—the latest in a series of site-specific open-participation film projects undertaken by Gondry between directing everything from Hollywood blockbusters to intimate personal documentaries. At first glance The We and the I might come off like an experiment in realism or ethnography, but Gondry is much more invested in celebrating the individuality of each member of his young multiethnic cast (all playing themselves) and the way the dynamics within and across its different subgroups and cliques shift and play out in a free-form setting that's by turns raucously funny, poignantly tender, and gently observant. Moreover, any notion that this is an exercise in naturalism are dispelled when you begin to notice how Gondry takes mischievous liberties with time and place (this is the longest bus ride in cinema history, and day turns to night before everybody gets home!). One of the most winning films of the year!
Thursday, February 28 at 8:30pm
A BORROWED LIFE (1994) 167m
Director: Wu Nien-jen
Country: Taiwan
A deeply felt, epic father-and-son drama chronicling the tumultuous life and times of a provincial mining-town family in the 1950s, A Borrowed Life is one of New Taiwanese Cinema's masterpieces, and listed among Martin Scorsese's 10 favorite films of the '90s, yet has nevertheless remained largely unseen. Actor and novelist-turned-writer-director Wu's 1994 film presents a dual portrait of coal miner Sega, a failed patriarch doomed to stand on the sidelines of his own life, and Wen Jian, his young son who bears witness from his own painful remove. It's one of Taiwanese cinema's most clear-eyed explorations of family dynamics—a distinction it shares with Edward Yang's Yi Yi, which introduced Wu to Western audiences in the role of yet another discontented father figure. Few films have so vividly re-created the sensation of having known another human being for one's entire life, while simultaneously evoking the suspicion that all along one has loved a stranger. Print courtesy of George Eastman House.
Sunday, February 24 at 2:00pm
CALL GIRL (2012) 140m
Director: Mikael Marcimain
Country: Sweden
Based on a true story, and subject of a major controversy in Sweden last year, this inevitably semi-lurid but never exploitative drama is about the corruption of a 14-year-old girl lured into a prostitution ring catering to the political establishment in the 1970s. Partly a hard-knocks coming-of-age story and partly a political thriller, the movie's action centers on Iris (Sofia Karemyr), who routinely sneaks out of her group foster home, drawn like a moth to the flame by the bright lights of Stockholm at night. She finds a kind of mother figure in the form of Dagmar Glans (Pernilla August), a madam who initiates her latest catch into the life and its perks, and soon what starts out as a boundary-testing adventure becomes an intoxicating thrill—until things quickly get too much for our young heroine. Enter Sandberg (Simon J. Berger), the only honest vice cop on the force, who, against the backdrop of an impending general election, starts to expose the ring and finds that its links go all the way to the top. It's only a matter of time before these two characters cross paths and start attracting the kind of attention that gets people killed. Having served as an second unit director on Tomas Alfredson's Tinker Tailor Soldier Spy, Marcimain is completely at ease in this '70s period setting and takes care to underline the irony of politicians appearing on television and delivering campaign speeches extolling the virtues of the government's progressive policies regarding women's equality and evolving sexual mores. Based on an actual scandal in which assassinated Prime Minister Olof Palme was implicated and which was brushed under the carpet for many years by the Swedish authorities.
Wednesday, February 20 at 9:00pm
Thursday, February 21 at 3:30pm
DORMANT BEAUTY (2012) 115m
Director: Marco Bellocchio
Country: Italy
Isabelle Huppert and Toni Servillo star in Italian master Bellocchio's compelling, somber ensemble drama in which a characters in three interrelated storylines struggle with the moral impasses and compromises of modern life. The film's point of departure is a real-life right-to-euthanasia case that became a national controversy in 2008, culminating in a Parliamentary vote. (The film's title might more precisely be "Sleeping Beauty.") Against this backdrop Bellocchio attempts to encompass the differing values and outlook of young and old, reactionary and idealistic: that of a senator (Servillo) with a passionately pro-life daughter (Alba Rohrwacher) preparing to cast his vote on the issue; a retired actress and devout Catholic (Huppert) who tends to her own comatose daughter; and a troubled young doctor (Bellocchio's brother, Pier Giorgio) who tries to help a suicidal methadone addict (Maya Sansa). Bellocchio takes an X-ray of the lingering malaise of late-Berlusconi Italy and its frightening intellectual and psychological confusion—and certainly touches a nerve.
Wednesday, February 20 at 6:30pm
Friday, February 22 at 4:00pm
Sunday, February 24 at 5:15pm
ELECTRA GLIDE IN BLUE (1973) 114m
Director: James William Guercio
Country: U.S.
Record producer James William Guercio's first and last film is a visually extravagant, behaviorally loopy story of an Arizona motorcycle cop named "Big" John Wintergreen (Robert Blake) who aspires to be a big-shot Los Angeles detective. Longer on mood and sun-soaked atmosphere than narrative complication, the film revels in the antics of its twitchy, hyped-up cast, a motley crew of character actors which includes Billy Green Bush as Blake's partner, Mitchell Ryan, and Elisha Cook Jr. Stunningly shot by the legendary Conrad Hall, Electra Glide in Blue features a bravura final shot, a capper to the film's Easy Rider-in-reverse ending. Print courtesy of Park Circus.
Saturday, February 23 at 9:45pm
FROM THE LIFE OF THE MARIONETTES (1980) 104m
Director: Ingmar Bergman
Country: Germany
Never available on DVD, Bergman's rarely screened film investigates the underlying emotional and psychological causes that lead an ordinary German business executive to murder a prostitute. After confessing to the crime, impeccably middle-class Peter (Robert Atzorn) is held in custody, while the police question those closest to him—his wife (who shares her name with Peter's victim), his psychoanalyst, his mother, his wife's gay fashion business partner—each of whom attempt to account for Peter's actions while revealing their own hidden emotional agendas and blind spots, which inadvertently combine to make the tragedy inevitable. Stylistically cold and stark, its narrative articulated in a nonlinear fashion that shifts back and forth in time, and clinical in its detachment, this is one of Bergman's bleakest visions of emotional disconnect and the emptiness of modern European life—but it's never less than mesmerizing. Print Courtesy of The Swedish Film Archive.
Tuesday, February 19 at 6:30pm
U.S. PREMIERE
GEBO AND THE SHADOW (2012) 95m
Director: Manoel de Oliveira
Countries: France/Portugal
Struggling to keep his family intact and fed, an impoverished government accountant faces a slow-burning crisis in this brooding nighttime kammerspiel starring Michael Lonsdale, Claudia Cardinale, Jeanne Moreau, and Oliveira axioms Leonor Silveira and Ricardo Trêpa. Now 104 and going strong, Portugal's greatest living director once again explores the interplay of cinema and theater, adapting a 1923 modernist stage play by Raul Brandão. A prodigal son (Trêpa) returns to the bosom of his family with a hidden agenda, taking advantage of a mother (Cardinale) who idealizes him and a father (Lonsdale) who keeps his uneasy half-suspicions to himself.
Monday, February 18 at 6pm
Tuesday, February 19 at 4:30pm
FILM COMMENT DOUBLE FEATURE
HEARTS OF THE WEST (1975) 103m
Director: Howard Zieff
Country: U.S.
Jeff Bridges, Alan Arkin, Blythe Danner, and Andy Griffith star in this affectionate, underrated, often hilarious comedy about a naïve youth's Tinseltown rite of passage. Set in a poverty row studio grinding out B-Westerns for Depression-era audiences, Howard Zieff's nimble, laid-back comedy stars Bridges as a would-be novelist who accepts work as a stuntman after a run in with two grifters, while insisting he's the next Zane Grey, and is taken under the wing of a wise old pro (Andy Griffith) who may not be as benign as imagined. Bridges's canny performance balances broadness and subtlety, while Griffith wears his character's sad, threadbare duplicity like a medal rather than a wound, oozing pride instead of blood. One of the highlights of the Seventies Hollywood's nostalgia trend, Hearts of the West has as much vitality, originality, and craft as any classic from the Thirties and Forties. Print courtesy of BFI Distribution.
Thursday, February 21 at 6:30pm
&
SLITHER (1973) 96m
Director: Howard Zieff
Country: U.S.
In this little-known, rarely screened, not-to-be-missed comedy written by future Adventures of Buckaroo Banzai director W.D. Richter, bemused car thief James Caan, fresh from prison, hits the road to track down his murdered friend's stash of embezzled cash. After hitching a ride with a fast talking, pistol-packing kook (Sally Kellerman), he teams up with rec-vehicle enthusiast Peter Boyle and wife Louise Lasser and soon the trio find themselves pursued across Northern California by two mysterious black mobile homes. Amidst the deadpan, rambling, low-key comedy and increasingly absurd circumstances (watch out for the Bingo Hall fight sequence), Caan reveals his genius for double-taking comic befuddlement, more than holding his own against the antics of Boyle, Kellerman, Allen Garfield, et al. A glorious piece of Seventies oddball Americana.
Thursday, February 21 at 8:25pm
NEW YORK PREMIERE
HERE COMES THE DEVIL (2012) 97m
Director: Adrían García Bogliano
Country: Mexico
In Adrían García Bogliano's unnerving, bracingly lo-fi chiller, a Mexican family outing goes bad when two children disappear overnight and return strangely altered by their misadventure. Although this is the sixth feature by unpredictable Argentinean genre specialist Bogliano (Penumbra, Rooms for Tourists), it's put together in an almost primitive rough-and-ready manner in every respect. Regardless of the unrefined style, make no mistake: the director's definitely in control of his material, its tale of possession, revenge, and steadily encroaching supernatural malevolence underpinned by a sense of sexual unrest will keep you guessing all the way from the WTF prologue to the WTF kicker. A Magnet Films release.
Friday, February 22 at 10:15pm
IN THE FOG (2012) 128m
Director: Sergei Loznitsa
Countries: Ukraine/Germany
This quietly spellbinding follow-up to 2010's My Joy is a gritty yet deliberately paced behind-enemy-lines Word War II drama. Sushenya, a railway worker suspected of collaboration (having inexplicably been set free by the Germans after a case of attempted sabotage) finds himself marooned deep in the woods with the two Soviet resistance fighters charged with executing him. Too late, Sushenya realizes that he is the bait, and that a trap is closing in on all three of them. A vigorous, masterfully directed, and yet strangely placid vision that both honors the venerable Soviet genre of the partisan war film while refracting it through a perhaps more cynical contemporary lens, in which one cruel irony follows another and the dirty business of war is anything but glorious. A Strand Releasing release.
Sunday, February 24 at 7:45pm
Tuesday, February 26 at 4:00pm 
U.S. PREMIERE
LESSON OF THE EVIL (2012) 128m
Director: Takashi Miike
Country: Japan
Japan's most notorious and unpredictable filmmaker returns to what he knows best in this sensationally violent thriller about a popular and seemingly model teacher who has his own special way of dealing with bullying and overbearing "monster parents." Mr. Hasumi (heartthrob star Hideaki Ito) works at an elite high school where his adolescent students, on the verge of adulthood, bond, mope and tentatively flirt with each other. Hasumi wins their affection and his colleagues' respect for his smooth way of dealing with the daily problems of school life. But he's not what he seems—for a start, what's he doing living in a shack in the woods with two crows for company (like the Norse god Odin, we are told in voiceover)? Slowly it becomes clear that Hasumi is the proverbial teacher from hell, and after blackmailing two teachers who are having affairs with students, he turns to murder to cover his tracks. The action slowly builds for the first hour, and then Miike pulls out all the stops as the mayhem escalates and Harumi becomes a calculating killing machine. But wait: Miike assures you there's a message in the madness: "The superficiality of the peacefulness within the classroom is a reflection of Japanese society. It's not a true peace. And in the film, I express what actually happens when the illusion on the surface begins to fall apart."
Tuesday, February 26 at 8:30pm
Wednesday, February 27 at 9:30pm
MISS LOVELY (2012) 100m
Director: Ashim Ahluwalia
Countries: U.S./India
There's no business like sleaze business in this tale of low-rent filmmaking in the illicit demimonde of gangster-controlled Bollywood exploitation film production. If you're looking for Hindi song-and-dance, you've come to the wrong neighborhood. The first narrative feature by Ashim Ahluwalia (director of 2005's call-center documentary John & Jane), takes us deep into the gangland precincts of Bombay's cutthroat, cut-rate filmmaking scene, Eighties style. Keeping softcore porn and horror films fed with fresh meat under varying degrees of duress, director Vikky shoots writhing young things in titillating sex scenes while humoring the whims of his producer-gangster boss—until his hapless gofer brother Sonu gets the idea to make his own grindhouse effort starring the girl of his dreams, and soon gets in over his head. After an off-kilter, at times delirious first hour, Miss Lovely settles into a pungent story of jealousy, betrayal, and doomed love.
Tuesday, February 19 at 9:00pm
Wednesday, February 20 at 4:00pm
U.S. PREMIERE
MOTORWAY (2012) 89m
Director: Soi Cheang
Country: Hong Kong
In this kinetic fuel-injected thriller produced by Soi Cheang's mentor, Johnnie To, a secret high-speed-pursuit unit of the Hong Police called the Stealth Riders battle with underworld getaway drivers through the city's nocturnal maze of streets and highways. Overconfident unit newcomer Cheung (Shawn Yue) arrests notorious getaway driver Sun (Gu Xiaodong) but soon finds he's been taken for a ride when Sun stages a breakout to free his partner Huang (Li Haitao). The humbled Cheung, in the time-honored sifu-disciple tradition, takes lessons from veteran cop and master driver Lo (Anthony Wong) to gain the skills and knowhow he needs to nail his formidable adversary. State-of-the-art filmmaking and inspired, white-knuckle stuntwork once again prove that the Hong Kong action movie still lives—and need we say fasten your seatbelts? Print courtesy of Media Asia Films.
Saturday, February 23 at 1:00pm
Tuesday, February 26 at 6:30pm
U.S. PREMIERE
NIGHTS WITH THEODORE (2012) 67m
Director: Sébastien Betbeder
Country: France
A romantic connection blossoms between two young Parisians during a succession of dreamlike nocturnal visits to a singular, beguiling park. Sébastien Betbeder's haunting and delicate film is a decidedly sui generis affair that is truly enchanting. Anna meets Theodore at a party, and together they impulsively climb the fence and enter the nearby Parc des Buttes-Chaumont, an unusual and striking hillside public garden in Paris's 19th arrondissement (if you've ever been there, you'll never forget it). The two part in the morning but find themselves drawn back the following night, and, falling in love under the park's spell, embark on nightly explorations of its topographic mysteries, gradually discovering that they are not the only ones drawn to this perhaps magical place. Ingeniously, Betbeder annotates his scenario with archival footage and anecdotes (perhaps invented) relating to the park and its history. A very special film that introduces a writer-director of great promise and originality.
Friday, February 22 at 6:30pm
Thursday, February 28 at 4:45pm
U.S. PREMIERE
PENANCE (2012) 278m
Director: Kiyoshi Kurosawa
Country: Japan
After a four-year hiatus, Kiyoshi Kurosawa returns with this five-part made-for-television psychological drama/murder mystery that tests viewer endurance, and truly rewards it. Penance tells the stories of four women who have been shaped by a burden of guilt from 15 years ago, when they witnessed the abduction of a classmate who was later murdered. In the first four chapters, the carefully ordered and widely contrasting lives of the women are disturbed by a crisis that involves each one committing an act of aggression on a male victim. The film's final segment focuses on the dead girl's mother, who has turned up like a ghost from the past in all of the preceding sections, still searching for closure—and for the identity of her daughter's killer. Filmed in the familiar placid-but-uneasy Kurosawa style, Penance marks a return to his roots.
Monday, February 18 at 1pm
NEW YORK PREMIERE
SIGHTSEERS (2012) 89m
Director: Ben Wheatley
Country: U.K.
A country caravan tour spins horribly out of control when a very English couple embark on a romantic getaway that gradually escalates into all-out killing-spree in this blackly funny new outing from rising indie star Ben Wheatley, the man who, in collaboration with co-writer and partner Amy Jump, unleashed Kill List and Down Terrace on the world. Continuing to mine the irrational violence lurking just beneath the surface of unremarkable, everyday Englishness, Wheatley follows the progress of aspiring writer Chris (Steve Oram) and dog-lover Tina (Alice Lowe) as they visit the Keswick Pencil Museum, the Crich National Tramway Museum, and the Lake District's majestic Ribblehead Viaduct. And you better believe it—Chris is not about to let litterbug tourists, obnoxious teenagers, and booked-up camping sites spoil things for them. Winner of the British Independent Film Award for Best Screenplay, this new thriller recently screened at Cannes, Toronto and Sundance Film Festivals. An IFC Midnight release.
Thursday, February 28 at 6:30pm
U.S. PREMIERE
STEMPLE PASS (2012) 121m
Director: James Benning
Country: U.S.
Investigating another, deeply troubling facet of rugged American individualism, James Benning gives us four landscape shots containing a painstakingly constructed replica of Unabomber Ted Kaczynski's cabin, one shot per season. On the soundtrack, Benning himself reads extracts from Kaczynski's journals from the early 1970s, recording his progress at hunting and gathering, and his connection to the Montana wilderness; a hand-written folded sheet of paper detailing his acts of "monkey wrenching" and first attempts at planting bombs; two notebooks written in numerical code in 1985 and decoded by Benning in 2011; two excepts from Industrial Society and Its Future by "FC" (aka the Unabomber Manifesto) as published in its entirety (35,000 words) in The New York Times and The Washington Post in 1995; and a 2001 interview with Kaczynski by J. Alienus Rychalski, special correspondent for the Blackfoot Valley Dispatch.
Saturday, February 23 at 3:00pm
U.S. PREMIERE
3 (2012) 199m
Director: Pablo Stoll
Country: Uruguay
A low-key and unexpected melancomédie from the co-director of Whisky. A middle-aged dentist with a quietly unraveling life makes repeated and poignantly ineffectual efforts to renew his relationship with his ex-wife and adolescent daughter. The two remain as oblivious to his approaches as they are to one another, caught up in their own burgeoning romantic and sexual entanglements. While setting up a refreshingly eccentric tempo through an episodic construction consisting of very brief scenes, Stoll never undercuts the pathos that gradually begins to emerge. Slight and unassuming, 3 is small but beautiful, full of wry observations and little heartbreaks.
Saturday, February 23 at 5:30pm
Wednesday, February 27 at 4:30pm
WISH YOU WERE HERE (2012) 89m
Director: Kieran Darcy-Smith
Country: Australia
Kieran Darcy-Smith's feature debut is a calmly devastating exploration of how one misjudged moment in life has the potential to cause everything to fall to pieces. Dave (Joel Edgerton) reluctantly travels to Cambodia with his pregnant wife (co-writer Felicity Price) and her younger sister and new boyfriend, and after a night of partying the boyfriend disappears without a trace. The others are left to return to their lives, each bearing differing degrees of knowledge about what happened. Delivering doses of information bit by bit, the film's meticulously edited, nonlinear disclosure of events is transfixing—as are the superb performances. An eOne release.
Saturday, February 23 at 7:45pm
U.S. PREMIERE
WHITE EPILEPSY (2013) 68m
Director: Philippe Grandrieux
Country: France
The man behind Sombre, La Vie Nouvelle, and Un Lac returns in person with his newest foray into the realm of the liminal. Derived from an installation piece, White Epilepsy pushes the limits of the visible and sheds all vestiges of narrative to enter a state of total immersion that's at once disembodied yet deeply physical, metaphysical yet grounded in the primordial reality of the body. In the cinema of consciousness, Grandrieux continues to find ways to make darkness visible and embody mysterious states of becoming.
Friday, February 22 at 8:30pm