Back to selection
Big Boy Writer/Director Shireen Seno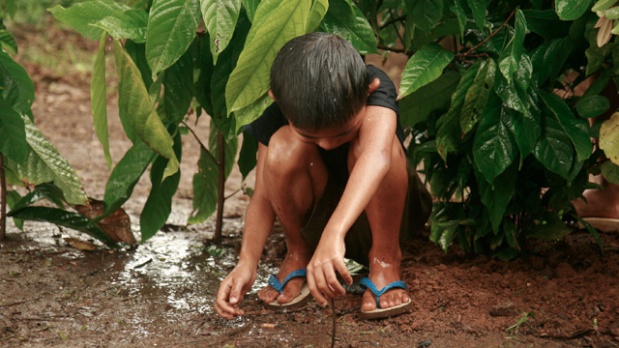 Big Boy
Receiving its international premiere in Rotterdam, Big Boy is photographer and filmmaker Shireen Seno's lovingly lo-fi, Super 8-shot tale of a young boy, pressured by his family to "grow" — not emotionally but physically. Set in the 1950s, Seno intriguingly remembers in Big Boy a childhood in the Philippines she did not experience. Taking her inspiration from family tales as well as the visual traces previous generations have left behind, Big Boy, in the words of the Rotterdam programmer, is about a Filipino past that is "not only nostalgic, but also about the violence often hidden just below the surface." I spoke with Seno recently in Venice, where she took part in the Venice Biennale College Cinema with her next film.
Filmmaker: Tell me how you got into filmmaking?
Seno: I was studying architecture in college, and I realized that I wasn't really passionate about it. I started doing a courses in film studies; it was more theory, history, watching movies and then reading and writing about them. The medium really resonated with me. But I didn't really get a chance to make anything. Then, I joined the film club at my school, University of Toronto, and I took a Super 8 workshop. That's where I got the basics: how to operate that camera and how to shoot on film. I managed to make Seeing Machines, an experimental short that I haven't really shown much. It was really more of an experiment. I was still thinking more about architecture at the time.
Then I started reading up online about this independent film movement in the Philippines — filmmakers making very original personal stories without a budget — and it sounded so wonderful. It took me a couple of years but I finally ended up in Manila myself, and I got to know a lot of the filmmakers I really respected. I started taking photos on some of the shoots of some of these filmmakers — Lav Diaz was one of them, and John Torres. And it was just so encouraging. They were telling me to do my own thing as well.
So I started writing some of the stories that had been swirling around in my head, and I applied for a couple of grants. The Hubert Bals Fund was the main one. Then, I applied for a local production grant by a cable company that shows all these old Filipino films — all I needed to submit was a script. Then they had a list of finalists, 30 or so. They invited us all to do a presentation, and I ended up getting a grant to make this film, which was 1,000,000 pesos, or about €20,000. And then, yeah, it was really fast because I basically had from May until October to make the film.
Filmmaker: Was filmmaking the only reason you moved to the Philippines?
Seno: Pretty much. Well, not the only reason. I met John as well. I had known him for a year but we had kept in touch. And when I met him again it kind of came together for us. We're married, and he produced the film I made last year, Big Boy.
Filmmaker: Did you meet him before you were filmmaking there, or through filmmaking?
Seno: Through filmmaking. I was a fan, I saw his films at the festival there, but I had heard about them since I was in Toronto, in school. His films, they are so personal and intimate. They are shot really lo-fi. I really felt that, yeah, I wanted to meet this guy. And yeah, we met up.
Filmmaker: So tell me about Big Boy.
Seno: Big Boy is a coming-of-age tale about a boy whose family has this sort of image they want him to be, and that is to be tall. So they go through extreme measures to make sure that happens — which includes stretching him and pulling on his limbs. In the morning they make him stand in the blazing sun and force feed him growing oil. And then, he does end up being tall and they decide to capitalize on that and start a home-based business with this growing oil.
Filmmaker: And what is the situation like for a film like this in the Philippines? What are the audiences like there? What theaters would it play in? How does it get recognized?
Seno: Because the company that funded has its festival to launch it, it's automatically included in their festival. So, it has premiered there. Their festival takes place in a mall, in a cineplex. The best quality theaters are the cineplexes in the malls, but they play just Hollywood stuff, mainly. There's an amazing independent film scene in the Philippines, but we lack independent-minded regular screening venues. After that festival, it got shown in the national university because they had a tie-in with that company. But other than that, it hasn't been shown.
Filmmaker: What's it like being produced by John, your husband?
Seno: It's tough. I mean, when we made Big Boy, we were just so sick of each other. But I really appreciate him, because I know him so well on a personal level. He can really be so honest with me about what he's thinking; and me as well. I leaned on him a lot. He was my crutch, really. Even just providing moral support. [The shoot] was tough — we were making a film set in the '50s, entirely on Super 8, with five main kids. There are animals, and a lot of extras in some scenes. It was my first film so it was really overwhelming. But he kept me going — pushing me and reminding me.
Filmmaker: Where do you see your filmmaking going in the future? What kind of movies do you want to do?
Seno: I have a couple of projects in mind, besides the one here. But they're all fairly personal, based on memories, stories, my experiences growing up in different countries.
Filmmaker: Because you grew up in Japan, right?
Seno: Yeah, I grew up in Japan. My parents are Filipino, but I grew up in Japan. I went to an international school, which is a strange thing. I went to college in Canada, Toronto. And I've spent a lot of time in L.A., because my dad moved to L.A. So, my family is scattered over three countries now and I go back and forth to see them whenever we can meet up.
I shoot a lot just randomly. Take a lot of photos, a lot of video with my camera. [Shooting] random moments gives me inspiration for new films as well. Just experimenting and going back and forth between spaces. Besides filmmaking, I've done a few shows in galleries. It's really exciting. Taking photos, I can experiment a little bit more because I don't have so much financial or time restraint? Just shooting and not worrying too much. Just thinking really.
Filmmaker: What are your photos like?
Seno: They're kind of dreamy — nostalgic mostly. All different types of stuff. The last show I had, it's up in Manila now, is mostly weeds I shot in Joshua Tree National Park. And then I combine it with a couple of photos I've taken in the spaces I've been shown.