Back to selection
SXSW Adds The Spectacular Now, The East and More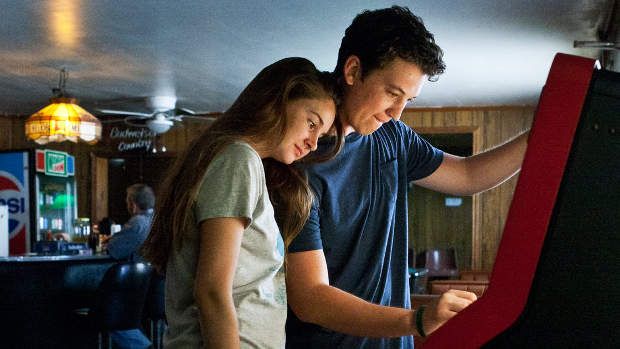 The SXSW Film Festival today announced a further round of films that have been programmed for this year's festival, including Sundance favorites such as James Ponsoldt's The Spectacular Now, Zal Batmanglij's The East, Mike Lerner and Maxim Pozdorovkin's Pussy Riot – A Punk Prayer and Lucy Walker's The Crash Reel. Among the other films also added are Ramin Bahrani's At Any Price, which bowed at Venice last year, and a film shot entirely by Flaming Lips frontman Wayne Coyne on his iPhone, entitled A Year in the Life of Wayne's Phone.
A full list of the new titles is below:
HEADLINERS
The East
Director: Zal Batmanglij, Screenwriters: Zal Batmanglij, Brit Marling
An operative for a private intelligence firm goes undercover to infiltrate a mysterious anarchist collective attacking major corporations.  Bent on apprehending these fugitives, her loyalty is tested as her feelings grow for their charismatic leader. Cast: Brit Marling, Alexander Skarsgård, Ellen Page, Toby Kebbell, Shiloh Fernandez, Julia Ormond, Patricia Clarkson
DOCUMENTARY SPOTLIGHT
Fall and Winter
Director: Matt Anderson
FALL AND WINTER is a voyage into the heart of our global crisis. Epic and stunningly photographed, the film draws on past wisdom and uncovers new, ingenious strategies for the future. It is a psycho-spiritual survival guide for the 21st century. (World Premiere)
Xmas Without China
Director: Alicia Dwyer
A documentary comedy about serious issues we have with our stuff, Xmas Without China follows Chinese immigrant Tom Xia as he challenges his American neighbors to survive the Christmas season without any Chinese products. (World Premiere)
24 BEATS PER SECOND
Bayou Maharajah: The Tragic Genius of James Booker
Director: Lily Keber
"Bayou Maharajah: The Tragic Genius of James Booker" explores the life, times and music of James Booker, the legendary New Orleans performer who Dr. John proclaimed "the best black, gay, one-eyed junkie piano genius New Orleans has ever produced." (World Premiere)
GIMME THE POWER
Director: Olallo Rubio
A rockumentary about the Mexican band Molotov and the political, social and financial context where the band was born and developed.
The Great Hip Hop Hoax (UK)
Director: Jeanie Finlay
Californian hip-hop duo Silibil n' Brains were going to be massive. No one knew the pair were really Scottish, with fake American accents and made up identities. A film about truth, lies and the legacy of faking everything in the pursuit of fame. (World Premiere)
In Your Dreams – Stevie Nicks
Directors: Stevie Nicks, Dave Stewart
In 2010 Stevie Nicks embarked on the recording of a new solo album, In Your Dreams, produced by former Eurythmics mastermind Dave Stewart. With cameras in tow, the two set up shop in her home studio to reveal their collaborative creative process.
Muscle Shoals
Director: Greg 'Freddy' Camalier
Located alongside the Tennessee River, Muscle Shoals became the unlikely breeding ground for some of America's most creative and defiant music inspiring and luring artists as diverse as Keith Richards and Alicia Keys.
Pete and Toshi got a Camera
Director: William Eigen
In 1963, blacklisted by the McCarthy hearings and under surveillance by the FBI, Pete Seeger buys a movie camera and takes his family on an adventure of a lifetime, filming gifted musicians in exotic locations around the world. (World Premiere)
FESTIVAL FAVORITES

At Any Price
Director: Ramin Bahrani, Screenwriters: Hallie Elizabeth Newton, Ramin Bahrani
In the competitive world of modern agriculture, ambitious HENRY WHIPPLE (Dennis Quaid) wants his rebellious son DEAN (Zac Efron) to help expand his family's farming empire. However, Dean has his sights set on becoming a professional race car driver. When a high-stakes investigation into their business is exposed, father and son are pushed into an unexpected crisis that threatens the family's entire livelihood. Cast: Dennis Quaid, Zac Efron, Kim Dickens, Heather Graham, Clancy Brown, Chelchie Ross, Maika Monroe, Red West, Ben Marten, Dan Waller
The Crash Reel
Director: Lucy Walker
The dramatic story of one unforgettable athlete, Kevin Pearce; one eye-popping sport, snowboarding; and one explosive issue, Traumatic Brain Injury. A comeback story with a difference.
Linsanity
Director: Evan Jackson Leong
Jeremy Lin came from a humble background to make an unbelievable run in the NBA. State high school champion, all-Ivy League at Harvard, undrafted by the NBA and unwanted there: his story started long before he landed on Broadway.
Pussy Riot – A Punk Prayer (UK)
Directors: Mike Lerner, Maxim Pozdorovkin
Three young women face seven years in a Russian prison for a satirical performance in a Moscow cathedral. But who is really on trial in a case that has gripped the nation and the world beyond, three young artists or the society they live in?
The Spectacular Now
Director: James Ponsoldt, Screenwriters: Scott Neustadter, Michael H. Weber
A high school romance between an alcoholic, party boy and a more reserved, shy, girl. Cast: Miles Teller, Shailene Woodley, Brie Larson, Jennifer Jason Leigh, Mary Elizabeth Winstead, Kyle Chandler
SPECIAL EVENTS
Asleep at the Wheel Then and Now (Short)
Director: Dan Karlok
Ray Benson's whirlwind romp through the four-decade history of the post-modern kings of western swing.
Mabon "Teenie" Hodges – A Portrait of a Memphis Soul Original (Short)
Director: Susanna Vapnek
You may know such famous songs as "Take Me To The River" and "Love and Happiness", but you probably do not know Mabon "Teenie" Hodges – the legendary Memphis guitarist who co-wrote these songs with Al Green. (World Premiere)
A Year in the Life of Wayne's Phone
Director: Wayne Coyne
Compiled from over 28 hours of personal videos shot by The Flaming Lips' Wayne Coyne on his iPhone, A Year in the Life of Wayne's Phone, is the world's first vertical iPhone movie. (World Premiere)