Back to selection
Cinekink 2013: Reflections from Founder Lisa Vandever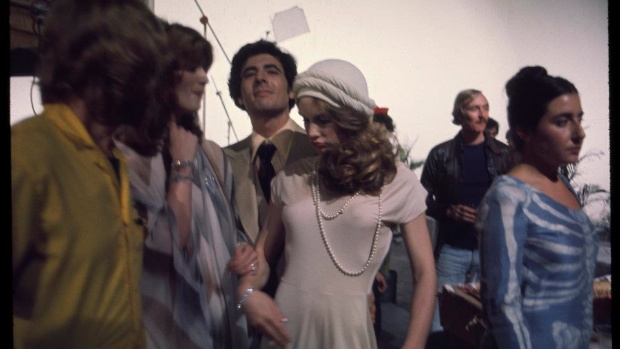 The Opening of Misty Beethoven
When we set off on our first year of CineKink, little did I think we'd one day be celebrating a "decade of decadence." And yet, here we are, resting up from another festival down, happy in the knowledge that this amazing milestone also brought record crowds, increased press attention and another round of great works.
Among the year's highlights, our opening night film, Remedy, from New York-based writer/director Cheyenne Picardo, delivered a packed house and a chance for the local kink community to see some of their own represented up on the big screen. Based on her personal experience in the city's dungeons, the film, winner of the CineKink Audience Choice Award for Best Narrative Feature, is an honest accounting of the physical and emotional limits that Picardo encountered in the world of professional domination and submission, and offers a sparkling, compelling performance from newcomer Kyra Davies in the lead.
Another big event for the festival, CineKink alumnus Tristan Taormino, two-time winner of our "Bring It!" adult cinema showcase, put together a powerful double-feature for our usual Saturday afternoon "Pornopalooza" line-up. First, in "The Feminist Porn Show," Taormino introduced the concept of feminist porn and presented a selection of representative clips she has curated over the years, including work from such past CineKink filmmakers as Candida Royalle, Annie Sprinkle, Nina Hartley, Petra Joy, Erika Lust, Shine Louise Houston, Carlos Batts, Louise Lush, Maria Beatty, Buck Angel, Madison Young, Courtney Trouble, Loree Erickson and more.
And then, in "The Feminist Porn Panel," she was joined by several filmmakers, performers and academics for a discussion of their contributions to The Feminist Porn Book: The Politics of Producing Pleasure. Sharing their thoughts on feminist porn as a film genre, an industry, and a movement, the panelists expanded on the overall concept of feminist porn, how it relates to the mainstream adult industry, and their experiences creating, performing, or studying it. While I've obviously become comfortable with porn, I can definitely remember a time when it felt incongruous to my identification as a feminist, when I felt that porn was something I wasn't supposed to like. The afternoon was a lively affirmation of female pleasure and empowerment, and a healthy discussion of the ways in which pornography can be shaped into a feminist experience, both from the perspective of the maker and of the consumer.
In terms of classic porn, it was a major coup to showcase The Opening of Misty Beethoven as our closing night tribute film. I've been a big admirer of Radley Metzger for years and always cite his work as the prime example of "quality" erotic cinema, combining explicit sexuality with masterful storytelling, engaging performances and luscious cinematography. The company DistribPix spent several months restoring the film and offered us the all-too-rare experience of projecting a 35mm print for our audience, who got to hunker down in their seats old-school style, as the sexy exploits of Jamie Gillis and Constance Money played out against the chic, international back-drop of 1970s New York, London and Rome.
As to shorts, we again had several strong programs this year, ranging in theme from "Hooking Up" to "DareDolls and RubberSluts," with several to appear in our touring "Best of CineKink/2013" program of award winners, including "Pinecone" (Michael Markham), "Krutch" (Matthew Clark), "Zucht und Ordnung" (Jan Soldat), "Ritual" (Jörg Fockele), "Impact" (Mollena Williams), "Rift" (Keith Hodder), "Amber" (Aven Frey, Gala Vanting and Frank Ly) and "50 Seconds of 50 Shades" (Bo Blaze).
We'll begin firming up our tour once I'm back from the busman's holiday of a week at SXSW. If you're interested in bringing us to your town or venue in 2013, we're looking to expand our appearances this year, please get in touch!
CINEKINK AWARDS/2013 – March 3, 2013

"CINEKINK CHOICE" – AUDIENCE CHOICE AWARDS
CineKink Choice awards, which go to feature-length works in competition during the festival, were determined by audience balloting at the close of each eligible work's screening. The 2013 award winners are:

CineKink Choice Award for Best Narrative Feature:
"Remedy" (Cheyenne Picardo, 2013, USA, 120 minutes)
A psychological drama based on writer/director Cheyenne Picardo"s personal experiences, REMEDY follows a woman into the dungeons of New York City and the world of professional domination and submission.

CineKink Choice Award for Best Documentary Feature:
"Bettie Page Reveals All" (Mark Mori, 2012, USA, 102 minutes)
An intimate look at the rise, fall and rise again of one of the world"s most recognized and controversial sex symbols.

"CINEKINK BEST" – JURY AWARD FOR BEST SHORTS
CineKink Best awards, which go to short works in competition during the festival, were determined by jury deliberation and ranking. The 2013 award winners are:

CineKink Best Comedy Short:
"Pinecone" (Michael Markham, 2012, USA, 18 minutes)
At the end of a first date, a young man and woman are desperate to surprise the other.

CineKink Best Dramatic Short:
"Krutch" (Matthew Clark, 2012, USA, 5 minutes)
The perspective of one young woman lies bare any preconceptions of sexability.

CineKink Best Documentary Short:
"Zucht und Ordnung" (Jan Soldat, 2012, Germany, 9 minutes)
Two naked, elderly men talk about their relationship, their predilections and the good old days.
-tie-
"Ritual" (Jörg Fockele, 2011, USA, 5 minutes)
One man journeys to cope with his HIV infection through a hooking ritual.

CineKink Best Experimental Short:
"Impact" (Mollena Williams, 2012, USA, 7 minutes)
The viewer becomes voyeur as this short explores the emotional impact of witnessing a series of consensual and kinky interactions.

CineKink Honorable Best Mentions:
"50 Seconds of 50 Shades" (Bo Blaze, 2012, USA, 2 minutes)
An extremely abridged rendering of the literary classic.

"Amber" (Aven Frey, Gala Vanting and Frank Ly, 2012, Australia, 15 minutes)
A film about the push-pull of erotic edgeplay and the curious brutality of love.

"Rift" (Keith Hodder, 2012, USA, 5 minutes)
A family man has his devotion challenged by the unexpected arrival of his secret lover.

"BRING IT!" – Adult Industry Showcase Award
The CineKink "Bring It!" award is determined by audience ballot during a presentation of excerpts showcasing adult cinema.

"Joy Club" (Petra Joy, 2012, United Kingdom, 16 minutes)
A pool table sex scene? In a female take on the classic porn scenario, our heroines turn the tables on the cocky macho men and give as good as they get.

"CINEKINK TRIBUTE" – Festival Award for Extraordinary Depiction of Kink and Sex-Positivity in Mainstream Film/Television
Works eligible for consideration this year were those released or aired in the United States from January 1 through December 31, 2012.

"Sessions"
(Fox Searchlight; dir. Ben Lewin)

Honorable Mentions:
"Our America with Lisa Ling" (Oprah Winfrey Network)
"Hysteria" (Sony Pictures Classics; dir. Tanya Wexler)

Special ""Pokemon Polyamory" Farewell Tip of the Hat"
"30 Rock" (Broadway Video; NBC)