Back to selection
What's In My Instapaper: Veronica Mars, Bollywood, and More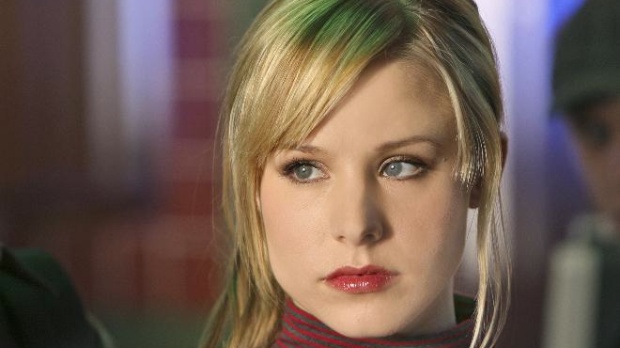 Kristin Bell as Veronica Mars
Jon Taplin is in India, where he attended the Big Bollywood Conference and thought about filmmakers, their content and the country's class and religious divisions:
Mumbai is a big confident city with some of the wealthiest men in India building houses that would have embarrassed the Maharajas for their opulence. I heard that there are more than 100 members of Parliament worth over $1 billion. This may of course be an urban myth,but the perception that the powerful live in a different world seems well founded. Of course this is no different than the U.S., but what does stand out is the understanding that India is a very young democracy. From the point of view of the film makers I met in Mumbai, basic notions of freedom of speech are constantly trumped by the anger felt from certain (often religious) groups who feel offended by the new sensibilities flowing from young secular voices. Every state in India seems to have a different political make up and the politics reminds one of Israel, in which small right wing religious parties have outsized influence. Thus a film may be censored in one state and a hit in another. As a young former student of mine remarked, it's quite easy for a populist firebrand to get a thousand people riled up about some rather trivial outrage.
"Please tell me you're working on a post about the Veronica Mars Kickstarter campaign," a Twitter follower wrote to me last week. Well, no, because I was in SXSW and not paying as much attention to my various feeds. But now that I've caught up with it, I have mixed feelings, and they are perfectly encapsulated by Luke Pebler's post at Revenge of the Fans. An excerpt:
The money generated from this kickstarter is going into Warner Brothers' bank account. Says it right there on the page's FAQ. Let that sink in for a second. I know you love your books/movies/comics/TV/games. They're your favorite way to have fun and pass your spare time. They may be the most important thing in your life. But making movies is the studios' job. That's a big difference. They're large, for-profit companies with access to vast capital. On a certain level the studio's raison d'etre to bear financial risk, to float millions of dollars of this year's box office money to make next year's movies. The reason they've merged with larger and larger parent corps over the years is that it makes their risk easier to spread around a bigger balance sheet.

So, remind me why I need to give them starter cash up front, no strings attached? Kickstarter has grown and thrived without needing to impose much regulation due to the noble intentions and honest dealings of most of its users. Sadly, however, the honor system doesn't scale. As it stands right now, celebrities can make vague claims about how much they miss an old job and how much fun it would be to reunite, and then as a fan, I'm being asked to toss my money into a dark pit and then cross my fingers that I'm going to get something in a year (or more, all delivery dates "estimated"). We fans have committed $3mil and counting. We're headed towards the territory where Thomas hasn't even defined what the funds will be used for. ("We'll figure out something cool," he insists.) The faith-based dynamic of crowdfunding simply breaks when faced with something as tangled and unpredictable as studio feature film production.
Political scientist Chris Albon argues that forgetting is an essential part of human experience and, thus, we need a web that forgets:
We deserve an ephemeral Web; one with communications unburdened by permanence. We deserve to have the Web—at least some of the time—forgive and forget. Hopefully, applications like Snapchat are just the beginning of that ephemeral Web. With luck, in time there will be a whole class of applications from email applications to microblogging platforms whose killer app is that they capture nothing, remember nothing.
Dangerous Minds found a cigarette commercial based on Alain Resnais's Last Year at Marienbad.
Joe Wikert has a fascinating post up about the potential of a new, used e-book market. Rather than devaluing their worth, the ability to resell digital books could actually allow a new product that rewards both writers and readers.
I've written before about how consumer might be able to resell their highlights and notes. Let's take that a step further. What if someone reads a 300-page business ebook and condenses the key lessons into 10-20 pages? Think of it as the Cliffs Notes, summarized version. Let's further assume that reader bundles their summary with the original ebook they bought and sells it via a used ebook marketplace. Could they charge more for their version? Absolutely.

You're concerned about this being more attractive than the ebook by itself? You should be. But what if the publisher owns this platform? What if all these sales were done directly by them, so they're capturing 100% of the revenue stream and sharing the appropriate cut with the author? Now let's take it another step further… What if that reader isn't just able to sell the one copy they bought, but an unlimited number of copies that come bundled with their summary? The consumer price of this version would be higher than the version with the ebook by itself and the reader who created the summary would receive a portion of the difference between those prices, essentially making them a royalty-based author on the bundle.
Is Takes the breakout app of SXSW? For one writer, it was a company — ZocDoc — that wasn't even there.
At SXSW, Danny Boyle predicts that soon fan remixes and recuts will be recognized as a whole new art form.
Excellent article by Gregg Goldstein at Variety on Sundance films that have resulted in spin-offs, whether they be TV, digital or gaming.
The 2012 Sundance horror anthology "V/H/S" is a film that has used genre economics, emerging platforms and the omnibus structure to self-replicate. The pic earned a paltry $100,000 at the box office, but the Magnolia/Magnet pickup's compressed window VOD take was enough to elicit a seven-figure offer from the studio for its sequel at this year's fest, "V/H/S/2," and inspire a third compilation that producer Gary Binkow hopes to debut in Park City next year.

Moreover, Binkow, a partner in the pic's production company the Collective, says he and fellow producer Brad Miska have bigger plans than just another sequel. They're developing two "V/H/S" segments — David Bruckner's "Amateur Night" and Joe Swanberg's "The Sick Thing That Happened to Emily When She Was Younger" — into separate feature-length films.

"From the beginning, Brad and I talked about creating a platform that incubated ideas for features," says Binkow, who plans to bring new filmmakers into the fold when the next anthology begins production this spring.

The producers are also discussing a "V/H/S" TV series and comicbook series. "We have an opportunity to become the first VOD franchise," says Binkow.