Back to selection
Rebecca Richman Cohen on Code of the West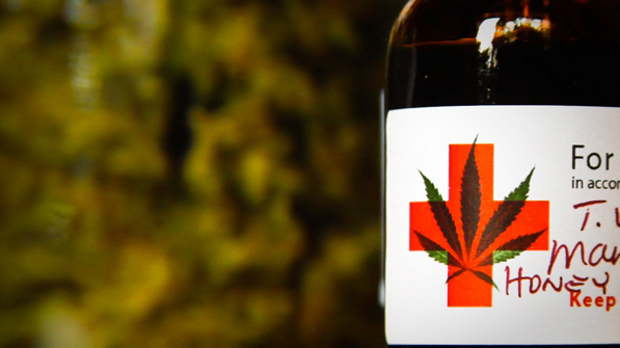 In Code of the West, director Rebecca Richman Cohen chronicles the legislative machinations surrounding Montana's endangered medical marijuana law. The debate, which was colored by outrageous, scaremongering claims about increased teen use and demonic possession, revolved around the possibility of an outright repeal of the initial 2004 law, which spawned an industry that became the ire of conservative politicians and family groups. During the  vote on a proposed repeal, DEA agents raided  26 ostensibly legal cannabis growing sights across the state and put the state's biggest caregivers out of operation, including one owned by Tom Daubert, the protagonist of Cohen's film.
Daubert had previously spent a couple of decades lobbying in the legislature, becoming a de facto spokesperson for medical marijuana reform in the state. Following the raid, he — along with his partners and members of his nearly 30 person staff at Montana Cannabis — faced nearly five years in federal prison for running a business that while still illegal federally, was perfectly within the bounds of Montana law. Like most people in the film who favor relaxed marijuana legislation, Daubert comes off as reasonable and willing to view things from the point of view of his opponents. Following the legislative process both before and after that episode while spending significant amounts of time detailing the lives of growers, patients, politicians and activists on both sides of the issue, the film effectively presents all sides of this increasingly urgent policy discussion.
One of our "25 New Faces of Independent Film" a few years ago, Cohen has had an unlikely path to filmmaking, having majored in Portugese and Brazilian studies at Brown before receiving a Juris Doctor at Harvard Law School, where she is now a lecturer. Her first film, War Don Don, about the war crimes trial of a controversial rebel leader in Sierra Leone, was nominated for a pair of Emmys and  a Special Jury Prize at SXSW. Code of the West, which  also had its world premiere at SXSW, has made festival stops in Traverse City, Independent Film Festival Boston, DOC:NYC and Sun Valley. It opens for a week-long run at the reRun in Dumbo, Brooklyn tomorrow.
Filmmaker: How did you first become interested in the policy issues surrounding medical marijuana and how did you go about choosing what was happening in the Montana legislature as a focal point for the larger issue?
Cohen: My formal training is in law; I went to law school although I'm not a lawyer. Once I left, I worked amongst public defenders for a summer and I spent a significant amount of that summer going to arraignments and seeing people who were cycling in and out of the criminal justice system who were overwhelmingly non-felony, non-violent drug cases. So I increasingly saw this as a really important issue that hadn't been explored properly.
We set out to make something that dealt with what was happening in the Montana State Legislature because seeing how they meet for only 90 days every two years and we thought there would be a fascinating story that would unfold there in a time-limited way. We didn't anticipate that there would be these state wide federal raids on the growers we'd been filming for more than six months. So that changed the story dramatically.
Filmmaker: Was it difficult to gain the trust of people on both sides of the issue? How long did you spend with them both prior to and during shooting?
Cohen: We filmed over the course of about nine months. I was back and forth for a bunch of that time, sometimes I was there for a month-long stretch. People were pretty forthcoming, they had stories they wanted to tell, about their lives and careers concerning these issues and so folks wanted to get their stories out. When people saw that we were spending time both with people organizing the opposition to medical marijuana law and with growers and patients and activists and people coming from a very different perspective on the issue, I think that actually had the effect of making people a lot more comfortable with us.
Filmmaker: Now the film has been updated since it premiered at SXSW, right?
Cohen: Yes, that's a huge part of the story. We finished the film in March of 2012 to come to South By and at the time Tom Daubert had not been indicted so we went back and shot more footage with him in the lead up to his sentence and some pretty interesting things kept happening along the way. Tom ended up getting a pretty good offer for a plea deal of five years probation and his lawyers used the finished version of Code of the West at his sentencing hearing to present the larger context of Tom's life and work and how he was operating his state-legal medical marijuana business. Chris, one of the growers in the film who we had gotten to know while shooting there, refused to take a plea deal and was facing charges with significant amounts of jail time so we said "Oh wow, we really have to go back there."
We also made a New York Times op doc that went viral and I think we were able to build a very large and committed audience that way. We raised more than $30,000 dollars on Kickstarter and went back and made a new version of the film that has 15 minutes of new content, that fleshes out Chris' character more and that updates what happened with Tom and Chris' criminal trial. The third business partner, Richard Flors, he died in federal custody while serving a five-year sentence after not being given the medical care he needed and that his lawyer requested.
Filmmaker: There isn't footage of those actual trials in the film. Were you unable to get access to those courtrooms?
Cohen: No, we couldn't get access to the federal courts.
Filmmaker: Did the process of making the film confirm what you already believed about these issues or did it challenge your beliefs at all?
Cohen: I certainly came in with my own set of beliefs but I wanted to be as open-minded as I could and if what I was observing challenged my beliefs, I let it challenge my beliefs! I came to this project pretty skeptical of the claims of medical marijuana advocates. I knew a lot of young people who had cards. It seemed to me to be more of a stepping stone in the legalization debate for full-on adult use of marijuana. It seemed that a lot of healthy people were using medical marijuana as a way to consume marijuana recreationally. I think that lots of people do that, but a number of people I met, who maybe I was inclined to judge because they were young and they appeared healthy, they were able to end years-long addictions to oxycotin or other serious painkillers by using marijuana to help with their pain.
Lori Burham, the patient with advanced cancer who appears in the film, the older woman who says, "Do I look like I'm connected to you?", she became a very close friend over the last few years of her life. If you spend 10 minutes in a room with that woman, it's clear how much she's been helped by medical marijuana. To deny someone who is going through a disease as awful as cancer something that alleviates her pain when morphine and other heavy narcotics can make her comatose, well I came to care very deeply about the cause of medical marijuana after that.
Filmmaker: How have various people who you profiled in the film reacted to the finished product? Have you shown it the Cherrie Brady from Safe Kids, or [Speaker of the Montana House] Mike Milburn yet?
Cohen: Yeah, we did a statewide screening tour of Montana and a number of theatrical screenings with panel discussions hosted by the ACLU of Montana. We did 20 screenings in public libraries across the state and at our theatrical premiere we also had panel discussions with someone from law enforcement, with community leaders, political figure, proponents and opponents of medical marijuana. Cherrie Brady and Mike Milburn participated in some of these panels, as well as Tom Daubert.
We showed the film to Cherrie Brady and Mike Milburn before we started showing it publicly. Once we finished the film and locked picture we wanted to make sure they had a chance to see the film before it premiered, before there was any press on it, before people started asking them questions. They were very supportive. Milburn came out and did a bunch of press with us. I think they felt that their perspectives and their criticisms were well-represented and that we treated their point of view respectfully and that was our goal all along.
Filmmaker: Looking back, does it much resemble the film you thought you were going to make at the beginning of the process?
Cohen: [laughs] I don't know. It's always hard to look back and go, "What if…?" We set out to make a very different film than the one we made. The story that we originally set out to tell had a number of different characters who didn't make the final cut. As a filmmaker you're beholden to how the story unfolds and so once the final raids happened and it was up for vote for repeal, it felt like that was the film we had to make.